The corrugated cardboard packaging sector is experiencing a period of great turmoil, however, after the Covid emergency, an unprecedented need to contain costs and save money has emerged in the face of the exceptional rise in the price of raw materials and energy sources
Z Due flexo prepress service offers two solutions that meet these two important needs: savings in the overall production costs of each job and adaptation of the quality of printed matter to offset and digital, with excellent results. Vortex and BlueEdge are the right answers to optimize processes, reduce costs and increase productivity, with a careful look at the ecological issue on everyone's lips today.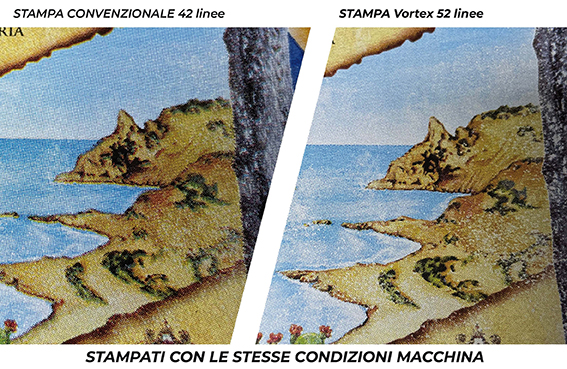 Vortex is an upgrade for all paper and corrugated cardboard converters
Vortex is an innovative algorithm for the production of flexo clichés until now applied exclusively to Miraclon Kodak Flexcel NXC plates, for high quality flexo printing on corrugated cardboard. Capable of combining high productivity, waste reduction and set-up times, this technology represents a novelty for the printing world and in Italy there are about thirty converters who already use it constantly for their productions.
Thanks to Vortex it is possible to control ink transfer in an excellent way, even printing on glossy coated papers with anilox cylinders dedicated to opaque papers, guaranteeing the highest quality in the reproduction of solids and screened images, thus demonstrating great operational flexibility.
How Vortex was born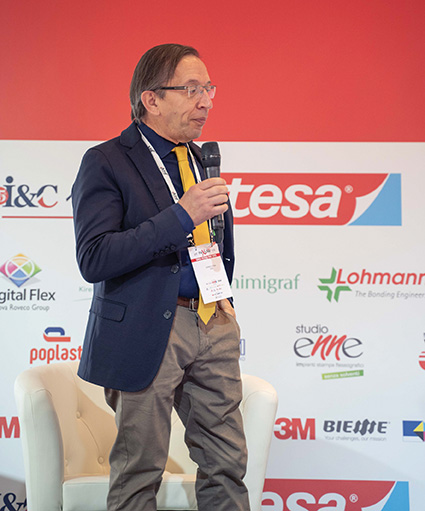 "The development of this new system aims to pursue quality starting from medium-sized anilox configurations; we are talking about a medium-high definition (at 34-42 lines/cm) on coated cardboard, guaranteeing an excellent quality result to a flexo printer on both matt and glossy substrates, with the same medium-sized anilox (8-9 cm3/m2 of ink). We are convinced that we have provided a concrete answer to the needs of our customers who are constantly looking for margins, which we know today is only possible with an increase in productivity and a reduction in downtime, waste, but also in consumables such as inks. A whole series of costs that at the end of the year affect greatly the profitability of a company", says Giorgio Cattani, technical manager of Z Due.
Vortex is a screening technology, which is based on the importance of dot shape, completely different from that created with a traditional flexo plate production process. Reproflex3 and Z Due have studied this innovation starting from the most important advantage granted by Kodak Flexcel NX plates by Miraclon, which is guaranteeing a control of ink transfer unattainable by any LAMS plate. Vortex expands and optimizes to the maximum this advantage, managing to transport up to 40% less ink in the screened areas, while guaranteeing excellent opacity in solids when it comes to anilox with generous flow rate. The role played by Vortex is in fact that of predetermining the amount of ink that must be transferred from the anilox to the plate, in different areas and in a targeted manner, thanks to the algorithm applied to the surface of the plate.
Vortex: customization is its strong point
Umberto Cantone, commercial manager of Z Due, evaluates the Vortex system from an economic point of view for converters, also reporting the positive feedback received from an important printer customer of Z Due.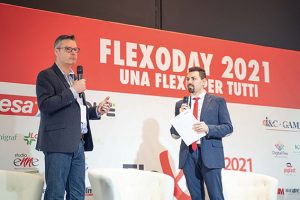 "Vortex is a system that was created to be customized on the needs and technical specifications of each individual customer. We have introduced it to about thirty customers, who have been appreciating its peculiarities for a year now. Among other things, this also allows them to re-qualify printing machines otherwise unable to print jobs with the quality required by large-scale distribution (42 lines per cm)", says Cantone.
"One of our customers, a printer who uses a lot of coated cardboard, had two flexo machines, and obviously dedicated his most performing machine to printing works on coated material to the detriment of the second line that did not work; the client asked us to help him rebalance the situation. Thanks to the use of Vortex we have managed to achieve equivalent results even on the less performing production line which is now also taken into consideration for printing on coated cardboard, with a quality completely in line with the requirements of the end user", concludes Cantone.
Vortex concretely succeeds in the intent to raise the printing definition of any job, regardless of the type of machine, anilox rolls, inks and cardboard, thus allowing an optimization of the company's resources and a significant improvement in productivity.
BlueEdge, the real weapon for conversion
BlueEdge is an innovative system for the production of flexo clichés and comes from a proprietary algorithm that is applied to Kodak Flexcel NXC plates. BlueEdge clichés can be used by converters to obtain very high quality prints and facilitate a standardization of their production process.
BlueEdge plate is composed of a number of dots arranged according to an algorithm different from the usual screen angles. Screen ruling, therefore, doesn't exist. However, we must not confuse BlueEdge system with Kodak's stochastic or "staccato" screen, as the arrangement of dots is not random, but pre-determined according to a very precise and proprietary algorithm. This new surface treatment of the plate allows an increase of the definition of the images, a brilliance and a chromatic density unprecedented in flexo.
With BlueEdge algorithm it is finally possible to print all graphic files born in CMYK without resorting to the use of spot colors. This allows the converter to save on the number of colors in the press, as it extends the reproducible color gamut with simple four-color process. Another important advantage that this technology offers is the possibility of converting into flexo many jobs until now dedicated exclusively to lithographic or digital printing for reasons of definition.
"We have examples of offset printed jobs with 7-color and then laminated on cardboard, converted with BlueEdge system, in 4 colors printing with the addition of coating, printed on corrugated cardboard, die-cut, folded and glued in one step.
Then we have the sensational example of a work required digitally by the end user, with high costs for a long print run. The converter used BlueEdge to print in flexo, thus reducing costs and obtaining the quality required by the brand owner, who was surprised because he could not distinguish flexo from digital printing", Cantone again states.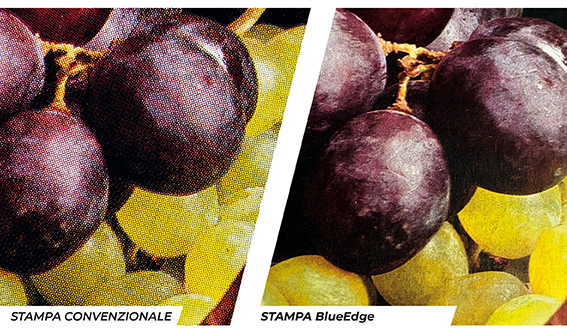 Naturally BlueEdge is a dedicated system for very high quality prints and therefore requires equipment (machines, anilox rolls and substrates) of superior quality, since it comes from a system dedicated exclusively for printing on flexible film and labels. However, the converters who have chosen this path are enormously expanding the number of jobs convertible from offset and digital, with a consequent increase in their margins. The fact of printing in 4-color process with a fixed palette and with anilox with a low ink flow rate favors a saving process that winks at environmental sustainability: fewer colors, less ink, fewer energy required.
Z Due has always stood out on the market for processes and solutions that contribute to improving flexo, starting from company paths, staff training to support customers. "We have always tried to increase the quality of flexo printing sector and I am convinced that the numerous national and international awards we have received in the last 2-3 years are not only important for us but for all our customers and brand owners, who today increasingly look to flexo as the technology capable of supporting their packaging projects aiming for the highest quality", concludes Marco Mingozzi, internal manager of Z Due, clearly letting us understand that the search for further evolution of these technologies is already in place.