After last spring's event, Heidelberg has doubled its efforts, with another two days dedicated to printing and converting technologies of packaging at Print Media Academy in Wiesloch (Germany), where at the beginning of last November, 200 customers coming from all over the world have witnessed demonstrations of packaging workflows, with a focus on the new Primefire 106, admired then also in production at colordruck Baiersbronn, a German printer who has invested in new Heidelberg digital technology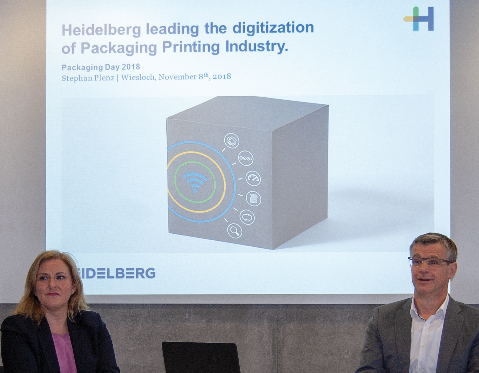 Global trends in the global print market speak of growing numbers, despite the chronic drop in publishing and commercial printing, which are offset by positive drivers linked to emerging markets and growing numbers of packaging, labels and digital printing, as confirmed by Stephan Plenz, member of Heidelberg Board, who illustrated during Packaging Days 2018 the strategy of the German group to present itself on the market as an ideal partner for companies wishing to grow, differentiating their production through operational excellence and innovations of business. About 25% of printed products are represented by packaging, a market with an average growth rate of 3% per year.
An integrated range of products and solutions for packaging and a new business model based on "contracts"

With its complete range of solutions, Heidelberg can accompany the printer in all the crucial phases of production process, starting from consumable products to prepress technologies, digital printing, sheetfed offset, labels and converting, workflow and finally the service. At every stage, for every printing technology, process automation is the key concept to guide printing companies towards a level of productivity that is truly efficient, with technologies able to manage themselves independently and interact with the operator only in necessary moments, distorting in this way the paradigm that has always seen the printer as the only figure able to make decisions on printing machine. This is the philosophy behind "Push-to-Stop" concept, a sort of automatic pilot for the printing machine to guide the operator so that every job is carried out with maximum efficiency and productivity. Data are clear: machines equipped with this technology make it possible to achieve higher productivity levels than basic installations.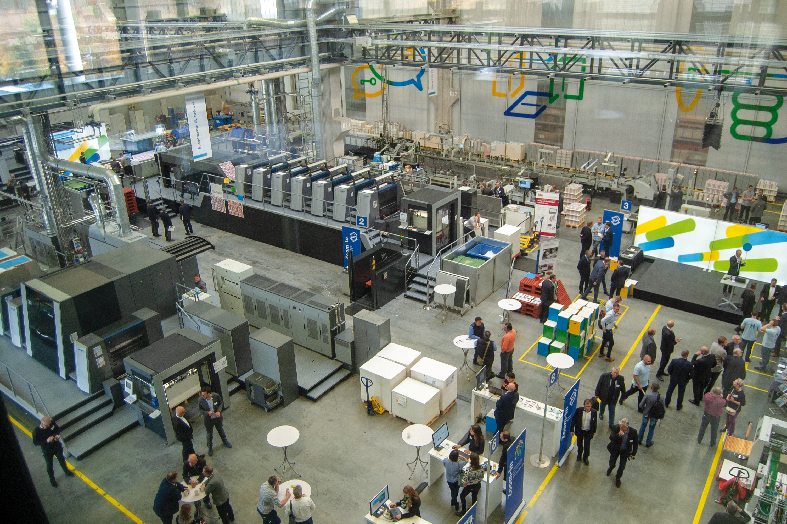 Heidelberg, to better serve its customers and ensure maximum efficiency from installed production technologies, has launched a new business model called "subscription model" based on a minimum 5-year contract with the customer, which foresees the installation of the printing machine, the service with interventions able to anticipate any problems on machines, but also consulting, training, software and consumables, all at a fixed monthly rent, to which is added a variable share based on really printed jobs. A model that is very close to the loan for use as regards the printing press, whose property remains of Heidelberg.
"I want to specify that the contract is not the transposition of digital clicks to offset printing, but a service that aims to guarantee our customers the best from their machines, in terms of quality and productivity, without the worry of investments", comments Stephan Plenz. By the end of this financial year, Heidelberg plans to sign at least 30 contracts, which will become 100 for the next financial year, with an average forecast of an annual turnover of about 1 million € for each contract signed, important numbers that obviously are referred to companies of a certain size.
Growing in packaging with the new Primefire 106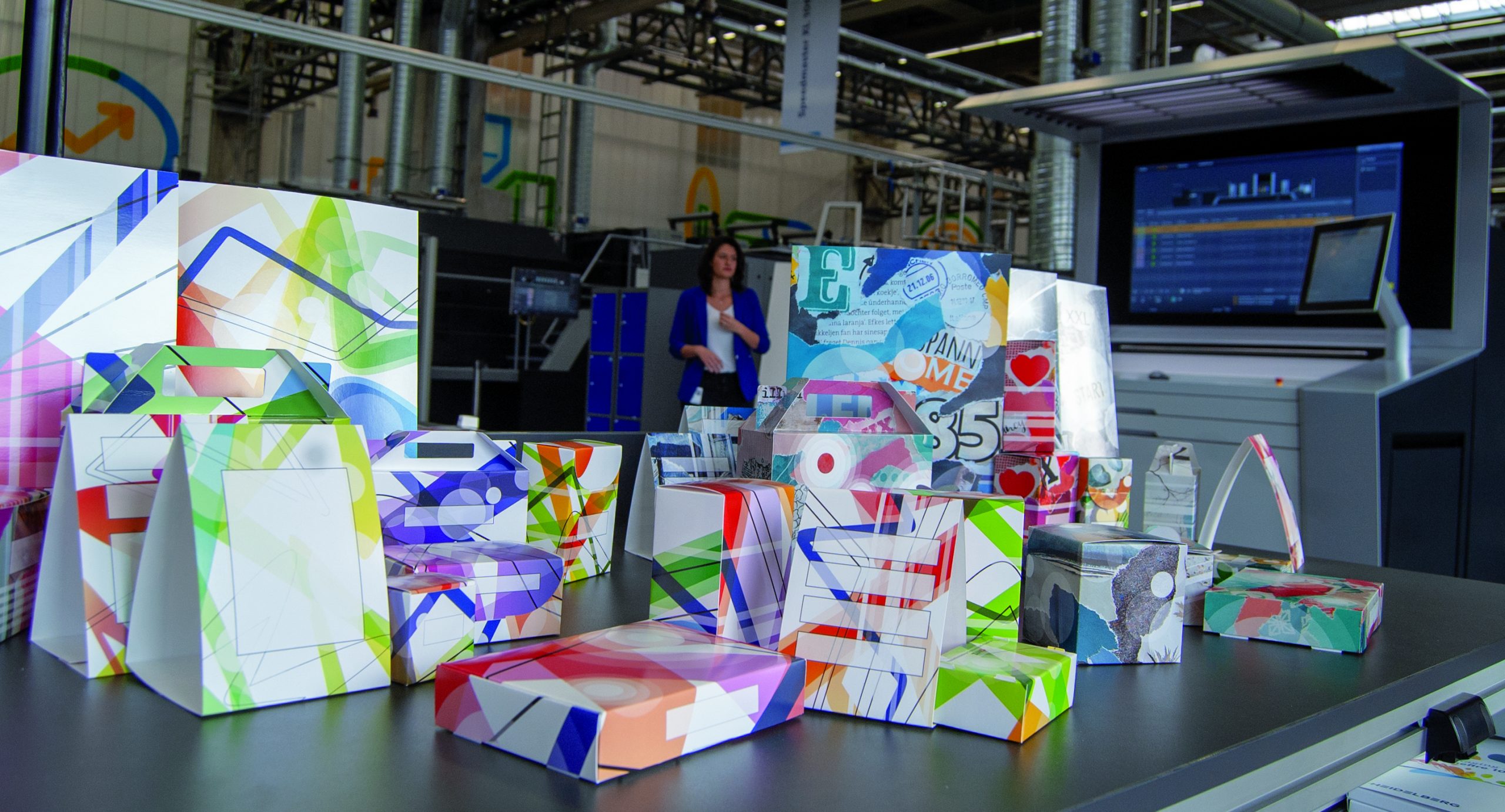 In the Print Media Academy in Wiesloch were present all the technologies of Heidelberg range, from offset printing to converting technologies of MasterWork MK, with Promatrix 106 CSB die cuts equipped with a cut-creasing station, extraction and separation of blankets. As well as the new Easymatrix 106 FC for hot foil and hologram application. Diana folding-gluers for the processing of all types of boxes, linear and with automatic bottom, 4/6 corners, digital web printing machines for labels and Primefire 106 in a sheet configuration, ideal for production of packaging. Presented for the first time at Drupa 2016, Primefire 106 has evolved extremely rapidly and after the first beta installations in primary packaging companies, it is available on the market since July 2018 in its final version: 7 colors (four-color + orange , green and purple), able to cover 95% of pantone colors with a water-based inkjet printing system by Fuji Film, Heidelberg partner for printing heads.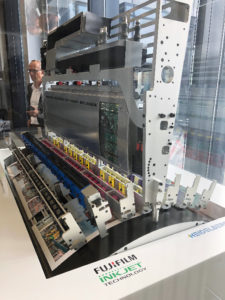 The maximum resolution of 1200×1200 dpi guarantees a maximum speed of 2500 sheets perhour, for weights from 170 to 450. The machine is proposed in 75×106 cm format, (47×48 cm minimum size), and offers all the advantages of digital printing, with a machine structure that not only reminds the impressiveness and solidity of Heidelberg offset machines, but is also using some components such as the feeder, the drying unit suitably modified for the needs of water-based inks printing and the output stacker. Prinect Digital Center control desk guarantees perfect integration of the machine in the production workflow; in addition, the automatic online stacker allows you to stack only the good sheets, eliminating automatically the waste.
At the moment the break-even point between digital print with Primefire 106 and XL 106 offset machine for standard packaging products in 70×100 cm size is about 2000 sheets, but destined to rise up to 3000 copies in the next 2-3 years.
Primefire 106 is therefore a printing technology able to align perfectly with the quality of offset printing and can represent the stepping-stone to discover the potential of digital world, opening new markets (web-to-pack) with all the advantages in terms of costs and opportunities for customizing printed matter.
Colordruck Baiersbronn: beyond packaging printing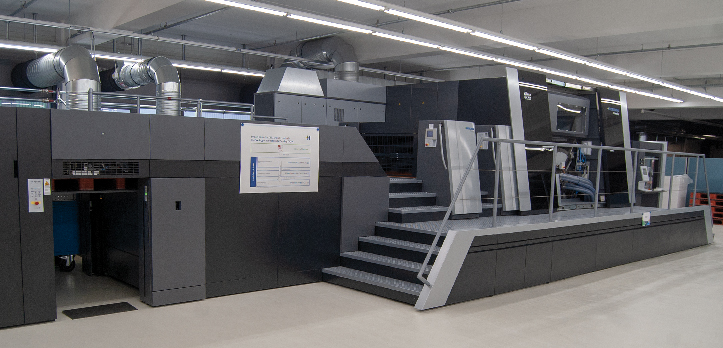 Just over an hour's drive from Heidelberg site, in the heart of the black forest where there are many paper mills along the watercourses, is located colordruck Baiersbronn, a company specialized in printing and production of cardboard packaging, It is a family company with around 250 employees and around 44 million € turnover, historical customer of Heidelberg for printing machines and now also for digital department where a Primefire 106 has been installed last year. A digital department where, due to food certifications, it is mandatory to enter wearing protective apron and hair cap, and where order and cleanliness reign supreme, with ceiling vaporizers to maintain a precise degree of humidity in order not to compromise the quality of the cardboard and therefore its printability.
colordruck Baiersbronn is a European leader in the production of packaging, but not only, and around the new Primefire 106 the company has built a new business, developing a website dedicated to Web-to-pack that is already used by many customers throughout Europe. From a normal printer, colordruck Baiersbronn over the years has expanded its range of skills, becoming a supplier of packaging solutions, thanks to the three divisions in which the company has been divided: packaging production, packaging service and digital packaging. "In the service division, we have filling machines, for example a product that we offer online and which has been very successful: the advent calendar, printed digitally, and filled in the various partitions with chocolates" says Thomas Pfefferle, one of the company's two general managers.
The Primefire 106 is perfectly integrated into the company production process and is mainly used for short runs, up to 1500 sheets, mostly coming from the Web shop, customized runs and increasingly with variable data. "Primefire printing quality is absolutely in line with offset printing, so we can meet customer expectations with an important economic advantage for us, which gives us the ability to use offset machines for long runs. What's more, the possibility of using the same die-cutting technologies already present in the company for digital printing", adds Martin Bruttel, the other general manager of the company.
The webshop 'designyourpackaging.de' is having a great success and is an integral part of the area dedicated to digital packaging, with the integration of an editor with appealing and customizable design, 3D preview, and the possibility of automatic control of data, from payment to final delivery.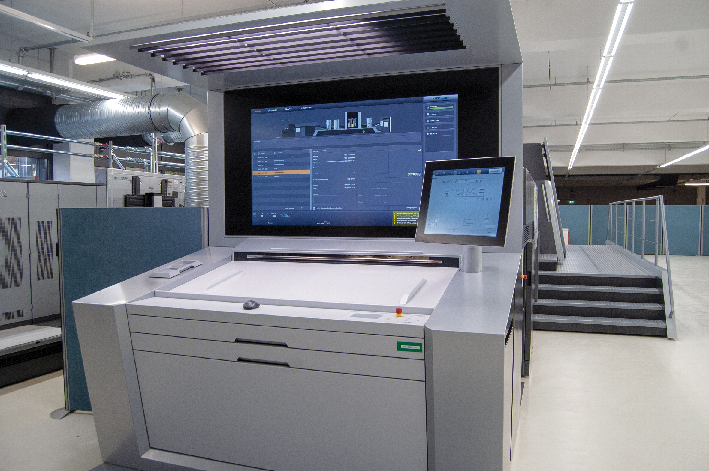 With Primefire, Colordruck has completed its production department, and thanks to the high automation offered by Heidelberg technologies, both offset and digital, the company has won the perfect position of being able to decide, with the aid of an automated workflow, with which technology produce a job, guaranteeing the customer the same print quality, without having to give up his own, deserved, profit.
Speaking of costs, we have to mention the rather high price of this digital press (about 3 million € in the standard configuration) which is currently the only 70×100 format digital printing solution dedicated to folding boxes, a solution certainly not suitable to all companies, but over the years its price is going to decrease. Let's remember that we are talking about a digital machine, which in terms of structural dimensions, quality and productivity is in fact comparable to a traditional offset machine.