An historic friulian company specializing in label printing, for 75 years Grafiche Tonutti has been a point of reference for brands and multinationals who find in this company a partner capable of supporting them with top quality products in their daily challenges, thanks to an innate passion for the pursuit of beauty and perfection, supported by continuous investment and cutting-edge production technology.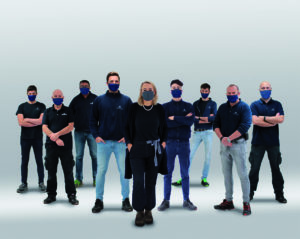 Friuli Venezia Giulia is a land traditionally linked to the wine and spirits sector, products of the highest quality able to enhance the fruits of this territory also thanks to the passion of local producers, strongly anchored to their traditions but able to renew and innovate, in a path of continuous improvement. Tonutti Tecniche Grafiche, well represented by the company claim "Labels for a changing world", fits exactly into this context. And there have been many changes in the last few months, unfortunately driven by this cursed Covid-19, which seems to be tightening its grip again at the very moment we are writing (in this regard, the interview was done via Skype, but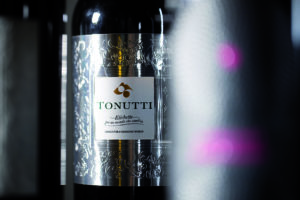 when it is all over, we hope to have the opportunity to visit this beautiful reality in person – editor's note). "Product diversification and a series of activities linked to process innovation and internal organization have enabled us to face this emergency in the best possible way, without losing a day's work, with a united and highly motivated team. We have worked hard during the spring, without ever missing a label and packaging supply to our customers involved in primary supply chains, so we are ready to face any kind of unforeseen event, aware that it is precisely in times of crisis that a company must keep its helm steady, becoming a point of reference for the market," Maria Teresa Tonutti, owner of Tonutti Tecniche Grafiche.
Labels: a family passion since 1945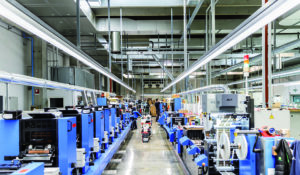 The company was founded in 1945 as a printing house. Founded by Pietro Mario Tonutti, it immediately embodies the knowledge typical of the "graphic arts": from the lithography to offset print, from paper and glue labels to the world of self-adhesive labels and In-Mould, Tonutti evolved following the development of a constantly moving market, becoming a leader in its sector. In the 60s, Manlio Tonutti, the founder's son, joined the company. He sensed the developments that the self-adhesive market would see, and in the 90s, following a family tradition, Mario's sons Marco and Maria Teresa joined the company, who today run a company with 112 employees and capable of generating a turnover of about € 22 million.
"Our history is rooted in the knowledge of the graphic arts, that of stone engraving, from which derives the extreme search for precision and quality. Today the artistic aspect of our work is the task of graphic designers and creatives who study design, while we are entrusted with the task, through technique, precision of execution, technology, of combining the artistic side with a modern, efficient, reproducible industrial production process, guaranteeing the same quality from a single piece to millions of units", says Dr. Tonutti.
The evolution of the label: from paper and glue for mineral water to self-adhesive products for the wine sector with increasingly complex labels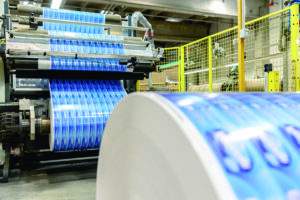 "The beverage and food market has always been an essential point of reference for us and starting with sheet-fed offset printing, we have followed its evolutionary path", says Maria Teresa Tonutti – "and with my father's intuition, attracted by technological and pioneering innovations, we introduced the first combined web-fed presses for printing self-adhesive materials in our production departments. We were among the first to believe in inline presses, even though technology was really complex at the time, considering that there wasn't as much focus on materials as we have today. So, we have made our bones, growing from direct experience, and today we have 11 narrow-web printing presses for labels and broadband for flexible packaging, with all the technology on the market so we can offer our customers the best of the state of the art. We were also among the first to believe in digital printing, which has completed the production cycle, guaranteeing any type of solution to our customer", says Dr. Tonutti.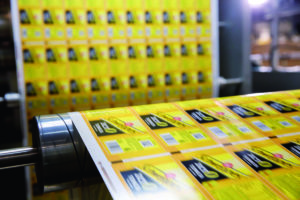 Tonutti has also always been attentive to the environmental impact and recyclability of its products. An important step in this direction is when we have switched from paper and glue technology on glass bottles to PET mineral water bottles with band and consequently the label or rather the matching PET band, so as to favour the recyclability of these products at the end of their life. "Even today we still have some types of items that are made with paper and glue technology, but the majority of our production volumes are self-adhesive materials and films".
New DuPont™ Cyrel® Fast 2000TD to aim for excellence from the prepress stage onwards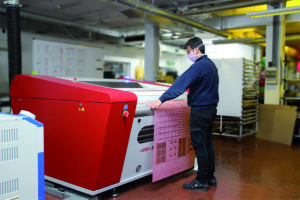 On the strength of the important production volumes, the company has strategically chosen to have its own in-house pre-press department where flexo photopolymers are produced for narrow-web printing for labels and wide-web for flexible packaging. The focus on more sustainable production has prompted the Tonutti family to invest in the new DuPont™ Cyrel® Fast 2000TD thermal platemaking system for flexo plates. This is in fact a return for Tonutti to this solution, already experienced with the installation of the first version and now, after a short break that led the company to choose a different technology, the return to the latest DuPont™ Cyrel® Fast 2000TD technology.
"We have returned to investing in DuPont technology because the characteristics of the technology and the quality of the polymer are far superior, and the advantage of plate production speed is not a secondary aspect for a company like ours, which has to deal with numerous orders and therefore frequent machine set-ups. The inclusion of high-performance technology like this in our pre-press department has certainly made the difference", says Dr Tonutti, who then goes on to analyze the innovations in this plate production solution. "I confess that when we have to deal with an investment in any department, we become extremely meticulous and subject the machines to complex 'stress tests', because we want to be sure of every detail. To offer our customers quality production, every little detail can make a difference, and nothing is left to chance. The plant has brilliantly passed all our tests and has also been particularly appreciated for its eco-sustainability aspects such as low energy consumption or lower waste production, which can be disposed of as normal waste".
In conjunction with thermal technology, Tonutti also uses DuPont's top-of-the-line photopolymer technology, using the latest generation DuPont™ Cyrel® Fast Easy EFX flat top dot plate for high quality, featuring high light brightness and excellent ink transfer with excellent print densities.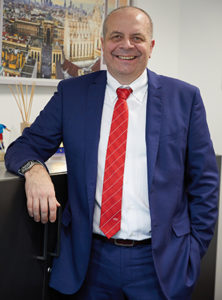 "We have worked in partnership with Tonutti for many years, and the fact that we have passed meticulous tests with flying colors makes us proud of our solutions, which help our printer customers achieve excellence", says Mario Castelli, DuPont Sales Manager for Southern Europe and North Africa.
The installation was followed by SMG in the person of Mr. Gozzi, DuPont dealer for this geographical area, and by Sergio Roccetti, DuPont Area Manager, and Michele Negretti, DuPont Application Specialist, who participated and witnessed the detailed tests to which the thermal processing system was subjected.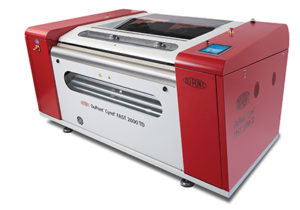 "We think positively about the future, so much so that we will continue to invest, and we have a series of projects to pursue because we want to continue our growth project, also at an international level, through collaborations with important graphic design studios that have selected us for our history and the quality of our production", concludes Dr. Tonutti.