During the latest edition of Roto4All, the conference dedicated to gravure printing, were presented some projects that saw the collaboration of leading companies, which, basing on this timeless printing technology, proposed important product and technology innovations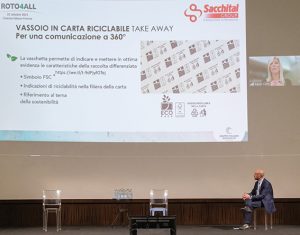 The vitality of gravure industry as well as a strong propensity of this industry for innovation, both from a technological and application point of view, emerged as a clear trend during last Roto4all conference organized by Acimga Rotocalco Group last year in October in Florence. We have already written about this success in the last issue of our magazine, but we want to speak again about with an in-depth study dedicated to two case histories presented during the conference, virtuous examples of experimentation in gravure field and collaboration between different interlocutors: Sacchital Group and Terre Ducali presented a take away tray in recyclable paper designed according to the principles of eco-design; BOBST, Ticinoplast and Sun Chemical talked about the ambitious R&D work, underlining the value of the partnership, for the creation of a single-material BOPE packaging.
Sacchital-Terre Ducali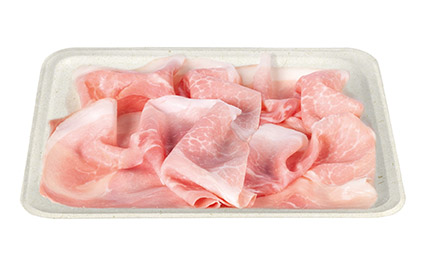 The collaboration and sharing of skills between companies of excellence can only give rise to interesting projects, which demonstrate the vitality and centrality of gravure printing technology, which is the protagonist of a new pre-formed take away tray in recyclable paper designed and built by Sacchital Group with its customer Terre Ducali. Paola Cerri, Sales & Marketing Manager at Sacchital Group, the Italian specialist in the production of sustainable packaging mainly based on paper, talked about the birth and development of a pre-formed recyclable tray in paper, suitable for containing the cured meats offered by Terre Ducali: a company of excellence in province of Parma, which boasts among its main characteristics the fact of having a semi-finished product with an original shape (it does not undergo stamping), of working the product at a positive temperature and, last but not least, placing the sliced ​​meats by hand in a soft way in the tray to ensure easy separable slices, as if they were just sliced. From the collaboration between the two companies has been developed a preformed tray with a prevalence of paper with at least 80% of cellular fiber that complies with the requirements of Aticelca B regulation. For producers of cold cuts in trays, but also cheeses and fish, this solution offers a high barrier protection against oxygen equivalent to traditional plastic trays, with an easily peelable sealing with a rigid preformed shape, perfectly printable and customizable even on a porous and complex surface like that used for this recyclable paper tray. In the specific case, the choice made by Terre Ducali was to indicate, using gravure printing, the origin of the material from FSC forests, communicating the recyclability of the package and its transfer to the paper collection as well as other references related to the theme of sustainability.
Communicating in a clear and transparent way to the consumer, simplifying the management indications of the material at its life end, helps to increase the level of knowledge of the consumer about these highly topical issues, to improve the purchase experience and management of the pack and therefore not to undermine the efforts made by manufacturers.
With this new solution, as confirmed by Giulio Gherri, CEO of Terre Ducali – Parmafoodgroup, the company will aim to conquer foreign markets, even far away, with the awareness of guaranteeing the consumer the fragrance and freshness of a high quality product, such as just sliced ​​by your trusted butcher. "The tray is 22 mm high, the slices laid by hand seem to have just been placed in the tray, for that" wow "effect that must always be taken into consideration. Overall, experience and product quality, packaging and sustainability combined with graphic customization have given rise to a unique and innovative project/pack, which can help us producers to export and enhance Made in Italy in the world", concludes Giulio Gherri.
Ticinoplast – Sun Chemical – BOBST: BOPE mono-material film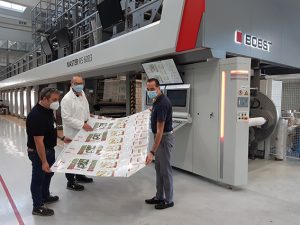 The three companies presented the results of a three-year project, which saw them collaborate together in an R&D work that led to the development of a mono-material BOPE (bi-oriented polyethylene) film. As explained by Paolo Rossi, general manager of Ticinoplast, the production line of this new film will begin its testing at the end of December 2021. "Three years of work, with the involvement of the entire supply chain, led to the sale of 6 systems, designed and built by Brückner, for the production of BOPE and we are sure that we are on the threshold of a new era for the flexible packaging sector, just as happened in the 70s with the advent of BOPP in gravure printing", says Rossi.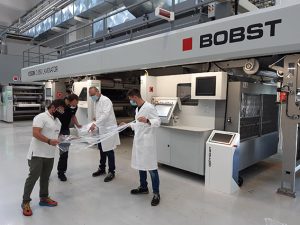 The new mono-material solution, with high barrier protection, perfectly recyclable, was created for the creation of a flexible packaging for coffee beans, replacing a 3-layer laminated film. The packaging consists of a 30 micron BOPE primary film and a 60 micron sealing film, produced by Plastchim-T and Ticinoplast respectively, to give the necessary barrier a barrier coating by Sun Chemical was then applied with gravure system on the coating machine by BOBST (possible both with gravure and smoothing bar system and with pressurized boxed doctor blade system). Subsequently the film with primer was then gravure printed again with BOBST machines. Finally, this double structure was laminated to a 60 micron polythene film using a solventless adhesive also by Sun Chemical, with the compact BOBST NOVA SX 550.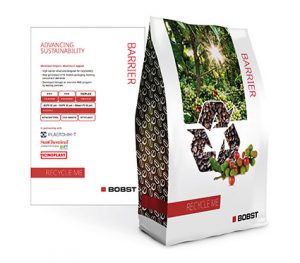 The collaboration was realized in BOBST Competence Center of San Giorgio Monferrato (AL). "The mission was to replace multi-material structures with duplex and triplex structures entirely based on polyolefin PE/PE with high barrier, without increasing costs to end customers and offering sustainable materials and using technologies already on the market. Our Competence Center with all production technologies for flexible packaging is increasingly a point of reference for converters but also brand owners for the development of innovative and sustainable solutions", concluded Sara Alexander, coating marketing manager at BOBST.