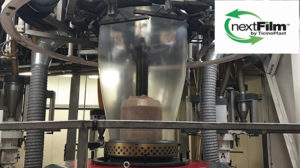 The first family of these new packaging solutions consists of MATER-BI, biodegradable and compostable films complying with international standard UNI EN 13432 for lamination or single use in the packaging of food and products suitable for compostable packaging. Result of collaboration with Novamont, these new films have been developed over a period of almost 3 years through joint research, development, industrialization and testing on printing machines, laminating machines and packaging lines. There are 5 already OK Compost-certified films, 2 print media and 3 sealing films. Laminated together, their mechanical and sealing properties ensure that they are suitable for production on any packing machine. The print media can be processed on both rotogravure and flexographic lines. The sealing films can be used either laminated or as single films, depending on the application, and can be printed.
MATER-BI, the result of Novamont research, is the family of biodegradable and compostable bioplastics meeting European standard EN13432 for those applications where biodegradability in different environments (industrial composting plants, soil, marine environment), represents an added value. Compostable products in fact have great potential in all those sectors where recycling operations are complex or impractical because of the simultaneous use of different materials and contamination by food waste. In these cases, using compostable bioplastics means that these materials and their contents can be included in the differentiated collection of organic waste, thus helping to produce quality compost for soil fertility and improve the recyclability of other waste.
Among the users of nextFilm™ products line is SAES Coated Films. Through its proprietary COATHINK® coating and metallization technology it can produce compostable films having barrier characteristics comparable to those of conventional packaging systems. COATHINK™ is a water-based lacquer coating technology able to give barrier properties to different types of polymer substrates. Thanks to its work on the sustainable design of barrier structures, SAES Coated Films has developed a family of products for high barrier and compostable flexible packaging complying with EN13432. The coating technology makes it possible to use thin coatings and formulations compatible with industrial composting processes.
Oxygen and moisture barrier levels comparable to those of conventional packaging containing not-recyclable plastic multilayers can be achieved because of the functionalities of the lacquers used. The result is a packaging solution that effectively protects food products and can be disposed of in the wet fraction at the end of its life. Finally, the nextFilm™line will soon be supplemented with polyethylene film obtained from both biobased and chemical recycling resins, which will therefore be suitable for contact with food. This development has led Ticinoplast to commence the ISCC+ certification process.