On 23 February, the third day of "Future of Flexo" conference conceived and promoted by Z Due, Reproflex3, I&C Gama and Tamburini, gathered around 200 operators of corrugated cardboard sector who attended technical presentations, case histories and round tables, closing the three-day conference which involved a total of over 400 operators
Three days of in-depth analysis on the latest technological innovations in the prepress and flexo printing fields, but also case histories, round tables with manufacturers and converters, analyzing all the segments where flexo printing is certainly a point of reference. On the last day, last February 23, the corrugated cardboard sector was the protagonist, with leading companies selected by the organization to participate in this event, the only one of its kind, to analyze the future of flexo, a future already present for many.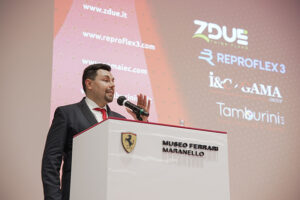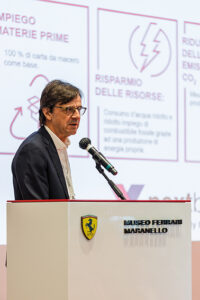 "Future of Flexo represents a starting point for the four companies that organized it, who presented themselves to the market to share a unique and innovative package of solutions in order to safeguard the margins of companies without neglecting an important qualitative increase", said Marco Mingozzi, General Manager of Z Due, opening the proceedings of the day dedicated to the sector where Z Due was born as a prepress service and where it has grown over the years, becoming a reference player for the production of flexo photopolymers for printing on cardboard for many leading box manufacturers, such as Imbal Carton. Its CEO Michele Lancellotti presented the company's vision and all the activities put in place for an increasingly sustainable production, also in light of the fact that Imbal Carton has recently become a benefit company, and therefore social responsibility, together with innovations, responsible packaging, no plastic and eco-sustainability are part of a broad and articulated path that will guide the company from now on towards sustainability.
Blue Edge and Vortex: new solutions for quality printing on corrugated cardboard
Z Due, thanks to the partnership with the English service Reproflex3 which owns this innovative technology based on algorithms, has been offering the Blue Edge and Vortex solutions for printing on corrugated cardboard for about two years. Umberto Cantone and Giorgio Cattani, Z Due, presented the main features of these innovative solutions, already adopted by various printers in Italy.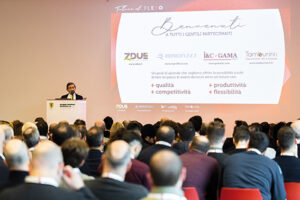 Blue Edge is an algorithm that creates the FM printing screen for images where distance and positioning of the dots is varied and not their size, suitable for glossy coated papers on micro-wave, capable of providing photographic reproduction with extremely fluid and continuous tones for cleaner printing and greater vivacity in the color range, guaranteeing high density and low ink consumption. The system also improves the surface tension of the plate, allowing for a 10% increase in optimal density, minimizing the use of ink, whose transfer is optimized, guaranteeing less dot-gain and therefore fewer machine downtimes, washings and resets. With Blue Edge there is also the possibility of reproducing many Pantone colors in four-colour process, thus improving the general efficiency of production costs, favoring stability and repeatability.
Blue Edge system is particularly suitable for those who have technologically advanced printing machines, with low capacity aniloxes, use printing substrates of a certain level and are looking for very high performance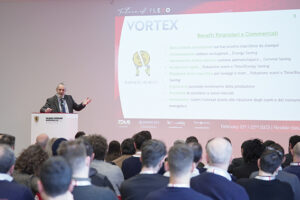 Vortex system, on the other hand, is an algorithm for specific applications for coated and matt papers, for all types of waves and on highly absorbent substrates, which does not require particularly high-performance printing machines and cutting-edge equipment, and can adapt to different printing conditions and materials, being able to provide excellent quality both on less valuable papers. "Both systems respond efficiently to the needs of the market which increasingly demands more productivity, profitability and quality, thanks to the modification of the relationship between anilox screen ruling and printing systems, so much so that it is possible to have a single anilox capable of printing on coated and matt, raising the final print quality, maintaining own machine set-up without further technological investments", said Z Due commercial manager Umberto Cantone.
From a technical point of view, Vortex is based on Kodak Flexcel NX technology thanks to which it has been possible to print jobs at 40 dots/cm on coated paper with anilox of 8/10 cm3/m2 which are normally plafond at 28/30 dots /cm.
"Being able to print in high definition with high capacity anilox means also and above all being able to achieve a high quality level using recycled papers which obviously require large quantities of ink for printing which Vortex is able to manage like no other product is able to do. The future are recycled papers which are increasingly covering all application areas and therefore Vortex is the future for us and for you all. Vortex is the key that opens the door to the world of sustainability: reduction of production waste, drastic reduction of dead times, reduction of the number of colors on the press, possibility of using cheaper and lighter substrates, reduction of the amount of energy required for inks drying, increased production speed", adds Giorgio Cattani, RD&Z Due.
Da Vinci Sleeve and Tamburini-Z Due partnership
The recent partnership between Z Due and Tamburini was also presented during the conference. Tamburini has designed new sleeve models that can be used both for printing flexible packaging and corrugated cardboard.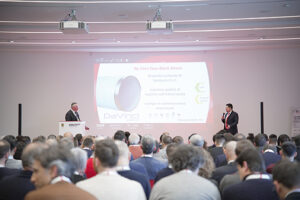 This partnership between two Italian flexo prepress services represents the beginning of a common path that will lead the two companies to collaborate more and more, guaranteeing a wide range of products and solutions for all flexo markets, also considering the focus of Tamburini on tissue sector. The Tuscan company has been on the market since 1969 and in addition to the classic production of photopolymers, thanks to its R&D department, for about 15 years it has specialized in the design and production of sleeves, created for flexible applications. But, thanks to the competences of Tamburini in paper industry, were carried on projects for pre-print applications on corrugated cardboard. "Recently we have been involved in a project abroad which involved adding printing units at corrugator entry, to allow the printing of covers before the production of corrugated cardboard, and thus allowing to pass directly to the die-cutting phase, without having to carry out further steps in printing machines", said Simone Tamburini, CEO of Tamburini, speaking of this new and interesting opportunity now available for printers and converters. Among other things, after the latest printing tests which gave extraordinary results, Tamburini will shortly be offering its sleeves made with Blue Edge and Vortex technology, also for the tissue sector.
Ink control systems, big data, machine learning and the importance of a management software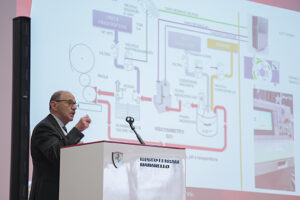 The I&C Gama team presented the latest studies in the field of Big Data & Machine Learning, with a focus on cost control relating to inks and fluids used in printing and converting phases. Leader in the flexible packaging sector, the I&C-Gama group, as confirmed by its CEO Sante Conselvan, looks with particular interest at the corrugated cardboard market, to replicate the successes achieved in the flexible sector, thanks to a range of products and specific solutions that can help printers and converters improve their performance. "Today the difference is made by the details, and an automated, standardized, controlled process allows for an increase in quality and printing speed, a reduction in costs and waste, all with estimated data that can be verified at the end of the day", comments Conselvan.
G31 is the name of the vibration viscometer developed for the corrugated cardboard sector by I&C Gama for controlling temperature, ph and viscosity of water-based ink. But I&C Gama wanted to take a step forward, proposing, first in the world, also the detection of ink consumption with CCSone system, thus providing the entrepreneur with sure data that can help to better manage his production and process costs. "We are part of this project because we believe that our contribution can also help in the corrugated cardboard sector and for this reason, we are available to carry out free tests at your companies to check if our systems can help you on the path towards quality and excellence", adds Conselvan.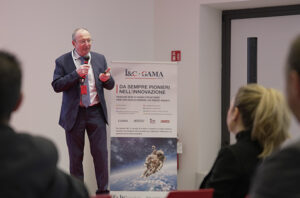 Sante Conselvan and Dario Cavalcoli of I&C Gama spoke about data, that must be managed and which have been taken up in the SisTrade case histories, with interventions of Paulo Souto and Natasha Santos, who provided an overview of ERP-MES solutions offered to printers and converters by the Portuguese software house for flexible, labels and corrugated cardboard market, and thanks to the partnership with I&C Gama, the company has also been present on the Italian packaging market for about two years. "With our software systems we integrate a lot of information, different from each other, succeeding in managing the entire production process that starts from the estimate and ends with invoicing to the customer. In between, a whole series of data that we manage and analyze, providing useful reports to manage better printing and packaging companies, which can thus have everything under control, and make any corrections if necessary", concludes Natascha Santos.
An open discussion between converters and technology manufacturers, between sustainability and new trends: trying to provide answers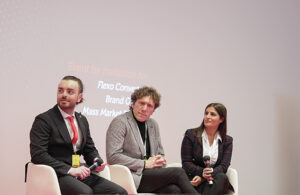 The round table with the converters saw an open debate between Eno Tordini, owner of TS box factory; Marco Vecchi, SIFA technical office manager and Maria Eugenia Sada, purchasing manager at Sada group. For these three companies high quality is a standard, so much so that they have received various national and international awards, besides they have included Vortex within their printing process, confirming all the technical advantages already analyzed. Especially with recycled paper where color coverage and print repeatability are two crucial issues to be resolved.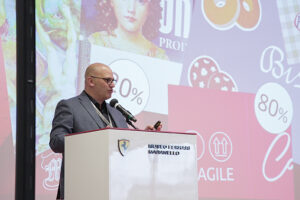 The case history presented to the audience by Gerardo Budetti, R&D Manager, was much appreciated. He told how on the one hand Sada, also thanks to technological innovations in prepress and print, has embarked on a path towards excellence and very high quality, but at the same time due to an impoverishment of raw materials, the company had to deal with a degradation of the printability of line works, works considered simple. "Working on prolonged cell aniloxes that we had in-house, on solid photopolymers with very different hardnesses from conventional ones, on shock absorbing pads applied behind the low thickness printing plates, and the micro-opacification of printing dots on the plate, we managed to improve the printability of our line works packaging, with better ink transfer and sharpness of the final print result", concluded Gerardo Budetti.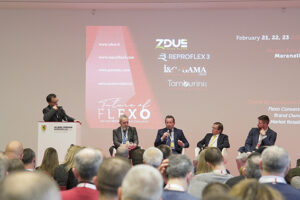 For the final technical round table, Giorgio Cattani and Umberto Cantone for Z Due, Michele Pinelli, project manager at Koenig & Bauer Celmacch, took the stage, also answering various questions from the audience. Koenig & Bauer Celmacch presented a case history on its latest technological news, this company uses the Vortex system as a reference standard for internal printing tests but also for acceptance tests of machines sold on the market. Carlo Tarello, BOBST commercial director, also took part in the round table.
From the discussions, in addition to the latest innovations in the printing and converting fields, the topic regarding big data and their management in the machine emerged predominantly, but also a new trend, grown thanks to the explosion of e-commerce, characterized by the increasingly pressing request to have boxes printed internally, which has led both manufacturers to offer the market technological solutions to satisfy it. And in the future, given the demand for folding boxes to be printed in flexo that some players have begun to advance, there will be further technological developments also to try to satisfy this new trend
"The flexo community is increasingly alive and vital, we are happy to have accepted Marco Mingozzi's invitation to join this group of companies. We are certain that moments of discussion like this are absolutely vital for the cultural, technical and managerial growth of our customers and of the people who enthusiastically accepted to participate in the event", concluded Sante Conselvan.
---
Facilitated finance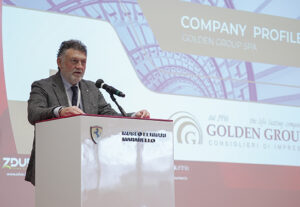 Andrea Novi, area manager for Emilia Romagna of Golden Group, which today represents one of the main players in Italy in the facilitated finance sector, stated that Golden Group has structured an articulated method to be able to access the concessions which involves, in the special contracts four figures, namely the company adviser, the study and research office, the technical consultant and the technical office. Following precise steps, Golden Group has allowed some customers to obtain financial recovery as a tax credit over 3 years for each printing plate purchased with BlueEdge and Vortex technology, the other innovative algorithm created by Reproflex 3 and Zdue for mg clichés for a high quality flexo print on corrugated cardboard.
---