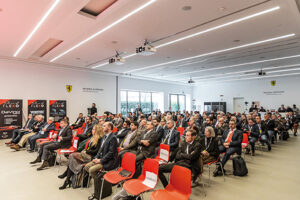 Flexo printing: the future is already here
An important event about the future of flexo was held on 21, 22, 23 February at Ferrari Museum in Maranello, organized by the companies Z Due, Tamburini, I&C Gama and Reproflex3. The first day was dedicated to flexible packaging printing, providing technology updates, success stories and innovations
The event was eagerly awaited by the sector because it had been scheduled in 2020, but then postponed due to the pandemic, and was only "stored but not forgotten": expectations were absolutely met and above all these days, as recalled Marco Mingozzi, general manager of Zdue, which involved a selected group of operators, were a message of hope and positivity, speaking not only of technology but also of sustainability and finance.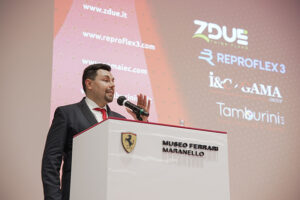 The recent partnership between Z Due and Tamburini was presented: they will collaborate more and more, guaranteeing a wide range of products and solutions for all flexo markets, also considering Tamburini's focus on the tissue sector. Tamburini has launched a new brand of sleeves applicable in the flexible packaging and corrugated cardboard sector.
ProjectBlue e Blue Edge to face challenges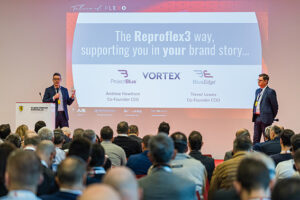 Andrew Hewitson e Trevor Lowes, both CEO of Reproflex3, a company that provides pre-press packaging products and services operating from Newcastle upon Tyne, Dubai, Mumbai, Christchurch and Auckland, presented Project Blue, real system that involves the entire printing chain, a technology that produces enormous advantages for flexo. Very high optical density with very low ink transfer and consequent reduction of costs and in favor of sustainability, soft shades in the highlights without clear breaks, color control comparable to offset and gravure quality, but above all the possibility of extending the color gamut and reproducing 80% of Pantone colors with four-color process. All this is possible thanks to a study of the screening which eliminates the screen angles (the famous rosette) and which determines an effective and more advanced control of ink transfer.
Not happy in 2019 BlueEdge was conceived, one of the first technological products born from the collaboration of Reproflex3 with Z Due. BlueEdge does everything what ProjectBlue does, but it has been adapted by the two partners to offer exceptional print quality even on flexible films. BlueEdge was born to make ProjectBlue technology open to different anilox technologies and therefore broaden the number of printers who could use it, because customers want better proof/print consistency, all achieved with faster makereadies and also programming for work with multiple references is easier; all this contributes to a reduction in waste and therefore productivity increases. Furthermore, the perfect balance between algorithm/plate/anilox/film allows the surface tension of the material to be printed to be balanced, therefore even difficult materials (single-material, recycled and even laminates) can be printed with optimal results.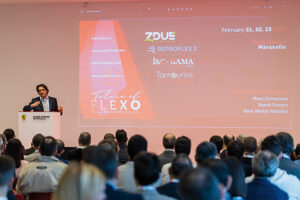 Andrea Sandrolini, product manager of Zdue in his speech spoke about these two algorithms underlining that they "respond with a low level of investment to requests for increased profitability, quality and productivity, causing a fantastic domino effect, that is a chain reaction which occurs when a small change is capable of producing a similar one in turn, giving rise to a linear sequence of positive changes: in short, you must be ready for change and innovation, continuing to say that I cannot change because I am too busy and I don't have time is an excuse and can become a fatal mistake for a company".
Facilitated finance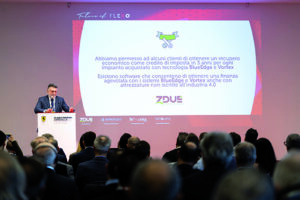 Andrea Novi, area manager for Emilia Romagna of Golden Group, which today represents one of the main players in Italy in the facilitated finance sector, stated that Golden Group has structured an articulated method to be able to access the concessions which involves, in the contracts four special figures, namely the company adviser, the study and research office, the technical consultant and the technical office. By following precise steps, Golden Group has allowed some customers to obtain financial recovery as a tax credit over 3 years for each printing plate purchased with BlueEdge and Vortex technology, the other innovative algorithm created by Reproflex 3 and Zdue for making clichés for a high quality flexo print on corrugated cardboard.
The importance of control and data management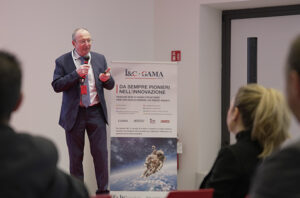 A focus on cost control relating to inks and fluids used both in the printing and converting stages was provided by Sante Conselvan and Dario Cavalcoli of I&C Gama, who presented in detail fluid quality control, ink consumption detection solutions, but also the systems for internal logistics, and for storing sleeves in the best possible way. Conselvan then mentioned Camis plate mounters and the customized cutters of the H7 group: the use of these systems has the aim of achieving automation and standardization, because today printers have become process operators, but then what? What to do with all this data? How to manage and exploit them to optimize production and work organization? Thanks to the collaboration of I&C Gama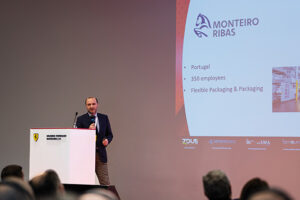 with Sistrade, a Portuguese software house that supplies systems for the management of various activities, aimed at vertical markets, is available ERP-Sistrade, an integrated management solution designed specifically for the printing industry, from the market of labels to that of converting. This system, strategically designed for specific applications in the packaging sector, allows an increase in productivity and efficiency by offering decision support in different business areas. Because it is Big Data, that is, that enormous volume of data, structured and unstructured, which floods the company every day, which must be used, they are a tool to grow and develop opportunities. Data must be collected with the aim of governing the exchange between the main functions (production management, warehouse, purchases, commercial suppliers and estimates and administration).
Regulations and technologies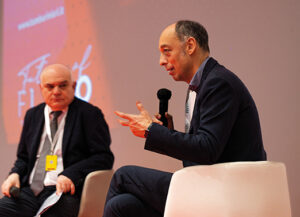 Alberto Palaveri, commercial director of Sacchital and president of Giflex, raised some perplexities regarding the proposal for a European regulation for the revision of EU legislation on packaging and packaging waste, fundamentally because the legislator cannot establish a priori what are the packaging to be banned, without any verification whether the alternative solutions really have a lower impact. Furthermore, favoring and encouraging reuse at the expense of recycling really runs the risk of undermining a system that works, that is, the recycling industry. And our national model works, because it is based on integrated separate collection, and therefore Community legislation should support it and not replace it with another one of uncertain effectiveness. Specifically, in 2021 Italy started recycling 73.3% of the packaging placed on the market: 10 million and 550 thousand tons, in other words 7 out of 10 packaging, exceeding the European target for 2025, that is 65%. It is not correct that the legislator decides on environmental policies, also because the proposal shows that packaging is considered an absolute enemy. The packaging supply chain must bring innovation, but above all it must communicate it externally, to make everyone understand, but above all the legislators, that packaging has an absolutely positive connotation, especially if it is recycled correctly.
E di innovazioni hanno parlato alla fine della prima giornata alcuni costruttori di macchine da stampa: Aldo Peretti di Uteco, Daniele Cerizzi di W&H, Andrea Dalla Valle di Koenig & Bauer Flexotecnica, Andrea Formigoni di Dec Impianti, Emilio Alliegro di Bobst, con contributo finale di Eleonora Emili, Packaging Purchasing Manager del marchio Grissin Bon. Automazione, machine learning e tecnologie di stampa ibride gli argomenti che hanno accomunato tutti i costruttori nell'analizzare lo stato dell'arte e le prospettive di sviluppo delle macchine da stampa flessografiche.
And at the end of the first day some manufacturers of printing machines spoke about innovations: Aldo Peretti of Uteco, Daniele Cerizzi of W&H, Andrea Dalla Valle of Koenig & Bauer Flexotecnica, Andrea Formigoni of Dec Impianti, Emilio Alliegro of Bobst, with a final contribution by Eleonora Emili, Packaging Purchasing Manager of Grissin Bon brand. Automation, machine learning and hybrid printing technologies are the topics that have united all the manufacturers in analyzing the state of the art and the development prospects of flexographic printing machines.
It was mentioned Active Pack by Uteco, which manages to guarantee a more sustainable and convenient printing process and includes three different technologies: Active Dry®, which allows to reduce the amount of energy needed to dry the ink on the surface of the material to be printed; Active Ink allows to reduce the consumption of inks and Active Start, which allows to reduce the start-up times of the machine, thus improving the efficiency of the production process. Thanks to these technologies, Uteco customers can achieve energy savings of up to 50%, thus reducing costs and improving the sustainability of the printing process.
As regards BOBST the partnership with AV Flexologic was mentioned, which has literally broken the barrier between prepress and print synchronization thanks to the integration of the smartGPS system in the range of flexo plate mounting machines of the Dutch manufacturer. The combination of this leading press automation technology with AV Flexologic's flexographic plate mounting systems will let advance the flexographic industry towards a leaner, waste-free and streamlined print workflow.
Windmoeller & Hoelscher Group technology also constantly aims to improve productivity and quality, trying to make the machines communicate as much as possible to launch complex orders. As far as AI is concerned, the RUBY go platform literally allows you to discover the hidden treasure inside the packaging production process, the data, with various extensions for different sectors and functions.
Sustainability, artificial intelligence applied to flexo with data analysis systems, process optimization, the added value of hybridization of the central drum flexographic machine, all themes that Koenig & Bauer Flexotecnica is pursuing within the company strategy ExceedingPrint which is based precisely on sustainability, digitization and modularity.
Finally, DEC Impianti which has chosen to follow this mission: making production activities sustainable thanks, among other things, to the SRUs, VOC emissions treatment units with solvent recovery, to achieve as much as possible a DECarbonization of the sector.