Zecher GmbH, an international manufacturer of quality anilox rollers and sleeves, closes the first quarter of 2023 extremely positively. Both incoming orders and sales figures exceed the company's internal expectations and there is hardly any sign of the cautious restraint experienced in the previous year due to the tense global economic situation caused by Corona and the war.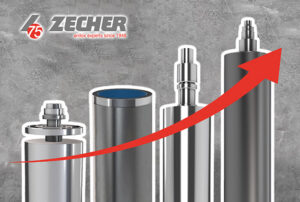 A well structured product portfolio and intensified sales activities are the background to the very good results. The increased capacity utilization in the production area is also partly explained by the investment in an additional production machine made at the beginning of the year, which has shortened internal production processes and created additional capacity.
"We are very pleased with the extremely positive first quarter results. More and more customers are seeing the benefits of our quality anilox rollers, which deliver both high-quality print results and monetary savings due to reduced ink consumption as well as a longer roller lifetime. As long as our customers continue to focus on quality, the pandemic does not intensify again, and the general economic conditions do not worsen, we expect a consistently positive development for our anniversary year 2023, when we celebrate 75 years of activity", says Thomas Reinking, Sales Director at Zecher.