Presented last December with an online event, the first for the Lecco-based manufacturer, the new VaryFlex printing machine is a concentrate of technology capable of bringing together different printing and drying elements such as offset, gravure, flexo, UV or EB.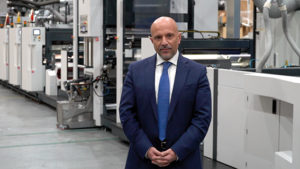 In the last 6 years, Omet registered a 10% annual growth trend, thanks to constant investments in research and development and in facilities, as confirmed by the president of the company Antonio Bartesaghi, who invited customers to visit, as soon as this is possible, the new facility dedicated to building of printing machines.
For some years now, Omet has been offering its customers high-performance printing solutions for flexible packaging sector, a sector that, together with that of labels, is growing rapidly, and which, right with the Covid emergency, has seen nosing up the demands of brands owners and food producers, called upon to provide increasingly efficient and safe packaging, for which printing quality is now a fact.
Marco Calcagni, Sales Director, Paolo Grasso, Global Sales Director and Roberto Speri, OMET's Key Account Manager Business Developer, presented the new VaryFlex V4, 400 meters per minute with a web from 670 to 850 mm and offset sleeve technology, in combination with gravure of new generation and with the possibility of adding flexo groups in line.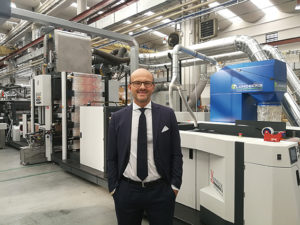 The machine presented during the event is intended for a customer in the food sector for the production of flexible packaging and is also equipped with an EB unit for perfect compatibility with needs of the food sector. The newly developed gravure printing unit is designed for application of special effects on sleeves, labels and flexible packaging and is equipped with an integrated cooling drum and doctor blade with front and back printing capabilities.
The printing unit is interchangeable in a few minutes thanks to the quick-change system with automatic pressure control, and is designed to work with different configurations: Wet-On-Dry with UV drying between one printing unit and another; Wet-On-Wet with UV drying or, on request, with EBeam drying.
The virtual open house showed the solution with 6 offset units with UV drying and two gravure units with hot air drying, for printing different jobs on PET material with quick change of the print subject.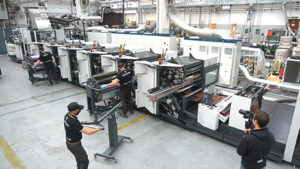 Thanks to integration of the EBeam system and use of low migration inks, the Varyflex V4 is a safe solution for printing food packaging, completely eliminating the risk of ink or solvent residues on the packaging. In addition to the use of inks without photo-initiators, OMET offers further solutions that marry sustainability: wet-on-wet printing with a special conceived material passage that allows extremely reduced material waste; the use of Ebeam drying with reduced power supply allows further cost savings; flexo Ebeam printing allows you not to use ultraviolet, suction hoods and solvents in the inks.
Why invest in this technology?
"The first reason is undoubtedly the print quality, with extremely sharp and bright details. Offset technology is also consolidated, simple and does not require particular investments in auxiliary technologies, but also in pre-printing, and all the management of this process turns out to be quite economical. Then there is the aspect of the added value offered for example by the application of EB coatings that go well with particular applications such as the packaging of candies and frozen foods. The great flexibility of this machine, which allows the printing elements to be converted from offset to flexo in a few minutes and its structure, with a central control console, equipped with a monitor for the control and management of the entire printing auxiliary equipment makes it a perfect machine for all flexographic printing companies", comments Paolo Grasso at the end of the print demos.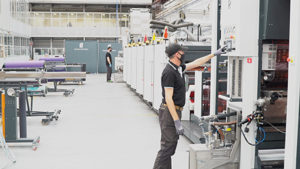 "Packaging Revolution" was the first virtual streaming event organized by Omet, with two sessions one in the morning and one in the afternoon to allow live participation from all over the world. "The results were beyond expectations – comments Massimo Bellingardi, Omet Marketing Coordinator – with over three hundred participants divided between the two sessions, who followed the event for its entire duration".