The Italian-based company has perfected an adhesive application system to face the challenges of biodegradable adhesive.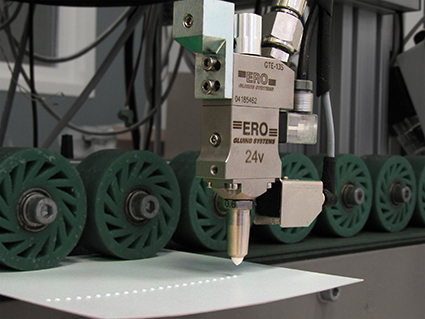 Compostable glue has proved to pay for itself. Not as expensive as regular glue, and biodegradable, it is appreciated by customers for its ecological values. But starch-based and compostable glues are not so easy to handle: the purest they are, the more specific equipment they need. ERO has developed and perfected a gluing system that takes into consideration and solves the disadvantages of this type of adhesive.
ERO's Engineering Department has perfected each and every element of the system to perform efficiently with the special conditions of biodegradable adhesive, less refined and filtered than conventional adhesives. On-site, the complete system is carefully adapted to each production line.
The pressure pump is calibrated according to the viscosity of the adhesive. Valves have been upgraded with an improved anchor and its innovative double filter has been specially developed for this adhesive. In addition, ERO ceramic nozzles avoid glue blockage and guarantee a consistent application.
Finally, ERO offers an iPad control device that allows remote production control, saves information and generates statistics to analyze and optimize production in order to reduce faulty boxes and waste.