With the new Zecher App, Zecher an international manufacturer of anilox rollers and printing cylinders, are making their mark on the digital transformation of the printing industry. The pioneer of anilox rollers is living up to its name by enabling its customers to compactly manage their Zecher products with mobile devices through the app.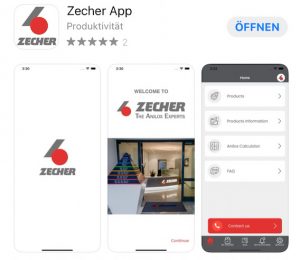 By using the guest access, the app functions as an information portal and provides information about the Zecher product world, the company, the most frequent FAQs and enables mobile use of the anilox roller calculator. The login area, on the other hand, goes far beyond a purely informative platform. After successful registration, users benefit from a detailed listing of their own Zecher products including processing status. Requests for new products or refurbishments can be sent from within the product overview, ongoing and completed inquiries and orders including delivery times can be tracked under "My Zecher", claims can be addressed via a barcode scanner, and users have the option to be informed about changes in processing status via push notifications. Thomas Reinking, Sales Director, comments: "We are very pleased to finally be able to go public with our big news after a test period. The initial positive feedback suggests that our app will make us even more transparent to our customers, who will be able to find out about the status of their own Zecher roller park at any time. For example, a daily updated status can be queried at any time for an anilox roller that is at Zecher in Paderborn for reconditioning or claim."
The app is available in the iOS App Store and the Google Playstore. Direct links to both platforms are listed at www.zecher.com/zecher-app.