Zecher GmbH, an international manufacturer of anilox rollers made of chrome and ceramic, presents itself with a new website. The focus is on a modern and clear design with simple user guidance and options for interaction. In addition to information about the Zecher world, the new website also offers customers general content on printing processes.
Simplified usability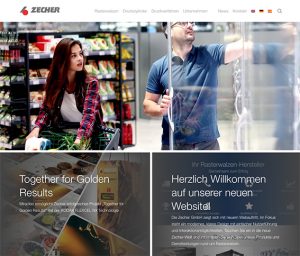 "5 years after the last relaunch, we have deliberately placed our focus on usability and user-friendliness and want to provide our users with the information they need about our anilox rollers, printing cylinders and services through a professional and clearly structured web presence. For example, we have presented our products with rotatable 360-degree views or used engraving examples that can be varied in the view by sliding controllers", Thomas Reinking (Head of Sales and Marketing) comments on the project.
In addition to the design restructuring, the content of the entire website was revised and adapted to current technical requirements. It has been optimized for use on various end devices and for better findability in search engines.
The clear structure of the new website is part of Zecher's international growth orientation. Reinking comments: "We are very pleased that we are not only presenting Zecher products to users on the new website, but also picking up on the everyday points of contact with end products of the printing industry through the supermarket theme. The new, modern website much better reflects who we are and what Zecher stands for: continuous improvement and customer proximity. That's one of the reasons Zecher is considered a pioneer in anilox rollers".