RS Tipolitografica, after having made the courageous choice to abandon traditional printing to convert all its production to digital, continues its technological update with a MGI JETvarnish 3DS by Konica Minolta, for spectacular enhancements, adding value to printing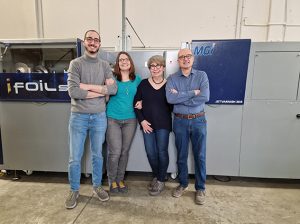 It was 2012 when the Reggio Emilia Chamber of Commerce declared RS Tipolitografica a historical company, which this year turns 141 years old: founded in Novellara (RE) by Pietro Ruozi, primary school teacher as a small printing shop which over the years it transformed itself, but it is absolutely proud to have started as an artisan reality and to continue to be so. Today it is Roberto Ruozi, great-grandson of the founder, the owner of the company, who produces all kinds of printed matter, from business cards to calendars, from brochures to catalogs, from black and white printed manuals to small and great boxes, all digitally printed. Roberto follows packaging, cutting and quality control, but the whole family contributes to the success of this small company with a dozen employees: Roberto's wife, Simonetta Mora, takes care of printing, customers and purchases; then there are their children, Eugenia, who studied graphics and prepress, and therefore follows these activities personally, and Umberto, IT expert, who instead manages all color printing and finishing.
Diversification and flexibility thanks to digital technology for printing and finishing
For several years, RS Tipolitografica has decided to completely abandon traditional printing, because it is convinced that digital printing is the only answer to cope with production flexibility, decline in print runs and the speed required for deliveries. "From black and white manuals to embellished printed products only with this technology we can guarantee all this, because our strength is flexibility: we take care of the entire production cycle, from graphic design to printing to finishing, thanks to the latest investments to make this part of processing efficient too with a staple binding line, with which we can also make the square back, laminating unit, perfect binder, creasing machine, multifunction system", says Simonetta.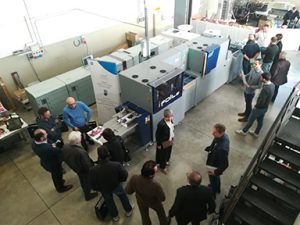 Constantly in search of quality, professionalism and to expand the range of products offered, this dynamic company has realized that to make a difference it was necessary to focus on a new service, the embellishment, to emerge and diversify. "To celebrate the installation of the new MGI JETvarnish 3DS we organized an open house in February 2020 to let customers touch the wonders that can be created: unfortunately after a few days Italy entered lockdown, but we did not discouraged, we have always worked with passion and commitment and the results have arrived, in fact in 2021 we recorded a completely unexpected increase in turnover, it is as if the new MGI JETvarnish 3DS had acted as a magnet for many jobs and helped us a lot to restart, moreover, many customers, who initially only asked for the finishing, then decided to order the printing as well, confirming what convinced us to abandon traditional printing, namely that only digital printing can meet the needs of today's market", Simonetta says.
The marketing strategy adopted is simple but effective. "For each digitally printed work we offer an ennobled sample, so customers realize what they can do, and it is an approach that works: after seeing the concrete examples, few give up on ennobling, and this applies to all types of product, from commercial products to book covers, from catalogs to labels, up to packaging for confectionery, perfumery and food sectors", say Eugenia and Umberto, who had this brilliant idea. And the products made are really special: for the pasta factories they make top cartons; for the stationery sector, pencil cases, in short everything that can be printed in small format, besides "the runs are short, of course, but not very short, for example for samples you can easily reach 600 pieces", he says Eugenia.
MGI JETvarnish 3DS, a truly special solution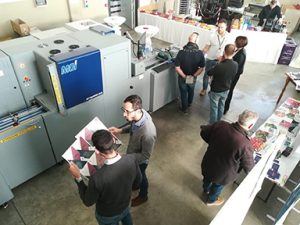 This system for tactile and relief painting never ceases to amaze. Its finishing printing speed is different depending on the thickness of the coating: 2D/flat mode up to 2077 A3 sheets per hour (with a thickness of 21 µm); 3D/relief mode up to 1468 A3 sheets per hour (with a thickness of 43 µm); up to 547 A3 sheets per hour with a thickness of 116 µm. In addition, the machine ennobles both with 2D & 3D spot coating and hot foil.
Umberto explains to us that "with this machine you never stop learning and experimenting: certainly the training that Konica Minolta provided us was precious to learn how to manage the machine at the beginning, but I believe that only the experience itself can make appreciate all the potential of MGI JETvarnish 3DS, not only with respect to the thickness of the coating but also for the effects obtained on the many materials with which it is possible to work".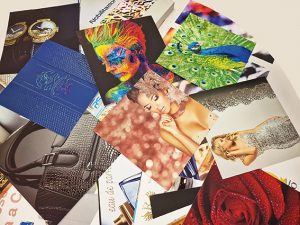 Sometimes it is not easy to let printers, packaging and label manufacturers understand "the potential of this type of finishing, which with a small investment can make the difference, I recall that as far as substrates are concerned, processing is compatible with most matt or soft-touch laminated surfaces, with or without acrylic paint, coated paper, plastic, PVC and more", adds Umberto.
Precisely to show these special effects RS Tipolitografica has created the sample of special effects that many of you will have seen at Konica Minolta stand during Print4All last May, full of ideas and inspirations for all potential users.
"Two years have passed since installation and the balance is absolutely positive, also thanks to the great passion that Konica Minolta's staff have managed to transmit to us; when we went to see the machine in France we immediately understood that it was just the solution for us, which we also believe we had installed at the right time: we had expectations that were met and exceeded, because its technical possibilities allow the realization of unique creative projects", concludes Simonetta.