Visitors to the Konica Minolta stand will find advanced, professional solutions for a wide range of professional needs.
With a view to digitising printing processes, Konica Minolta introduces AccurioPro Flux, a highly scalable workflow suite offering a range of tools to organise, automate and optimise a company's entire print workflow, reducing waste and production time.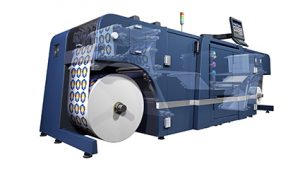 For printers who want to differentiate their business, Konica Minolta offers the opportunity to enter the labelling market with AccurioLabel 230 and the packaging market with PKG-675i.
AccurioLabel 230 is Konica Minolta's roll-to-roll system designed for the "Label Converting" market.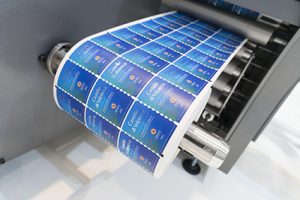 This market increasingly needs to switch production volumes from traditional to digital systems, due to shorter print runs, faster turnaround times customisation and on-demand production. It features excellent print quality, is user-friendly and has a high output. The machine can also be equipped with an inline flexographic unit for printing in white on transparent self-adhesive material.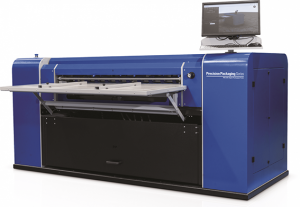 The PKG-675i is a high-quality inkjet device that can print on flat cardboard, corrugated surfaces and pre-cut materials in short runs with a high level of customisation. It is the perfect solution for converters to create mock-ups quickly, optimising time to market and reducing waste. This technology is ideal for corrugated packaging for personal care, household and food products (it holds a Food Safety Certification), where the packaging is essential to protect products during transport and distribution.
If you're looking for efficiency and added value, Konica Minolta's AccurioPress C14000 Production Printing System and the MGI JETvarnish 3DS finishing system allows you to automate your workflow and gives added value to your prints.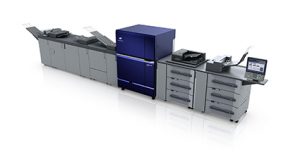 AccurioPress C14000 and C12000 are the flagships of next generation production printing. These latest models feature unprecedented print quality, incredible media flexibility and the highest level of automation. With a speed of up to 140 ppm (up to 120 ppm for the C12000), AccurioPress C14000 and C12000 help print professionals get their jobs done, day after day, printing easily, reliably and efficiently on a wide range of media. The brand-new SIMITRI HD V is designed to easily adapt to the surface of the print media, guaranteeing the best possible quality on embossed, textured or recycled materials.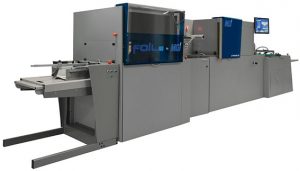 MGI JETvarnish 3DS is a finishing system that allows 2D & 3D spot varnishing and foil application. It aims to meet the growing needs for productivity and flexibility for digital and traditional printers and converters who want to digitise their finishing processes. It is available in a 36.4 x 104 format. It offers high output, with volumes of up to 2,077 sheets per hour in A3 2D, with outstanding registration accuracy and brilliant 2D and 3D effects up to a maximum thickness of 232 microns in a single pass, with a highly profitable return on investment. It creates unique, eye-catching prints that generate more value for your customers.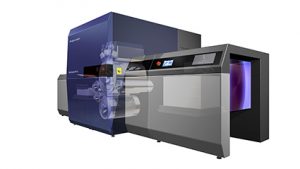 Finally, for those looking to grow their business, Konica Minolta introduces the AccurioJet KM-1e, the new model of the popular B2+ UV AccurioJet KM-1 inkjet printing system. Designed to meet the most demanding needs of commercial printers, web-to-print and publishing houses, the AccurioJet KM-1e offers maximum versatility and flexibility, printing on a variety of surfaces, including plastic, synthetic, clear film, metallic materials and canvas. The AccurioJet KM-1e is a real 'Swiss Army knife' of printing, featuring unique Dot Freeze Technology™, a patented process that freezes ink droplets on contact with media, while maintaining colour stability and consistency for perfect print results instantly. With the AccurioJet KM-1e, your imagination is your only limit.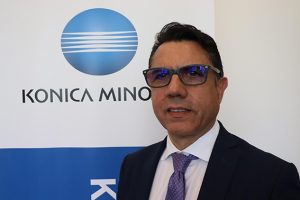 "Innovation has always been the at the heart of Konica Minolta, and it has never stopped, even in challenging times like these. Over its 150-year history Konica Minolta has learned that a crisis is an opportunity. This means looking beyond the usual ways of working and always finding new approaches that allow us to be closer to our customers, especially in uncertain times. It means being extremely flexible in adapting to situations and being quick to understand and anticipate situations. It is very difficult and also risky, but at the same time inevitable.
This is why we have decided to take part Print4All, the most important Italian event in the graphic arts world. We are working to ensure the event is a great success and fill it with content that will help and support our customers in dealing with economic recovery in the best way possible", says Antonio Maiorano, Professional Printing Sales Director at Konica Minolta Italia.