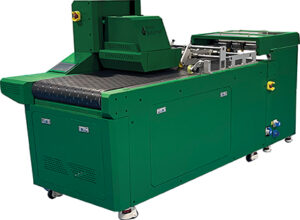 Print Solution Srl is a company specialized in the distribution and marketing of complete solutions for label and packaging printing, and thanks to its great expertise and experience in the sector, Print Solution is the reference point in Italy for the most important international technology producers, who rely on the structure created by Fabio Callegari for marketing on the Italian market
It's called Greenbox-Evo, and it's the latest addition at Print Solution, the specialist in digital printing solutions for various markets, including labels and packaging. The new digital printing machine proposed by Fabio Callegari's staff is ideal for direct printing of small and medium runs of cardboard boxes, but also paper and jute bags.
Result of years of experience in the specific sector of printing on cardboard and packaging, Greenbox-EVO is the evolution of the well-known Greenbox which represents one of the best-selling solutions by Print Solution in the market of printing machines for cardboard and packaging.
La GreenBox Evo nel dettaglio
Completely redesigned, the Greenbox-EVO is the most performing among the single pass CMYK direct printing machines and able to satisfy even a range of professional users who need performance, high reliability, low printing costs, automating their print runs as much as possible. For this reason the new Greenbox-EVO is equipped with an automatic feeder, even if optional, with a specific vacuum pump system for the kind of substrates that the machine can print (cardboard, flat or die-cut corrugated cardboard, sheets of paper…).
Greenbox-EVO uses capacious 3 liter ink tanks per color, to allow greater autonomy, even long print runs and a very low printing operating cost.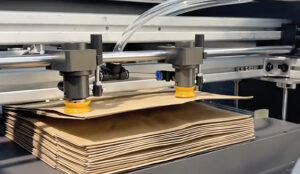 In addition to the redesign of the support and the feeding table, the GreenBox EVO is now equipped with a new and powerful vacuum table that improves the stability of the substrates during printing, new intermediate guides that facilitate the passage of paper and the work of the operator, making the Greenbox-EVO certainly suitable even for the most demanding customers.
Very easy to use, and extremely versatile Greenbox-EVO represents the digital solution to enter the world of direct printing on packaging with a little investment, especially for a constantly growing market because of need to customize boxes, shipping envelopes and paper bags (shopper), and jute in small and medium runs.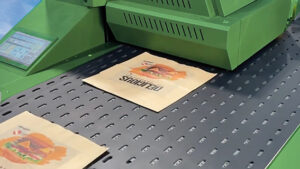 The incredible versatility of this system is obtained through the combined use of an ultra-fast CMYK print engine with water-based, solvent-free and totally odorless pigmented inks, capable of printing on treated and untreated paper and cardboard substrates, and a mobile head adjustable both in height, to print on supports or directly on packaging up to 8 cm thick: Greenbox-EVO is now equipped with a micrometric system with digital display for the accurate regulation of the excursion of the print head from the substrate
Greenbox-EVO has a 30 cm print head and a paper passage for substrate up to 70cm wide.
Precisely for this reason Greenbox-EVO will expand business opportunities, allowing you to print directly in four colors on both flat and corrugated cartons (open and covered wave), and on pre-punched packages such as boxes for cakes, pizzas, wines, footwear, shipping boxes and envelopes
The productivity of Greenbox-EVO is guaranteed by its printing speed: in fact, thanks to the HP Pagewide single pass print head, the system can produce four-color printouts at 30 meters per minute with a maximum resolution of 1200 x 1200 dpi.
Greenbox-EVO uses pigmented water-based inks, used by the most widespread systems for the on-demand production of packaging and labels, which guarantee, in addition to the excellent yield on even untreated substrates, a great resistance to both atmospheric agents, rubbing and to water.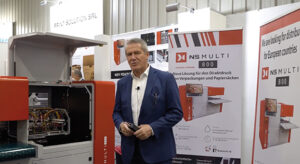 Face to face with Fabio Callegari, Managing Director of Print Solution
What is the positioning of this new cardboard packaging printing machine?
"Greenbox-EVO is positioned in a very interesting segment as it combines print quality with investment and operating costs at an unprecedented level. Until yesterday, the offer of digital solutions aimed at the world of packaging and cardboard mainly focused on print quality and little on printing and operating costs; with Greenbox-EVO we are able to satisfy both needs, because printers will in fact be able to enjoy a high quality and versatility of printing without compromising printing and operating costs".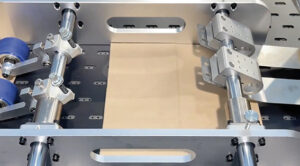 For which types of jobs and print runs is GreenBox-EVO particularly suitable?
"Its great versatility really allows to print on almost everything. It should also be considered that the use of solvent-free and completely odorless inks allows to open up to the world of food and the entire packaging sector for ready-to-eat foods, canteens and home deliveries, including direct printing on pre-cut products such as boxes for pizzas, desserts etc. Greenbox-EVO can also deal with medium-high runs thanks to the excellent cost and management economies obtainable with the generous 3 liter ink tanks each and the automatic sheet feeder with optional vacuum pump".
Have you already received feedback from the market?
"Absolutely yes: for some years now we have been followed by the market with great interest because we have offered innovative solutions in this specific sector and solved many of the typical digital challenges with commitment and seriousness, by now our technology and our solutions are mature enough to allow us to penetrate new markets: every new product we present corresponds to numerous requests for information, samples and prints on specific customer materials, demos at our showroom or at trade fairs in which we actively participate both locally and internationally".
What are the characteristics for which it is most appreciated?
"Definitely the quality/price ratio as this is a machine capable of managing even the most important productions thanks to the very low printing cost.
Robustness and reliability certainly make it the ideal partner for those who want to customize their products at decidedly attractive costs. The new and robust vacuum table provides a good stability even with very light substrates. I would add the seriousness of relying on a reliable and expert Italian partner, but perhaps it is better to let the market judge…".