There are many and relevant innovations presented at Viscom 2021 by Print Solution, the Italian company specialized in the distribution and marketing of complete solutions and equipment for printing labels and packaging.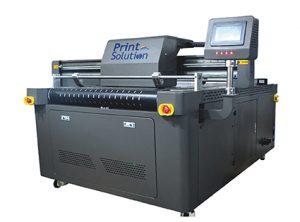 After the great sales success achieved with Greenbox, the solution for direct printing on cardboard with odorless water-based inks, arrives the second version, Greenbox-2, which uses new pigment inks resistant to water and rubbing and which allows to print directly on corrugated paper and cardboard in sheets or packaging already assembled up to 15cm thick. The HP Pagewide technology employed in Greenbox2 enables remarkable productivity thanks to its print speed of 30 meters/minute and print resolution up to 1200 dpi. Greenbox2 is industry 4.0 certified and benefits from tax incentives made available by the Ministry of Economic Development.
For those looking for the ideal solution for printing plastic bags/ envelopes, even with a full background (black), personalization of gadgets and calendars, Printsolution proposes the brand new PrintBox-UV, which always allows direct printing on substrates even very thick (up to 20cm high) but with an Epson single pass print head and UV inks (CMYK + WHITE) to print on virtually any material with a remarkable speed (up to 20 meters/min) and excellent resolution. PrintBox-UV also benefits from the tax benefits of Industry 4.0 program.
But probably the most important novelty presented at Viscom 2021 is the EDM-650, a new and revolutionary solution for direct digital printing on flat sheet paper and cardboard with a very high print speed (up to 40 meters / minute) and very low printing costs, which allows high flexibility in printing operations thanks …. and with the possibility of configuring the number of print heads (from 2 to 6) for a print width ranging from 42 cm to 120 cm, and that makes this solution truly unique in its market.
"After a particularly difficult period for operators in the sector, we think it was important to return to Viscom 2021, offering innovative and strategic solutions for all those customers looking for reliable equipment that can increase and offer new business and growth opportunities in a sector where the small and medium production of customized packaging are constantly growing", explains Fabio Callegari, sales manager of Printsolution, also reminding us that it is possible to book a personalized demo in the company showroom at the headquarters in Sesto S.Giovanni (Mi).