3 factories, 150 collaborators, 1,200 customers and 77 million sm of corrugated cardboard transformed in 2021, Imbal Carton is an important reference point in the panorama of packaging producers, with double-digit growth rates in the last two years and a propensity for 'state-of-the-art' technological investment for top quality service and quality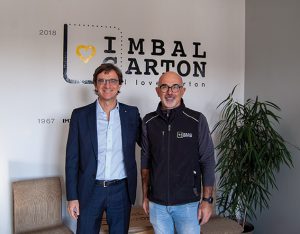 "I love carton" is the claim that stands out under Imbal Carton logo, and it could not be otherwise for a Group that has been producing corrugated cardboard packaging of all kinds and for various product sectors for over 50 years. The company is, despite its size, a family-run business, strongly linked to the principles and values ​​of the founders who laid the foundations for today's successes.
Several acquisitions throughout its history have allowed the company to grow structurally, diversifying the types of production of the various locations, but always in the cardboard packaging sector.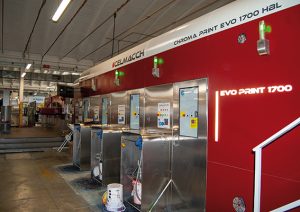 Thanks to the close partnership in 2017 with ProGroup, European leader in the production of paper and corrugated cardboard for packaging, which installed a corrugator at Imbal Carton plant in Piadena Drizzona (Cr), for the first time in Italy a box factory was able to exploit a fundamental synergy, giving life to a new model that ProGroup has defined "Packaging Park Model II" (which precisely foresees that the corrugator operates in the immediate vicinity or under the same roof as the packaging manufacturer), and which today especially in a moment of raw materials crisis has protected Imbal Carton from the risk of not being able to serve its customers. "This partnership, unique of its kind, has allowed us to plan year after year deliveries of raw materials by ProGroup, an aspect that if it does not protect us from indexed increases month on month, at least it has allowed us to always have raw material available for our orders", says Michele Lancellotti, CEO of the Group.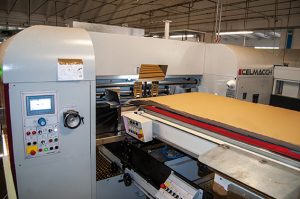 The fact of being a box factory with availability of materials at home, an aspect that is not taken for granted lately, has in recent months allowed Imbal Carton to expand its clientele, increasing production and turnover, which this year should record € 43 million. and an increase in production volumes of 22%. Growth also fueled by the increasing demands for sustainable packaging and big brand owners who, where possible, are replacing their plastic packaging with corrugated cardboard packaging. A request that goes hand in hand with the need for communication of the packaging and therefore a high definition print quality that today is no longer an option for those looking for their ideal solution in cardboard packaging, not only for protection and transport of products, but also in terms of marketing and communication.
The new Celmacch EVO for high quality printing, in line with the BOBST Mastercut die-cutter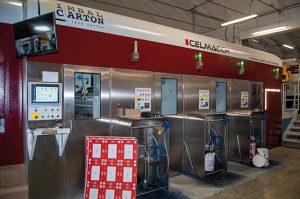 The need for high quality has prompted Imbal Carton, always at the forefront from a technological point of view, to choose a new Chroma EVO 1700 x 1300 printing machine offered by Celmacch, Imbal Carton's technological partner since '90 years, which was installed last August, in line with the already present BOBST Mastercut die-cutter, at the historic headquarters of Imbal Carton in Prevalle in the province of Brescia.
"Our production plants must be considered absolutely complementary, with different production processes. Prevalle produces printed cardboard packaging, flat die-cut and glued on different folder-gluers lines, while in the other location American boxes and rotary die-cut packaging are produced. The market rewards us in both locations where we are growing at a rapid pace, so much so that a new Vega folder-gluer with double feeder will soon be installed for the creation of displays in a single step", says Lancellotti.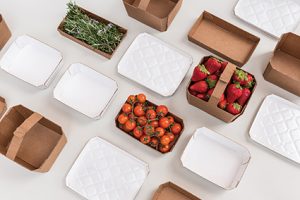 To cope with this important growth, the management of the Group has identified in printing in line with the die-cutter a gap to be filled, also because the other lines present in the company, in the last two years have required the need to establish a double shift to satisfy the growing needs of the market, and the third work shift will soon be ready.
"The BOBST Mastercut that was previously used as an offline die-cutter, is now in line with the new Celmacch configured with 3 flexo printing modules, a rather unusual choice but dictated by the physical lack of space for a fourth color. Let's say that for the types of jobs we perform on this machine, the 3 available colors are still sufficient and we are very satisfied with the precision and quality we are able to obtain", says Sergio Avanzi, managing partner of Imbal Carton and production manager.
Celmacch Group's Chroma EVO represents an excellent combination of innovation and functionality. It boasts several efficiency and quality-oriented technologies such as direct drive feeder, high-precision vacuum conveyor, and Siemens Servo Driven Technology. Designed and developed entirely in Italy, it is made up exclusively of components of European origin to obtain the highest standards of precision and reliability.
"We are very proud to have been chosen by Imbal Carton for the enhancement of their die-cutting and printing line. It is always a pleasure and a source of great satisfaction to work with companies oriented towards efficiency and customer satisfaction, especially if they also represent an excellence of our own territory, just as Imbal Carton", concludes Luca Celotti, General Manager of Celmacch Group.
Cardboard trays for meat: a new Imbal Carton patent is arriving soon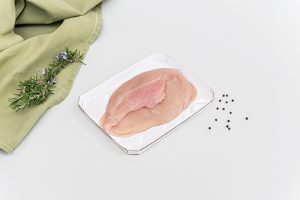 Research & Development have always represented a strategic activity for the Brescia-based company together with the attention paid to the environment and sustainability.
In line with its philosophy, Imbal Carton wanted to take an extra step towards conscious consumption that also passes through the eco-design of packaging.
The 'Fresh4you' line was thus launched to bring responsible, reusable, recyclable and food-safe packaging to homes. In recent years, a collaboration was launched with an important customer to develop a new solution in microwave corrugated cardboard for the packaging of fresh meat. This new packaging, within the 'Fresh4You' line, is characterized by a functional design that has already been tested and registered to obtain the patent for industrial invention.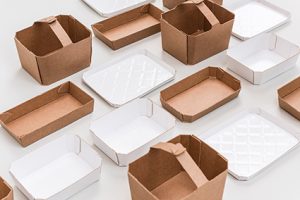 This type of solution will make it possible to replace the polystyrene trays that have been used for decades in the packaging of fresh meat, obviating the problems related to the absorption of liquids released from the meat.
"This type of microwave cardboard trays is already used, with satisfaction, for the packaging of fruit and vegetables; among other things, they are applications of millions of pieces with printing needs often not exceeding 3 colors and which therefore go well with the characteristics of our new Celmacch, which now operates on two shifts but we hope that soon it will work on three shifts", says Michele Lancellotti.