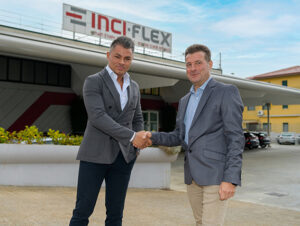 "High print quality has been a given in flexible packaging for years, but that hasn't been the case in corrugated, where product protection has mattered more than brand promotion. But now, more and more brands are demanding complex, multi-color graphics, whatever the substrate — which is good news for flexo post-print, not so much for litho preprint", comments Bruno Amadio, previously owner of Tadam and now plant manager at Inci-Flex since his company was acquired by them in late 2021, reflecting on the Maltignano-based company's success in the Miraclon-sponsored Global Flexo Innovation Awards (GFIA). He also adds that "since the acquisition of Tadam by the largest prepress service provider in Italy, Inci-Flex has replicated Tadam's production line with a FLEXCEL NX System investment for their production site in Concorezzo, Lombardy. This underscores the production and quality benefits we and our customers have enjoyed with FLEXCEL NX Technology to date."
Its joint entry with converter customer Gruppo Sada collected a Silver Award for the production workflow behind a litho to flexo process conversion for premium food brand, Barilla. By migrating the job from litho preprint to flexo post-print with FLEXCEL NX Plates, the lead time could be reduced by 70% and the production time slashed from 20 days to 6 hours, resulting in a 35% cost reduction.
Corrugated's changing role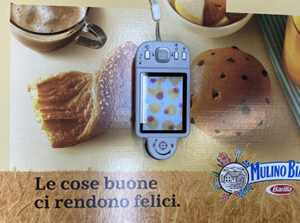 As with other GFIA entries, the Tadam/Sada submission reveals a lot about drivers at work in the corrugated sector that are changing the role of secondary packaging. Brands and retailers moved to direct-to-shelf packaging a while ago, but with the explosive growth in e-commerce, further accelerated by the Covid-19 pandemic, secondary packaging has to carry clear messages into the home. Combine this with the ever-present pressure to produce faster and at a lower cost, and the arguments for flexo post-print become even more compelling. GFIA judge Stefano d'Andrea picked up on this when he commented that this entry "demonstrated what are becoming the expected benefits of lower cost of production and faster time-to-market. And when you add in the outstanding and predictable quality possible with the KODAK FLEXCEL NX System, you're offering a precious advantage to print buyers."
Tadam and Sada have worked together since 2015, bringing their respective expertise in prepress and printing to bear on numerous corrugated projects. Tadam specializes in corrugated packaging, mostly for the food sector, which represents 80% of the business. Sada produces corrugated and folding cardboard using flexo and offset, and has a similar focus on food packaging, which accounts for 80% of production. The company has seven operations in Italy, as well as commercial ventures with other businesses, in Italy and Europe.
Barilla sets the bar high
Because Mulino Bianco is one of Barilla's premium brands, the quality bar is set high. Until recently, the traditional litho preprint and lamination route had been taken through a different packaging producer, but this was becoming increasingly impractical because of the high costs and the longer, more complex production process. It also took 20 days to produce 20,000 cartons, across two production sites and three production lines. This led to the decision to explore flexo post-print, using Sada's Goepfert flexo press that has integrated die-cutting, and the KODAK FLEXCEL NXC Plates supplied by Tadam.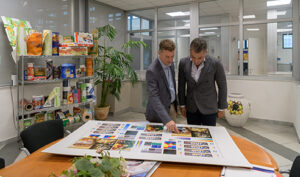 Sada was already familiar with FLEXCEL NX Technology from Miraclon, having been introduced to it in 2015 when Tadam commissioned its FLEXCEL NX System. Bruno Amadio explains how the investment came about: "We were looking for a way to overcome what, at the time, we saw as critical issues holding back quality flexo printing on corrugated — in particular, poor ink coverage – especially when printing with water-based inks – and the difficulty of achieving clean colors in the highlights. It was immediately clear to me that FLEXCEL NX Plates was the solution, so we set out to explore its potential, working with some of our longstanding converter customers."
One such customer was Sada, where Gerardo Budetti and his R&D team had a directive to identify innovative new technologies. He too quickly saw the potential of FLEXCEL NX Technology "to take our flexo production to another level. The consistent results FLEXCEL NX Plates delivered on press enabled us to challenge the established litho lamination approach with confidence and achieve high quality in printing high screen rulings on coated cardboard".
Significant savings
For Budetti, research and development manager at Sada, "the switch from offset to flexo has resulted in exceptional time and cost savings: instead of 20 days, it took just six hours to print and die-cut 20,000 cases, cutting costs by 35% and slashing delivery times. There are sustainability benefits too, as thinner substrates with higher recyclability can now be used." He adds that "post-pandemic conditions have resulted in a dizzying and disproportionate increase in the price of raw materials, which are also in short supply. So, it's hard to make predictions… You just have to hold on, but having access to Tadam's expertise and the FLEXCEL NX System makes it that much easier."
"Absolute dot stability" a key benefit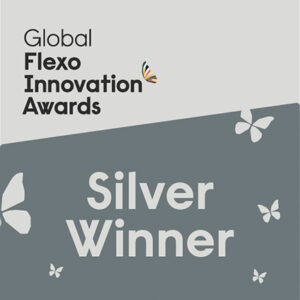 A run of four consecutive 'Best In Flexo' Awards from ATIF, the Italian flexo technical association, is testimony to what Tadam has achieved with FLEXCEL NX Solutions. Asked what features of FLEXCEL NX Technology he considers most exceptional, Bruno settles on the "absolute dot stability that enables the various advanced plate surface patterning options. It enables us to customize the plate patterns to suit the specific requirements of each job." He emphasizes, however, that this process involves close collaboration between Tadam and its customers. "Customization doesn't just happen — it calls for both partners to invest in preliminary work such as studying and analyzing the condition of the target press. But once customers and brands see the results, they're happy to dedicate machines and resources to the work."
The workflow behind the Mulino Bianco packaging is a good example of customizing the FLEXCEL NX Plates to the job, says Bruno. "After we processed the files using the Fogra 39 standard for offset printing, we implemented the conversion to flexo by modifying the images again – this time taking into account the characteristics of Sada's press. Then we imaged the FLEXCEL NXC plate using one of the advanced plate surface patterning options. The result was full, bright colors, a minimum dot hold of 1%, and a perfect match to the quality of the litho-laminated cases."
"A well-maintained, standardized approach to quality"
For the final word on the entry, GFIA judge Stefano d'Andrea added: "The approach taken by the teams at Tadam and Sada shows that you don't achieve quality results by struggling or repeatedly tweaking the press settings; instead, it's a natural consequence of a well-maintained and standardized process. So that's why I really congratulate the team of Tadam and Gruppo Sada for their achievement".