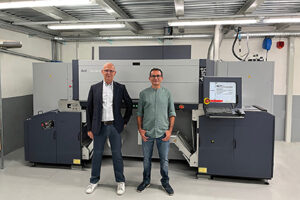 A historic company in the Canton of Ticino, which will celebrate its 60th anniversary next year, Carlo Volponi SA is a small labels manufacturer that has service and high quality as its strong point. 20 employees, a fleet of cutting-edge printing and converting machines and the desire to grow further in the digital business, led the Swiss company to choose Durst TAU ​​RSC technology once again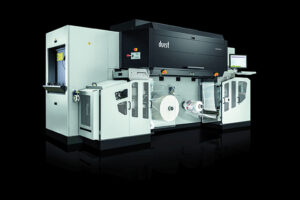 Small is beautiful: a definition that fits perfectly when describing this Swiss labels manufacturer, based in Bioggio, near Lugano lake, and which fits perfectly with the entire Swiss context. Concept of beauty that we also find in label printing, core business of Carlo Volponi SA, a family business founded in 1963 by Mr. Carlo and now managed by his son Sandro together with about twenty collaborators. The ideal size to directly serve the entire Swiss market in various sectors, from pharmaceutical industry, which accounts for 55/60% of turnover, to food, wine, chemicals and logistics sectors.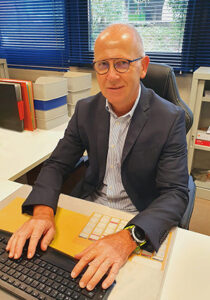 "We operate exclusively in the Swiss market, and we have managed to create a direct line both with the large companies present in our territory, in particular in the pharmaceutical sector, and with all those small and medium-sized companies that rely on us for their printing needs, like small winegrowers who need ennobled labels for their bottles", begins Giovanni Beretta (production manager), highlighting how the flexibility factor is crucial today to be able to serve the demanding, sometimes inflexible, pharmaceutical market, which requires a very high quality level. In addition to quality, time is also a key to success. "Customers come to us because thanks to Durst digital TAU technology we are able to guarantee them the required quality in extremely short times, even in just 2-3 working days. Timeliness and quality are two aspects that differentiate our offer from that of competitors who still use traditional technologies", adds Giovanni Beretta.
Growing further in the pharmaceutical sector with digital technologies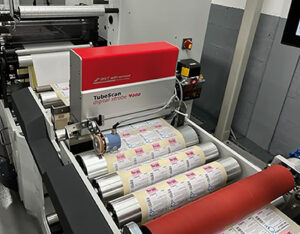 The pharmaceutical sector, although it does not require labels with special finishings, however, has extremely strict standards regarding quality. The web labels that are delivered to the customer must be 100% guaranteed as regards the absence of defects of any kind, and for this phase Volponi SA has always relied on Prati off-line control tables. An extremely rigorous market, therefore, which leaves no room for imagination and creativity as it could be for example that of wine, but which ensures Volponi SA significant print volumes.
Over the years the company has used all traditional printing technologies for web labels, from flexo to offset, through letterpress, up to a first experience in digital with a HP Indigo 4600 installed in 2010 and replaced in 2017 by HP Indigo 6900. As far as inkjet technology is concerned, the company has relied on Durst TAU ​​since 2014.
The new Durst TAU RSC E: quality, productivity and excellent reproduction of Pantones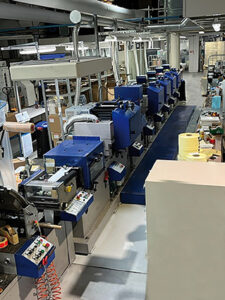 The machine installed in August 2021 was not the first Durst machine for Volponi SA, which had already chosen a digital technology from the South Tyrolean manufacturer in 2014, pursuing the idea of gradually replacing the entire traditional fleet with digital printing.
"I have always believed in the potential of digital printing, and even the first experience with Durst was already positive. However, having to shift orders, even the most important ones, from traditional printing technologies to digital, we needed to insert a machine with higher productivity. We have therefore identified in the new Durst TAU ​​RSC E the perfect system for our needs, and after several printing tests carried out at Durst Demo Center in Bressanone we decided to buy it. A customer had asked us to reproduce 50/60 Pantone colors, guaranteeing a Delta E of less than 3 for each job: all the tests performed have particularly convinced us from this point of view as well, in addition to the fact that the machine has proved to be extremely flexible. One year after the installation of the new TAU, we are extremely satisfied with this investment", says Giovanni Beretta, telling us that they recently completed an order of 6 million labels, all numbered in succession from 0 to 6 million without any kind of error, thanks to a very powerful, precise and stable software to guarantee performance and quality.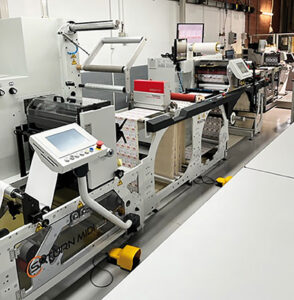 The Durst TAU ​​RSC E system installed at Volponi uses 1200×1200 dpi 7-color CMYK + green-orange-violet inkjet print heads to reproduce the tonal range of Pantones and white, all equipped with a self-cleaning system and to guarantee constant productivity of 52 meters per minute even with white.
"We are growing in digital printing and, also thanks to this latest investment, our idea of ​​transforming ourselves in the future into a completely digital labels manufacturer is going on. Now we are thinking of introducing digital technologies also for finishing, especially for the needs of the wine sector. As far as printing is concerned, we still have traditional machines, but over the years we will replace them, also because I believe that all the innovations that will concern the printing sector will mainly be in the digital sector", concludes Beretta.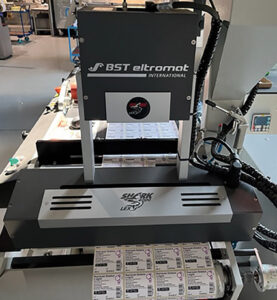 Finally, we recall that since the beginning of 2022, Durst's Italian Sales Division directly manages all the customers of the label sector who previously were only followed by external retailers. An aspect particularly appreciated by Volponi SA because it ensures maximum prompt response in the event of maintenance or software-related requests, which can be managed remotely even in real time.