Vanguard Europe has unveiled (world premier) a next-generation UV flatbed printer, the VK3220T-HS, at FESPA Global in Munich, Germany.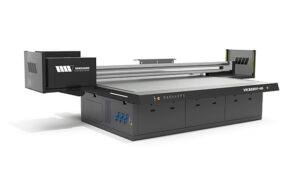 The launch also marks the official introduction of a new compact, user-friendly product design for the Vanguard Europe portfolio.
The new Vanguard VK3220T-HS is designed and assembled at the European headquarters of Vanguard Europe at 5,000 square meter Kraftwerk, in Brixen, South Tyrol, Italy, next to the global HQ of Durst.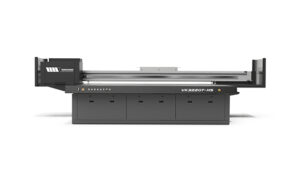 Con un piano di stampa da 3,2 x 2 metri, VK3220T-HS entra a far parte del sempre più ampio portfolio di soluzioni firmate Vanguard Europe destinate a clienti industriali appartenenti a diversi settori merceologici che necessitano di stampanti digitali flatbed e roll-to-roll dalle prestazioni elevate. Upgradabile in base alle specifiche esigenze produttive, VK3220T-HS può montare fino a tre file di teste di stampa Kyocera con goccia da 4 picolitri, assicurando una risoluzione fino a 1800 dpi e produttività fino a 360 mq/ora.
A 3.2meter x 2meter flatbed, the VK3220T-HS becomes part of Vanguard Europe's growing portfolio of printers serving all customers in markets covering the industrial flatbed and roll-to-roll printer spectrum with high-performance needs. Using up to three rows of the 4 picoliter drop size Kyocera print heads at up to 1.800 dpi print resolution, the Vanguard VK3220T-HS runs at up to 360 square meters an hour. It is a printer that can grow and scale in line with customer requirements.
Vanguard Europe is a subsidiary of Vanguard Digital Printing Systems Corp, of Lawrenceville, Georgia, USA. Set up in late 2021, Vanguard Europe's objective is to replicate the sales successes of its parent company, which produces 200 systems a year. This is being achieved by utilizing the global expertise of its resellers, distributors and other partners. Vanguard's industrial printing flatbed and roll-to-roll systems are used in markets including signage, decoration, business equipment, industry and packaging.