On the one hand, the large P5 350 hybrid in the High Speed ​​version, on the other, the smaller but versatile VR6 D-HS flatbed printer by Vanguard, whose novelty is represented by Ricoh Gen6 print heads, mounted up to now by Durst on its high-end machines, which ensure that they can print in full color without the addition of special colors.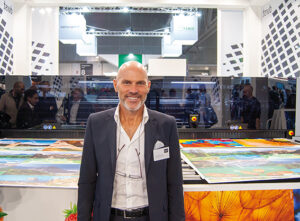 "Only in Italy we have already installed around 500 machines among the successful Rho, P10 and P5 series, therefore we can say that the market is quite saturated and that 50% of new installations are actually replacements of technology. Being able to offer new solutions such as Vanguard printing technologies is a further opportunity for us at Durst to approach those small and medium-sized companies interested in developing the packaging market, prototypes or small productions, with small and large format flatbed printers up to 3×2 meters, without necessarily having to face a greater investment. In fact, Vanguard machines can be defined as entry-level from a price point of view, but not from a quality and productivity point of view because they reach the considerable result of 200 sm per hour", explains Alberto Bassanello, Durst Group Sales Director for Italy. Bassanello declares himself satisfied with having completed, with the introduction of Vanguard technologies, the offer inside Durst showroom at Bressanone headquarters, one of the most complete in Europe, if not the best equipped ever, as regards technologies of digital printing for different markets, with roll-to-roll and flatbed solutions.
Vanguard machines also include the ability to be upgraded at a later time, increasing the printheads if necessary. These technologies are positioned perfectly alongside the now famous P5 platform which has made Durst's fortune in recent years, offering the South Tyrolean manufacturer valid topics for discussion with both small customers and large multinationals.
Alongside the Vanguard VR6 system, the flagship of Durst solutions for the LFP, the P5 350 in the High Speed ​​version was exhibited at Viscom. "Also this printer, presented for the first time at Viscom, aroused great interest due to the exclusive functions that characterize it", commented Bassanello. Productivity, flexibility, color brilliance and perfect ink adhesion are just some of the pluses recognized for the P5 350 HS. Equipped with 8 heads per color channel, this hybrid, flagship of the P5 platform, ensures maximum speed in changing materials. Furthermore, its performance is enhanced by exclusive solutions developed by internal R&D, including Durst Automat™, for loading and unloading rigid materials, and the innovative Multiroll and Multitrack 6 functions for managing 6 print queues.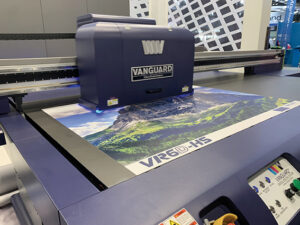 "We close an extraordinary 2022, with improvements in our performance in all 5 sectors in which we are present. As regards installations in Italy, only for the P5 family, we have installed 20 new machines, a result that in a saturated market is noteworthy. We offer solutions to cardboard converting and box manufacturing world such as the high productivity Multipass P5 WT 250 with water-based inks and the SPC for larger print runs. At a national level we register a lot of interest on this front, but we often perceive that the market is not yet fully ready to face what is in fact a real revolution. The potential of this sector is truly enormous, and for this reason we are setting up new commercial strategies aimed at transferring the incredible added value offered by digital technology to potential customers. This new approach also includes the organization of events with customer testimonials who can share their experience with Durst technologies. An example of this is the event recently organized in Lienz with the customer Schumacher who installed the third SPC, and who manages print volumes from 4 to 20-25 thousand pieces with these technologies, with extraordinary print quality", concludes Alberto Bassanello.