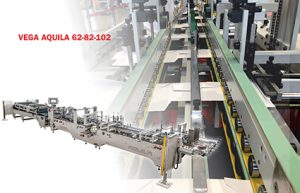 For 75 years Vega has been specializing in the production of folding-gluing machines, these machines can also be integrated with double feeders and end-of-line products.
Vega offers a wide range of machines suitable even for customers approaching this market for the first time, such as the Aquila model.
Aquila, in the standard configuration, is available in sizes 62-82-102, and is able to run straight line, crash lock bottom and double-wall boxes for solid board from 180 g/m² to 800 g/m² and corrugated board E-N-F flute.  Though Aquila is an entry-level model it can be customized also with the latest and most sophisticated systems for folding boxes with crash lock bottoms and 4 corners, usually fitted on the most advanced models such as Polaris, Freccia and Altair; all Vega machines are in compliance with the dictates of Industry 4.0.
Various accessories are also available: 6 glued corners, conical and hexagonal boxes, record sleeves, Mechanical Blank Alignment Module (M.B.A.), Braille module and extra module.
Furthermore, Vega has been the exclusive representative in Italy for many years for Stock Maschinenbau GMBH, a German company producing laminating machines, and for Kohmann GMBH, a company producing window patching machines.
Vega's President Jacopo Nava together with the Sales Director Remo Paiola and part of the Vega staff, will be available at the info-stand to deepen the latest technological innovations made on the double feeder ADF and on the Vega Altair, one of the bestselling Vega models in the world.