A small cardboard converting company on the outskirts of Milan, Cartotecnica Rada is growing in the panorama of subcontractors in folding boxes converting sector with careful management but does not hesitate when it comes to investing in new production technologies.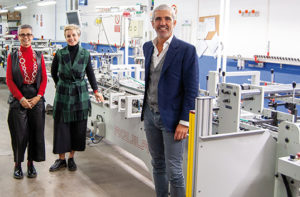 Never as for this company, cardboard converting is an entirely female issue. Two women, mother and daughter who run the family business together. We are talking about Emilia Talloru and Simona Dalmiglio, owners of Cartotecnica Rada, a small and dynamic reality with 10 collaborators, since 1981 specialized exclusively in third party processing for graphic companies, who in Inzago (Mi) can find a competent and qualified partner for all the needs of converting of printed staff into boxes and cases, punched and glued.
"The company was founded in 1981 by my father and a partner, then replaced by my mother in 1992. In 2016 I joined the company alongside my mother in managing the business. My father, meanwhile, has retired, but every now and then he comes to help us, as does my brother. My husband also works in the department as production manager because here cardboard converting is really a family matter", begins Simona, a young entrepreneur, today behind the desk to answer our questions, but often also engaged with folding-gluing machines she manages with wisdom and mastery, as confirmed by some customers waiting to be received to discuss some jobs. In fact, the subcontractor's task is precisely to support the printer from the first stages of setting the printing forms, in such a way as to optimize the yield also for the subsequent die-cutting and gluing processes. And Simona in this is a true master, an expert in cardboard industry, always ready to suggest details to her customer. And here it's precisely the details that make the difference, not least the ISO quality certification which was highly appreciated by customers.
Focus on the pharmaceutical market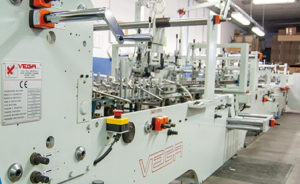 Given that the task of every good subcontractor is to try to best meet all the needs of customers who operate in the most diverse economic sectors, from food to cosmetics, up to commercial, Cartotecnica Rada has specific skills for pharmaceutical packaging, and for this reason it was able to continue to work with all the necessary precautions even during the period of spring lockdown.
"We are contacted by graphic companies that need die-cutting and gluing service of cases, folders and envelopes.
Our machine park consists of two Bobst flat die-cutters, one 90×126 and one 72×102, while in the gluing department we have three folder-gluers, two of which are Vega, both with Baumer HHS device for glue application and anti-mixing control; one of these is equipped with a rectifier module and end-of-stroke jogger for cartons with automatic bottom, as well as a third line dedicated to cartons with inside vial holder, and cartons glued on the edge. Being so equipped in the gluing department has allowed us to maintain the versatility that has allowed us to respect delivery times without burdening the quality of production, and also acquire new customers and new orders, which before without a modern technological equipment and efficient were impossible", adds Simona.
Over the course of its history, Cartotecnica Rada has profoundly changed, growing at a technological, structural and personnel level and investing heavily on all fronts. Today the production flow foresees data sharing in all departments, allowing the company to speed up production times and better manage the deadlines of the various orders.
A Mathias Bauerle folding machine has recently been inserted, for in-line and cross inserts.
Vega Aquila 102 folder-gluer was installed in January of this year, and considered a fundamental purchase, precisely to stay updated and drastically reduce waste and start-up and production times, in order to increase competitiveness as well as improve company image.
Vega Aquila: leap in quality for gluing department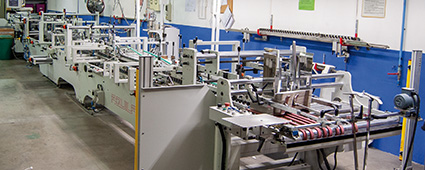 "We met with Cartotecnica Rada because they bought a secondhand folder-gluer from a dealer. Over the years they have turned to us for assistance and spare parts and a relationship of mutual satisfaction was born", says Jacopo Nava, owner of Vega, "so when it was time to start a discussion for the purchase of a new folder-gluer Rada turned to us. Aquila 102 model is a product with an excellent quality/price ratio, designed for companies that need to produce in-line cases, with double wall and automatic bottom.
Aquila is the entry-level model of our range, according to the renowned building quality that accompanies each of our models. Completely modular in design like all our machines, it can be updated with additional modules at a later time, such as the braille module, one of our patents, which could be interesting for a company like Cartotecnica Rada, specialized in pharmaceutical packaging, allowing them to create the embossing on the box, without necessarily having to prepare a dedicated die, which normally is amortized only after medium-long runs", concludes Nava.
Future projects: the braille module on the new Vega Aquila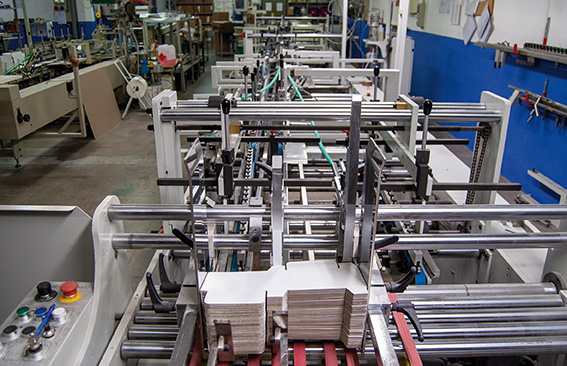 Installed in January 2020, the new Vega Aquila made it possible to speed up production, with ultra-fast start-ups, a very important feature for a subcontractor who changes different formats during the day, and with medium-small production batches.
"We think positively about the future, despite everything, and we are planning the possible purchase of braille accessory and a hot stamping machine that would replace one of the two die-cutters in our department", adds Simona with all of the prudence given the period, however demonstrating the desire to think of new projects and investments that allow this small but dynamic reality to continue its growth path.