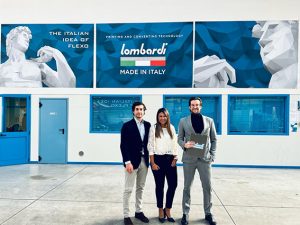 Lombardi, the Brescia-based manufacturer of narrow web printing machines, inaugurates the new year with a new and exclusive communication format, in the wake of the events proposed starting from spring 2020 when in full lockdown, under the strong push of Nicola Lombardi, creator of these innovative and exclusive formats, the company had first proposed Reboot a series of meetings, presenting the entire range of its solutions to the world. An idea from which last year came out "Flexo World" a Virtual Trade Show came, exploring not only the technologies for finishing, ennobling, narrow and medium band, but creating a real talk-show with important guests members of the industrial world, representing Lombardi's partner companies, from suppliers of materials to systems and auxiliary equipment of the printing machine.
This year, a few weeks after the opening of Labelexpo Europe, Nicola Lombardi and his staff have set up a sort of television studio: it is no coincidence that the new format takes the name of "Lombardi Studios", which offers informal chats with owners and managers, but also representatives of various Lombardi partner companies, journalists, communication specialists, with whom to deepen the knowledge of the individual companies interviewed, analyze the current moment of the market, discuss the future, with a vision on the next Labelexpo, which as Nicola Lombardi underlines, "it will be a great appointment, a relaunch point for an extremely vital sector that cannot be missed in any way. We are ready, we've been keeping warm for two years and we can't wait to live those days in Brussels with great enthusiasm and passion. In the meantime, let's warm up the engines with this format of Lombardi Studios which is having an excellent response", says Nicola Lombardi.
During the interview, which took place at Lombardi's facilities, many interesting topics were discussed, such as the importance of creating synergies between companies or the changes that B2B marketing is experiencing in the industrial sector. The peculiarity of being both a family business and also an international company.
Both Lombardi and Tecnocut are family businesses in which a second generation has already entered, young, strong and willing to bring changes and innovations to the sector. In this case, talking about a family business does not only mean the strength of a surname, but also of involving all the people who make up the team in such a way that the only goal is constant improvement.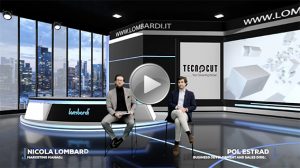 Pol Estrada, International Business Manager at Tecnocut, talking about the challenges of the industrial sector with Nicola Lombardi, Marketing Manager at Lombardi Converting Machinery: "The key is to be close to the customer as a family business and at the same time to work internationally as a corporation".
The challenges of the post-covid industrial sector
We are convinced that collaboration between companies has always been a key factor, which has become even more important after Covid-19. That is why we always look for partners who share our philosophy and give importance to the same things.
"Collaboration between companies is always the key to success, but even more so in difficult times".
Another key factor that will make a difference in this post-covid era is the way we communicate, not only with our customers, but also with our employees and all stakeholders in the industry.
Marketing in the industrial sector: a new era of communications
Marketing in the industrial B2B sector has experienced many changes in recent times and has not always been given the importance it deserves. Tecnocut and Lombardi are committed to giving it a new and fresh approach.
Sandra Rojas, Sales and Marketing Manager at Tecnocut, talking with Nicola Lombardi about B2B marketing in the industrial sector. The industry can also communicate in a different way, with passion. And the recently opened Lombardi Studios are a clear example of this.
"The secret is to love what you do in order to be able to communicate it in the same way. Not only speaking about technical aspects, but also about the human factor of our companies".
In addition, the pandemic has also put the spotlight on marketing. It has highlighted the importance of communicating and using the powerful tools we have at our disposal, such as Linkedin or any other type of online channel. With these tools you can have strong a presence wherever and whenever you want.
The key in this new era of industrial communication is to know how to mix all these new tools with the ones we already had, such as attending trade fairs. And, without a doubt, this is something that both Tecnocut and Lombardi are working on every day.
We look forward to seeing you at Label Expo to continue to bring you the latest news and to keep the debate on marketing and industry going!