The manufacturing of boxes involves expensive and often environmentally unsustainable gluing and laminating processes for the paper industry. In addition to the marketing of high-quality finished products, box manufacturers require reduced surface preparation processes, costs and environmental impact of their processing methods.

In Air Plasma treatment by Ferrarini & Benelli reduces surface preparation and increases the quality of the bonding of the finished product.
In Air Plasma, which consists of a high-frequency digital generator with integrated transformer and one or two discharge nozzles, directs the plasma towards the material to be treated through compressed air. The targeted action of plasma increases the boxes' ability to stand the test of heat and humidity during any stage of the processing.
The system requires the nozzle to be placed in line before applying the glue and, furthermore, it is available with more than one nozzle for multiple gluing points depending on the design of the box. The treatment width of approximately 10 mm is perfect for glue application on the edges of a box and for easy integration into the customer's folding-gluing lines.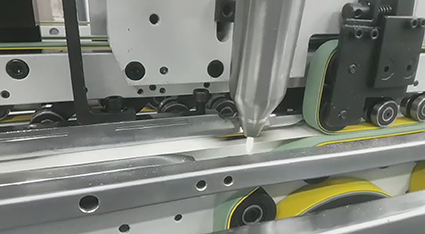 Notable benefits of In Air Plasma include reduced glue absorption and drying time following gluing, a decrease in the amount of glue used in box manufacturing, improved quality of gluing and easier integration of this technology into automated production lines.
In Air Plasma simplifies the adhesion of cold glues, which are more affordable compared to hot-melt glues and which can adhere well to uncoated cardboard, but may require complex mechanical processing (such as milling or sanding) to boost quality adhesion and bonding to UV varnish or decorative films.
When previously printed boxes are opened, and subsequently subjected to a further gluing process in the boxing machine, the glue needs to adhere well to the surface, due to the high processing speed.
In Air Plasma is perfect for integration into high-speed production lines, which are designed to reduce waste and use both cold and hot-melt glue.