With new translucent paper Crystalcon, Sappi is adding another innovative product to its range of sustainable packaging papers. Used in combination with Sappi's heat-sealable Seal Silk, the new paper delivers a recyclable, easy-to-implement packaging solution for a variety of food and non-food applications – all from a single source.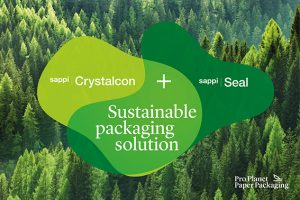 Manufacturers are currently facing twin challenges: consumers are increasingly demanding more sustainable packaging solutions, but they also want to be able to examine product contents when walking through supermarket aisles. Currently, film is often used in whole or in part for such packaging. "By combining Sappi Seal with Crystalcon, we are offering manufacturers a sustainable and recyclable packaging solution to fulfil these requirements," says Kerstin Dietze, Key Account Manager Packaging Solutions.
A sustainable packaging solution
The combination of Crystalcon with Sappi Seal Silk, from Sappi's innovative Functional Paper Packaging division, offers a highly sustainable packaging solution. The Seal papers feature excellent heat-sealing properties and are recyclable through standard paper disposal systems. Meanwhile, the new translucent Crystalcon paper can be easily sealed onto Sappi Seal. The result is that this fast and sustainable packaging solution is well suited to both food and non-food applications.
Crystalcon is an uncoated, compostable translucent paper. Although not completely transparent, it allows sufficient visibility for consumers to examine the packaged product.
"It excels wherever high barriers are not required, but where product visibility is important," adds Kerstin Dietze. From noodles and rice to magazines, viewing windows in envelopes or sales packaging for greeting cards, the possible applications are numerous.