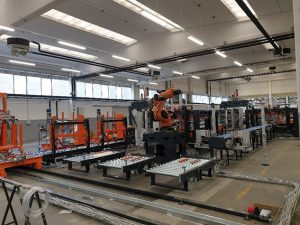 Zancaner, the specialist in automation and reel handling solutions at the end of the line, is going to organize an open house in the new headquarters at Valduggia in the province of Vercelli. Inaugurated in 2019, the new plant of approximately 7,000 square meters will host a operating automatic line capable of unloading the reels from two cutters, labeling, packaging and palletizing them with an automatic pallet finishing line.
Zancaner was born in the 1950s and immediately specialized in the textile industry, and then over the years the company created a department dedicated to handling and logistics, also opening up to sectors such as converting of flexible packaging. Today, all production is carried out at Valduggia headquarters, and this open-door event will also be an opportunity to visit and touch the quality of Zancaner products, designed and manufactured internally.
Logistics in the world of printing and transformation of flexible packaging is a very interesting and important topic, linked to the improvement of production efficiency but also to the concept of Industry 4.0, with the monitoring of data for a production under control even in output of the cutter-rewinders and in final passage from the pallet to the shipment.
After the presence at ICE fair in Munich last March, the first appointment at a fair dedicated to the flexible packaging converting sector, here is the time to open the doors of the factory for an unmissable event dedicated to Italian and not-Italian converters.
"Flexibility, variety of solutions and experience in the sector are our strengths, which allow us to solve the difficulties encountered in reel management, significantly improving productivity, traceability and process safety", says Lorenzo Scoccini, sales manager at Zancaner.
The open house will be held the week from 30 May to 3 June (2 June excluded) and from 6 June to 10 June.
For more information, please send an email to info@zancaner.it and you will be contacted to arrange the visit.