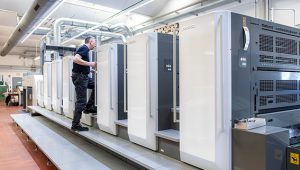 The production area of Gebrüder Güttler GmbH in Dietzenbach is around 1800 square meters. Almost 30 people work in this company, that was founded in 1907. The company's annual turnover is divided equally between label printing and flat bag production, mainly for plant seeds. This is a niche market in which Güttler with its highly specialized production processes is one of the few remaining European suppliers. In autumn 2021, the company invested in a new printing press: the Komori seven-color Lithrone GL740+Coater is equipped with a PQA-S system, a camera-based inline color measurement and control system with inline quality inspection, and all the new features of the Komori Advanced series in a 40-inch format. This includes new, state-of-the-art systems for smooth sheet transport in the feeder and delivery, a maximum sheet format of 750 x 1050 mm, a maximum print area of ​​740 x 1040 mm, a print speed of 15,000 sheets per hour, both for very light and very heavy substrates and asynchronous, fully automatic plate change without plate bending (F-APC).
Company's specialty has always been the production of seed bags and the production of catalogues and brochures for the garden sector. They distribute those products across Europe, with customers from the Mediterranean all the way to Scandinavia. In fact, there are only very few producers in this market worldwide. For this kind of production are very important the special machines used in post-press department. The company found its niche in the competitive printing market: they deliver the empty bags glued but with an open flap to the producers of plant seeds or to specialized filling companies. The production and sale of plant seeds has so far remained a stable market despite the corona pandemic.
Top print quality as benchmark
One reason why the company chose the Komori press was the truly convincing presentation in Utrecht. The company brought four of its jobs for testing, with which there were some printing issues in the past: a job on very thin paper, with a difficult register on the outside front; a job on cardboard with a large area in the special color grey, which we almost never got printed without stripes; a job on embossed paper and a very demanding label job.
The tests in Utrecht were run on a five-colour Lithrone G40 with coater, which, in terms of technology, is almost identical to our new seven-colour Lithrone G40. During the tests, the focus was primarily on the print quality, which is the most important feature for Gebrüder Güttler. Two printers of the company attended the tests and were very impressed with the quality and also with how quickly and efficiently our four jobs in a row were processed. The Lithrone G40 up has been running since last October and operators are still learning every day to get the most out of the press.