Viva Magenta 18-750 is the color of 2023 chosen by Pantone: a red almost violet and crimson.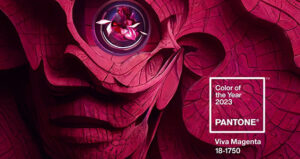 This red descends from the red family and gives a strong signal of strength, is brave and fearless, a pulsating color whose exuberance promotes positivity in every aspect because it is powerful and empowering. This color welcomes anyone with the same verve for life and rebellious spirit.
"In this age of technology, we look to draw inspiration from nature and what is real. Pantone Viva Magenta 18-1750 is inspired by the red of cochineal, one of the most natural precious dyes as well as one of the strongest and brightest the world has known. Rooted in the primordial, this color reconnects us to original matter. Invoking the forces of nature, it galvanizes our spirit, helping us to build our inner strength", says Leatrice Eiseman, Executive Director, Pantone Color Institute.
As a nuanced crimson red tone that presents a balance between warm and cool, PANTONE 18-1750 Viva Magenta is also a hybrid color, one that comfortably straddles the physical and virtual in our multi-dimensional world. It is assertive, but not aggressive, a carmine red that does not boldly dominate but instead takes a "fist in a velvet glove" approach. It exudes dynamism, is a transformative red tone capable of driving design to create a more positive future.
The meaning behind Viva Magenta
The Color of the Year 2023 acknowledges our gravitational pull towards natural colors as movements swell around climate change, sustainability, and land protection. In this year's Color of the Year selection process, Pantone observed a heightened appreciation and awareness of nature represented by countless lifestyle trends. We're incorporating more living things into our homes, such as plants, florals, living walls, and restorative outdoor spaces. We're finding newfound enjoyment in travel, sports, and outdoor recreation after pausing these activities during the pandemic.
Reds are power colors that celebrate life. As a bright, crimson red, Viva Magenta balances boldness with a feeling of fun. It embodies an expression of fierce grace, inspiring us to show up with confidence and humanity. The digital space has accelerated globalization, and as a result, we are more deeply connected to each other than ever before. We can never fully understand what lies beneath the surface of the friends and strangers we meet, but we can always work to deepen our empathy. The Color of the Year 2023 speaks to our desire to take on new challenges and try the unconventional while meeting others: Viva Magenta can answer our collective need for strength.
Viva Magenta in packaging
Brands wanting to appear animated and passionate can use Viva Magenta to elicit a strong consumer reaction. Because reds are advancing colors, they draw the eye and muscle out the colors surrounding them. Whether consumers are scrolling on their phones or browsing the supermarket aisles, tapping into the Color of the Year 2023 it will be easier to capture attention.