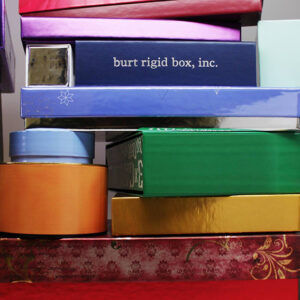 Burt Rigid Box, Inc. and Taylor Box Company announce their combination with well-known European secondary packaging group, Pusterla 1880, as the first American Sites of the Global Packaging Group, offering luxury clients regional manufacturing on four continents
With manufacturing sites across the European Union, UK, Moldova, and Tunisia and offices in Asia, Pusterla will enter the North American market through a merger with Burt, located in Oneonta, NY, and the acquisition of Taylor Box in Warren, RI. 
Serving clients in the fragrance & skincare, confectionary, entertainment, and retail markets, Burt has been a leading supplier of rigid boxes to international and regional clients since its founding in 1886. Taylor Box, started in 1885, offers a design-forward approach to best-in-class rigid box packaging for the wine & spirits, financial, brand-marketing, luxury internet and other industries. 
"Our US expansion continues our strategic focus on the high-end market. We are honored to serve our clients wherever they are and want to be and doing so regionally advances our commitment to sustainable production. The addition to our group of two thriving American companies known for their quality, innovative solutions, and manufacturing experience will allow us to be present on a truly global scale."  says Roberto Marini, CEO of Pusterla
As a result of the merger Laura Brodie, President and co-owner of Burt, will become the first non-family shareholder in Pusterla, and will serve as President of the group's North American operations. 
"To offer our clients and team the chance to participate in a global, yet very personal, business with a humble approach to service alongside industry-leading innovation and know-how is a privilege. I'm very excited to join owners Luca Meana, the Meana family, and Roberto Marini as a member of the leadership team of a company I believe in, serving an industry I love. I look forward to integrating Burt and Taylor, two historic rigid box leaders, as the foundation of Pusterla's North American presence." declares Laura Brodie.
"I have enjoyed the past 45 years with my amazingly talented and hardworking team. Together, we built the award-winning, innovative, customer-focused market leader, Taylor Box Company. Merging with Burt to become part of Pusterla 1880 will continue to power our growth. As a fourth generation, family-owned business, it is exciting to join with another multi-generational group that shares our culture of excellence and integrity. My team are all looking forward to a future filled with new opportunities to grow as an organization and as individuals. Most importantly, our clients are excited to explore with us the new capabilities" concludes Dan Shedd, President, and owner of Taylor Box Company.