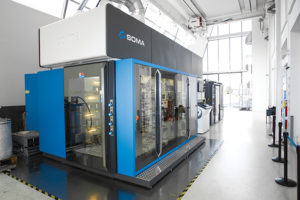 K 2019 was the platform for the formal launch of the next-generation SOMA OPTIMA press, now available in a larger size—1050 mm (41.3") width x 650 mm (25.6") length—is perfect for short runs, handling up to 20 jobs a day. It focuses on features that offer easy and fast job changeovers, print consistency and reduction in operating costs.
Set register and impression with zero web waste: The OPTIMA can now be installed with the ARUN system for automatic job setting, a unique off-line solution that combines advantages of a plate mounter with fully automated device for plate topography and register measurement. The new ZERO METER waste set-up system helps with short runs. Registration and impression settings are no longer a challenge.
Reduce bounce and print at top speeds: The built-in Bounce Control system originally found on the SOMA OPTIMA² has been added to the OPTIMA. It minimizes bounce at high press speeds, thus optimizing print quality when using HD sleeves or expanded gamut print technology.
Reduce residual ink waste: The unique, new-generation Ink Cartridge makes spot colour printing and the operational clean-up as efficient as possible. It uses a minimal one litre and maximum five litres of ink in the inking loop as well as short ink hoses to significantly reduce residual ink.
The live SOMA OPTIMA K 2019 show demos were very well attended. SOMA ran two extremely difficult print jobs, highlighting the elimination of bouncing. SOMA Globe technology partners—3M, Apex, Flint Group, Eckart, Innovia, Lohmann, Marvaco, Reproflex3, Rossini, Sandon—worked to create two new designs printed live at the K 2019 show.
The first job showed that the new OPTIMA could successfully print a design of only a 260mm repeat length without any bounce at full press speed. The combination of six colourful designs was gang-printed together using expanded gamut printing with CMYOGV process colours along with silver and white inks, to show how little ink was wasted between jobs. By maximizing the utilization of the SOMA OPTIMA press, this type of work protects the environment by minimizing the use of ink, plate material and substrate. With SOMA's unique, environmentally friendly Ink Cartridge, silver ink was conserved, and the costs of the expensive ink were saved.
A second job featured a breath-taking rotogravure design while highlighting reduced costs—up to 15% ink savings with utilizing an HD fixed colour palette solution using CMYOGV plus silver plus white. Ink delivery and image consistency were optimized by linking superior colour separations, differentiated screening and unique plate patterning. It included extremely difficult highlight vignettes and vibrant and consistent print. Registration and impression were set automatically by the ARUN plate mounting system with zero meters of waste, ideal for short runs and fast changeovers.
SOMA is always looking to reduce the ecological impact of printing, and one method is to explore modern substrates. Both jobs were printed on a transparent EVOH barrier film Propafilm™ Strata SL for fully recyclable mono structure packaging. On the stand was also a gallery of additional 'environmental' solutions, such as fully compostable ink and substrate packaging, and water-based print on paper.
"SOMA's policy includes a permanent re-innovation process, which always starts from market needs– obviously derived from customer needs. The platform of the K exhibition allowed us to globally present what is our answer for customers' daily challenges. And, I am personally very proud that many clients from all continents trust, appreciate and decide to implement our approach as the solution for their challenges," comments Pavla Kusa, SOMA Commercial Director.