An important success for J.S. Machine, as it is the first machine of this type installed in Italy and in a strategic territory, which lays the foundations to start a lasting and profitable relationship between the two companies.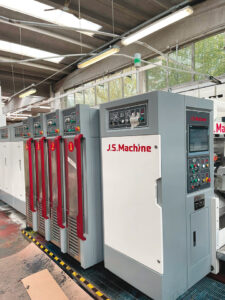 Tecnocart is a box factory that will celebrate 25 years of activity next year. Established in 1999 in Bologna, acquires in 2003 Alfa Imballaggi, a historic company founded in Carpi in 1866, specialized in the production of wooden packaging which over the years has integrated and developed the production of corrugated cardboard boxes.
This operation represents the turning point for Scatolificio Tecnocart, which becomes a partner able of responding to every need for industrial packaging: in addition to the different types of boxes designed and produced on specific customer requests, it has a warehouse with over 50 sizes and types of boxes ready for delivery for different uses.
Scatolificio Tecnocart is a company that is part of a group that also includes Tecnocart Imballaggi, a company active in the production and distribution of packaging accessories, packing, filling, protection, handling systems and end-of-line plant engineering, and Tecnobox, a company founded in Modena in 1954 and specialized in the design and production of cardboard products, displays and luxury packaging.
Osvaldo Del Vecchio, Stefano Malagoli and Fabio Bergonzoni are the three partners who gave life to Tecnocart, investing in the casemaker 9.24 by J.S. Machine, placing great trust in the Asian manufacturer based in Carate Brianza (MB).
We met them at their headquarters in Modena, after the testing of the system, to verify their impressions after the first months of use which confirmed the satisfaction in the choice made, both as regards the technical characteristics of the machinery, the punctuality in machine delivery within the established times and finally for the human relationship established with the whole J.S. Machine team.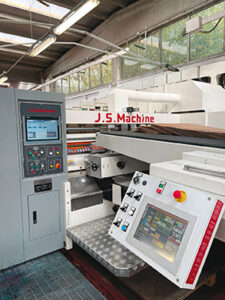 J.S. Machine, despite being a giant of the Asian reality, is still a relatively young industry on the European market; as this is the first casemaker JS Printer in Italy, it was not possible, also due to travel restrictions due to the COVID pandemic, to show the machine "live" at other European plants. J.S. Machine Europe has used the best technologies to be able to show the machine to customers via live remote connections from other companies located in America and Europe, where there are operating and performing lines identical to the one installed at Scatolificio Tecnocart.
Face to face with the management of Scatolificio Tecnocart – Osvaldo Del Vecchio, Stefano Malagoli and Fabio Bergonzoni
What convinced you to choose the technology proposed by J.S. Machine?
"The technical characteristics, the economic aspect and the excellent value for money have certainly played an important role in favor of our decision. But another absolutely important and fundamental aspect for companies like ours, which need guarantees on spare parts service and after-sales assistance, were the people of the company, human relations: the whole team proved immediately to be available and professional, starting with the purchase negotiation and then continuing throughout the installation process".
Assuming that there may have been some fears, how did you manage to overcome them?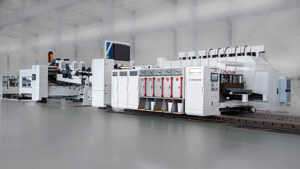 "J.S. Machine understood our needs in terms of spare parts and assistance, managing to overcome the initial fears we had about the timeliness of intervention, being a company that has its main office in China; daily contact and immediate responses to requests for intervention are essential for those who choose to buy these machines. The possibility of having at our factory a complete set of spare parts subject to wear is certainly a guarantee of the timeliness in responding to the needs of having spare parts with immediate availability. We received confirmation a few days ago, when we had a small slowdown on the machine and within a few hours one of the JS Machine technicians was already on site, quickly solving the problem".
Were you able to make a further qualitative leap with this new machine?
"The machine was able to guarantee excellent printing accuracy even at high speeds. The structure of the machine is characterized by high robustness and the electronics are made up of brands that are world leaders in their sector, leaving us extremely satisfied. By now the machine has been officially operational for almost 3 months and we have not encountered any kind of problem. We are absolutely happy with our choice".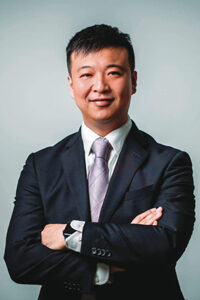 "From the whole J.S. Machine, we are proud that Scatolificio Tecnocart has decided to invest in our machines and we can only reciprocate the trust shown in us with this project with equal affection: we are obviously ready to support our customers along the entire path of growth and continuous improvement", reports Mike Sun, Sales Director of J.S. Machine Europe.