The installation of ThermoFlexX80 at Veronese prepress service represents for XSYS Italia the first sale of a flexo CtP completed in the first year of direct presence on the market. This choice was dictated by the desire to differentiate with a system that is considered by Giorietto family, owner of the company, the state of the art in terms of speed, quality, productivity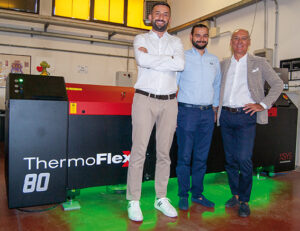 R.G.V. Riproduzioni Grafiche Veronesi is a specialized flexo prepress service for corrugated cardboard, paper shopping bags and bags sector of any size, from sugar sachets to big ones, and is closely linked to the territory in which it operates since 1967. Small family business, always managed by Giorietto family, thanks to the initiative and courage of its founder Enzo who was also awarded with "Dedalo Maestri Artigiani" (a recognition that the Department of Economic Activities of the Municipality of Verona promotes and that rewards the skill and commitment of those who have been working in the artisan sector for many years), and today carried on with renewed enthusiasm by his sons Marco, operating in production, Marzia and Katia as administrative managers, under the watchful eye of his mother Loredana Allegri and with courtesy visits of their father Enzo who, although he is no longer directly involved, loves to go around the departments to check that everything is proceeding in the best way.
In the 1980s, R.G.V. was one of the first companies to equip itself with a line for the production of photopolymers, in a sector where vulcanized rubber plates, generated by flano and magnesium, were used mostly. By that time as today, being pioneers is part of the DNA of this reality, which has always worked alongside small and medium-sized printers with the aim of supporting them with a timely but quality service, perhaps leaving out the aspects of marketing and communication, even if now times have changed and also for R.G.V. the time has come to be better known by the market.
"Even today when I introduce myself to a new client, if they don't know our company name, as soon as they read my surname on the business card, everything becomes easier, because the excellent reputation that my father has been able to build over the years is much appreciated. and recognized", Marco Giorietto tells us with pride and satisfaction.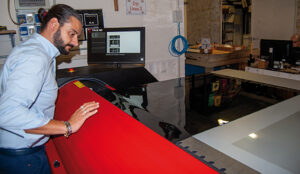 The company has reached its current size, desired by his father Enzo, but has no intention of growing further and apart from a few customers here and there for the Italian territory and a few foreign orders, "except for a few giants in the sector with whom we were born and raised each other, to which we are linked by a work/friendship relationship that has lasted in some cases for more than 55 years" adds Marco, the majority of the clientele is made up of small and medium-sized companies, followed with great care and passion, in a partnership relationship, where the focus of Marco and his young staff is to help customers improve the quality of their work.
R.G.V. supports small printers to grow in quality
"We have several customers who have potential but in our opinion do not exploit it properly, limiting themselves to producing 1-2 color plates, despite having machines with minimum 4 colors, with simple graphics, if not even line jobs, while if properly followed and involved in testing and profiling the printing press, we help them understand that they can create more beautiful jobs, even in full color. We are looking for this type of printer, and we notice that then the relationship is consolidated and becomes a long and lasting partnership, where the bar is gradually raised", adds Marco Giorietto, underlining that this approach is valid in the market of corrugated cardboard and paper packaging, less in flexible film where R.G.V. it is minimally present, and where the competition is fiercer and prices often dictate the negotiation, an aspect from which the Veronese service wants to keep itself out.
12 collaborators, a graphics department with 6 workstations with interchangeable operators, 2 CtP, one of which is the new ThermoFlexX80, triple exposure line and double washing, drying and finishing line of the plates; an independent line for processing magnesium clichés and one for water-based ones, together with the 2 Bieffebi clichés mounting equipments, complete the production department. One of the peculiarities that distinguishes the company is the extreme care for the quality of the production process, carried out with strict internal procedures in every single phase of the work progress. "We have noticed that having included a person assigned to this task, in sending the files for approval, protects us from errors and disputes, which are now reduced to less than 1% of our production, actually repaying us in economic terms but above all for the maximum satisfaction of our customers. Furthermore, the two operators who work in the imaging department come from our graphics department, they know very well the whole process phase and thanks to the presence of two Mac stations they are able to intervene on the files before sending them to imaging, if needed", adds Marco.
The new ThermoflexX80 to stand out with cutting-edge technology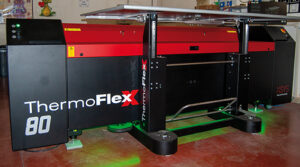 The new investment in the CtP that was installed last July by Xsys Italia fits into this context. "We chose Thermoflex because we wanted to distinguish ourselves from the majority of our competitors and we wanted a flexible technology that would adapt to our needs, that is to continue to manage the work as craftsmen, from start to finish, without any constraints or being obliged by technology to perform certain procedures that we consider too binding. We have chosen to invest in the Hybrid Software workflow with which we manage the entire production process, from the order to the CtP passing through the Rip where with the HXM screen we can manage minimum dots up to 1% at any resolution. Today we represent for our customers a guarantee of quality but also of timeliness, an element that some of our larger customers do not underestimate at all", says Giorietto.
The first job processed with the new CtP was imaged in the first instance at a resolution of 2400 dpi, for a flour paper packaging of a well-known Italian manufacturer, then the same job was processed at 5080 dpi, and went to print without particular problems, with the utmost satisfaction of the customer, who after having seen and touched the quality of the printed matter, which was only hypothesized at first, has already asked R.G.V. to pass for the next jobs at the maximum imaging resolution of 5080 dpi.
Combination of software and technology for automated production processes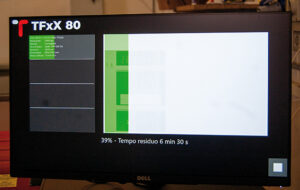 "The ThemoflexX80 chosen by R.G.V. is equipped with a 100 Watt laser that allows you to reach a imaging speed of 6 sm per hour with the standard resolution and any type of plate thickness. The potential of this laser is also the wide range of resolutions available starting from 2400 dpi, 2540, 4000, 4800 up to the maximum of 5080 dpi. Also standard is the FlexTray, a trolley for handling, loading and unloading of the plates which, in combination with the automatic vacuum function, allows to automate these operations without even requiring the use of adhesive tape to fix the plate on the cylinder. It is a solution that complies with Industry 4.0 standards and thanks to the investment that R.G.V. did with Hybrid Software, with whom we collaborate, they were able to automate the entire phase of the production processes, from sending the files to the CtP up to the retrieval of useful information to be sent to the company management system for subsequent administrative management operations", adds Cristian Marchesini, Sales Technical Support of Xsys Italia, who personally followed the installation of the CtP in R.G.V.
"In such a complex and difficult historical moment as the present one, R.G.V. has chosen to invest and innovate to radically change its production capacity, pushing quality to the highest possible level, choosing Xsys technology, which represents the best on the market in terms of qualitative and economic results thanks also to a reduction in energy costs and to the reduction of waste in the production phase. We are therefore grateful to R.G.V. for having chosen us and this makes us proud and encourages us to continue on the path we have undertaken just over a year ago. In Italy this is the first machine installed in the 1270×2032 format, but I would like to clarify that in the world there are over 300 CtPs installed in various formats, of which 103 in Europe", concludes Roberto Malagù, Sales Manager Italy.