NEOS, the new Italian excellence in the digital printing sector for industry. The Fiorano Modenese company will bring to the fair two of the best performing digital printers of its production: Bombardier and Fighter.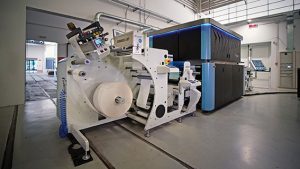 The Bombardier model, already presented at CCE international, is a digital inkjet printer with roll to roll transport or belt for rigid materials. The machine is characterized by a very high print quality, obtainable thanks to the use of grayscale heads and software and electronics produced internally by the company. With a sober and compact appearance that considerably reduces the overall space, Bombardier allows for a modular configuration (modules with two color bars to be installed in line in accordance with project specifications) with a production speed of up to 120 m/min (optional up to 240 m/min), print widths from 600 to 2250 mm and a resolution from 600 to 1200 dpi. The Bombardier model has also been designed and optimized to be installed in line with analog printing units, from primer to coating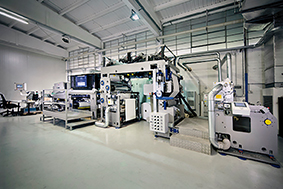 The other cutting-edge technology presented by NEOS will be the Fighter series, with a vacuum belt conveyor system or roll to roll. We are talking about a very high quality digital inkjet printer, with a print speed of up to 100 m/min and a configuration of up to 12 color/pinning slots. The use of UV LED and water-based inks is accompanied by a wide range of accessories for drying, curing and surface treatments. Thanks to a print width from 106 to 530 mm, Fighter is able to work on ABS, PVC, aluminum, steel, wood, white and transparent film, PP, PE, PVC, PET, BOPP, distinguishing itself for reliability, reduced production times and possibility to tune different projects by executing them in sequence.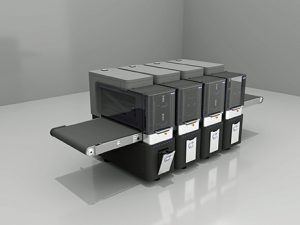 NEOS will therefore offer all visitors the opportunity to touch these machines designed to print on many materials (flexible packaging, metal, aluminum, plastic, wood, paper, cardboard), get in touch with all the advantages of digital applied to industrial printing and have personalized advice. Among these are the important savings on consumables and production waste, and the use of water-based inks free of volatile substances and chemical solvents, designed to have a lower impact on the environment. In addition, digital brings with it the possibility of changing projects on the go, personalizing them and minimizing downtime. This allows you to experiment many designs in a single project and therefore to increase the artistic potential of companies, optimizing production costs.