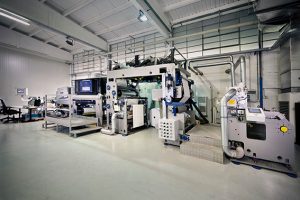 NEOS will participate in CCE International bringing to the fair one of the flagships of its range, a concentrate of fully customizable made in Italy technology: Bombardier model, digital inkjet printing machine with roll-to-roll transport or belt solution for rigid materials. It is an extremely compact and flexible system, with single modules with two color bars that can be used with both WB and UV-LED inks.
Bombardier stands out for its very high print quality that can be obtained thanks to the use of the most modern grayscale print heads and dedicated software and electronics made in NEOS. Its features allow to have more than 8 color bars in sequence, with a production speed of up to 120 m/min (optional up to 150 m/min) with printing widths from 600 to 2250 mm and resolution from 600 to 1200 dpi. From the point of view of construction characteristics, NEOS Bombardier is sober and compact: thanks to the steel, carbon structure and polycarbonate carters, it manages to contain the overall dimensions in just 850 mm per module of two color bars. The roll-to-roll system is suitable for the transport of flexible substrates and can be integrated with a complete line for paper and cardboard, using primer application systems and/or analog printing unit.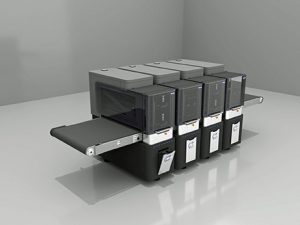 This solution clearly represents the advantages of digital printing applied to the corrugated and folding carton sector: by exploiting the potential of digital printing to the maximum, it allows to print variable data within the same project, with machine make-ready times and production changes reduced to a minimum. Not to mention, in terms of efficiency, also the positive impact on sustainability given the reduction of material waste and optimization of ink consumption. Furthermore, NEOS is also a complete supplier for the development of custom inks, water-based and UV-LED according to applications and customer needs.