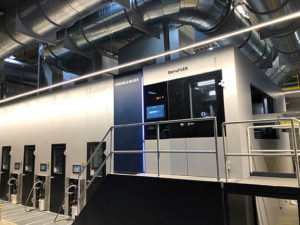 The first Corruflex was installed and put into production in 2020 at German multinational group Thimm, precisely in Sibiu plant in Romania, Koenig & Bauer now aims to expand sales and installations to high-end customers. We talk about it with Emanuele Pogliani, sales manager of italian branch of Koenig & Bauer
2020, especially with the participation in Drupa, which was later skipped due to Covid-19, would have been the year of the launch of new technologies by Koenig & Bauer for corrugated cardboard market.
Present with high-end solutions for offset printing, both commercial and paper converting, and in the world of flexible packaging, with the introduction on the market of three machines for the printing and converting of corrugated cardboard, Koenig & Bauer aims strongly to conquer market shares in the world of high quality corrugated cardboard. If on the one hand the pandemic has slowed down marketing actions and the presentations of these new technologies to possible interested customers, on the other hand this last year, with the explosion of e-commerce, a market that was already growing and which now has been growing at a dizzying pace for over a year, has probably laid the foundations for the future success of these new production lines.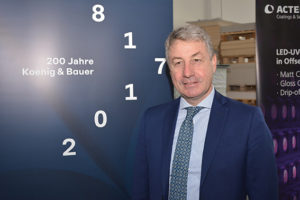 "The installation at Thimm Group represents for us the starting point to demonstrate the potential of this technology and the quality that can be reached with our machines", tells us Emanuele Pogliani, sales manager of Koenig & Bauer IT and a figure of great importance for the German company in Italy, with a background in the world of offset printing and now engaged in this new and exciting challenge in the corrugated cardboard sector. Koenig & Bauer already in the 2000s and only for the American market, had developed technologies for flexo printing of corrugated cardboard but then the project was subsequently abandoned. Perhaps the times were not ripe, we were at the beginning of internet era, in those years we began to consider the word quality coupled with corrugated cardboard.
Today times have definitely changed, and the need of brand-owners, retailers and above all consumer expectations have grown and with e-commerce, the supply chain has been extremely reduced and corrugated cardboard packaging is the business card for companies that use it.
"The growing demand for high quality in this market meant that the time was ripe for our entry into this extremely interesting sector", says Pogliani – "and as for all the other sectors in which we are leaders, also for printing and converting of corrugated cardboard we offer highly technological and performing products for a high quality market.
The range of Koenig & Bauer solutions for cardboard includes 3 machines: CorruFLEX, CorruCUT and CorruJET that exploit a common technological platform with the possibility of acquiring them as standalone or inline solutions, according to customer needs", adds Pogliani.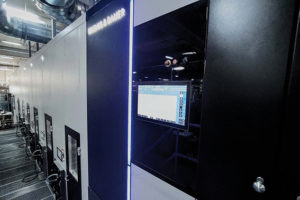 CorruFLEX installed in Romania at Thimm Group plant, completed with minimal delays due to Covid, has already produced tests relating to quality and registration accuracy carried out by an external operator with customer satisfaction. "With the installation of this flexo printing machine, we respond to the Eastern European market demand for value printing packaging and build our portfolio of customer-oriented solutions. We are very satisfied with the first tests carried out and the machine will mainly be used for four-color jobs on coated paper", says Michael Weber, Head of Corporate Strategies and Marketing at Thimm Group.
Corruflex – Corrucut: from printing to die-cutting with the aim of high quality
CorruFLEX was designed and developed together with high board line rotary die-cutter CorruCUT, it provides high-performance post-print on corrugated board in the highest possible flexo quality. It stands out as a unique turnkey solution that combines the latest technologies and functions with straightforward and intuitive operation. CorruFLEX boasts a multitude of unique features, such as a vacuum-belt feeder that operates without feed rollers, and an innovative anilox roller changing system.
The feeder has a new design and guarantees maximum productivity without interruptions for feeding and without cardboard damage. The transport of the sheets thanks to the continuous pneumatic roller system guarantees a stable transfer of the sheets through the machine and perfect register stability throughout the printing process. Not-wearing transport rollers guarantee operation without machine downtime due to the need to replace the belts. The direct servo-assisted drive of the motors guarantees perfect registration of the various printing colors, with the latest generation flexographic units for high quality.
CorruFLEX prints from the bottom formats from 600-2100 mm of maximum width with 600-1250 mm of maximum length, it is able to reach up to 14 thousand sheets per hour. It can be operated either as a stand-alone solution or be integrated into a production line together with conventional flatbed die-cutters.
CorruCUT was born from the experience of the rotary die cutter developed in the 2000s under the name of Corrugraph. CorruCUT has all the most modern technologies available today as well as exclusive technical Koenig & Bauer characteristics. CorruCUT has been designed for high productivity processing of rotary die-cut corrugated cardboard boxes with the highest flexographic post-print quality. The machine is able to process corrugated cardboard with a maximum production speed of 12,000 sheets per hour, 600-1530 mm maximum length with 600-2800 maximum width and thicknesses up to 9 mm.
Corrujet, for direct digital printing on corrugated cardboard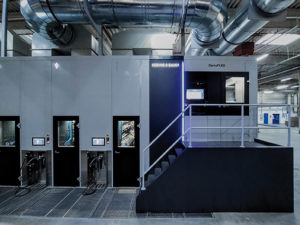 To complete the offer of solutions for printing on corrugated cardboard there is also a digital line, developed by Koenig & Bauer together with Durst, based on the experience gained over the years with RotaJET, digital web machine. With a maximum production speed of 5500 sheets CorruJET is now able to print on corrugated cardboard up to 8mm thick. The machine prints in four-color process, with water-based inks and Fuji Dimatrix Samba heads with variable ink droplet sizes. CorruJET is equipped with pre-coating and in-line coating unit.
"Koenig & Bauer chose high quality for digital printing and it is no coincidence that a partnership with Durst was born from which, in addition to CorruJET, originated VariJET 106 and Delta SPC 130 to satisfy the most varied market needs, always having high quality as a beacon", adds Pogliani.
"Italy is one of the reference markets for high quality printing on cardboard, here in Italy we have already started with marketing actions towards top customers to whom we can propose our solutions. The interest is high, although the pandemic has forced us to review our plans, we are working to announce the signing of a sales contract by the end of 2021: the conditions are already there", concludes Emanuele Pogliani.