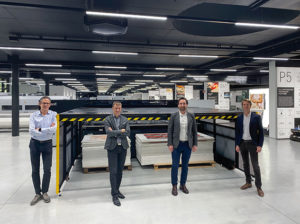 Durst presented a series of innovations that are part of "Pixel to Output" strategy with which the South Tyrolean manufacturer aims to become a provider of highly integrated solutions. Protagonists of the presentation: the revolutionary P5 350 HS high speed printer, enhanced with the new automation system, Durst Automat™; the exclusive Durst software further optimized; an even wider range of LED inks and unprecedented technological partnerships. The pandemic has given a significant boost to Durst's vitality, which from the masks launched in spring to the air sanitization systems proposed after summer, has shown great proactivity not only towards the printing industry, but society in general, with useful, creative, modern and design solutions. Innovations made possible also thanks to "Pixel to output" strategy, through which Durst presents itself to the market with integrated and automated solutions capable of associating to simple printed work added value that makes a difference.
Great versatility with the new Durst P5 350 HS, from roll to cardboard
The latest model of Durst P5 technological platform, the P5 350 HS system achieves printing speeds of up to 600 m2/h, doubling those of the standard versions, thus establishing itself as the most productive hybrid solution on the market. The pluses also include high versatility, guaranteed by exclusive features such as multi-roll printing and multi-track 6, which have already contributed to the success of the entire P5 series. Configurable up to a maximum of nine colors, including light colors, white and varnish for the realization of multi-layer prints and special applications such as "Day & Night", "In & Out" effects and up to 12 layers of embossed printing.
The possibility of printing on corrugated cardboard is also provided, with the inclusion of dedicated auxiliary devices to facilitate the management of the material.
New automated loading and unloading system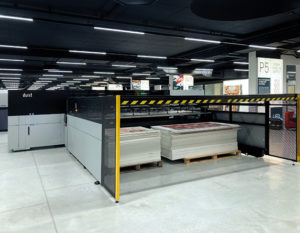 To ensure the high versatility of the P5 350 HS also the combination with Durst Automat™, the innovative fully automated loading and unloading system for rigid materials that makes production processes even more efficient. This innovative solution allows to manage simultaneous printing on two lanes, even with supports of different sizes, up to 3.5 m in width, 2.2 m in length and load capacity of 90 cm high stacks. In addition, thanks to the sliding registering table and convenient access to the roll-holder unit, the material change can be carried out quickly and with extreme practicality by a single operator. The first installations of Durst P5 350 HS equipped with the Durst Automat™ system are expected by the end of the first quarter of 2021. Thanks to Durst Workflow, which includes prepress and ripping capabilities, the workflow is even more efficient; in addition, color management ensures maximum quality and cost optimization.
Among the novelties also announced the new LED POP Flexible ink. Characterized by an exceptional color gamut, it combines flexibility, stack ability and high adhesion. It is a first-quality hybrid ink suitable for a wide variety of rigid and roll media compatible with the entire range of LED printers by Durst.
Durst leads the transition to the Smart Factory
Durst is constantly working on building workflows with an end-to-end approach to offer solutions that target the Smart Factory concept by simplifying production and processes. Durst Smart Shop, Workflow, Analytics, Lift ERP – and now the new Durst Automat™ – push the boundaries of automation and innovation. Software that can be integrated with each other, whose use is supported by the consultancy of the highly professional Durst service. Furthermore, Durst Workflow is now also available for not-Durst printers, thanks to the partnership with PrintFactory, whose API software allows easy management of mixed print environments.
Within the Durst software ecosystem is very interesting the tool dedicated to e-commerce for the production of cardboard displays, a sector where digital technology, both printing and converting, is now becoming a point of reference for many boxes and cardboard factories, which aim at these machines to create new opportunities. Durst Smart Shop offers the possibility of using ready-to-use templates, for extremely easy and intuitive management of even very complex products. Once the product to be printed has been created, again through the production workflow, it is possible to go directly to printing on the connected Durst machine. This option, which has been offered for some time now in conjunction with Durst printing technologies, has given the opportunity to various companies, even small ones, to create their own online showcase, significantly expanding their offer. The press demos broadcast live from the Customer Experience Center of the futuristic Durst headquarters in Bressanone (Bz) on the occasion of the digital event for the presentation of the new P5 350 HS and expertly told by Andrea Riccardi, Head of Product Management, were precisely focused on the production of cardboard displays. Beautiful and captivating solutions capable of attracting the gaze of consumers in the points of sale. Printed with the new P5 350 HS, obviously starting from a single Pixel!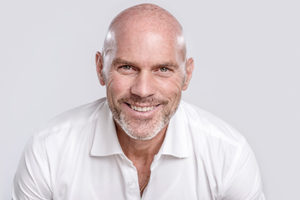 Face to face with Alberto Bassanello, sales director at Durst Italy
How was 2020 for Durst and what are your expectations for this new year?
"It was certainly a different and particular year, sometimes difficult, which invited the whole world, productive and not, to get used to new remote communication systems as well as to home office, which was already often considered, but rarely implemented. In terms of short-term results we will be able to be more precise, but we can already say that the sector most affected was the large format one, penalized by the blockade of fairs, events and the drastic reduction of maxi-billboards. Thanks to diversification, we can instead be satisfied with the results obtained in sectors such as paper converting, labels, ceramics and industrial textiles. Even if at the moment it is still too difficult to make forecasts for 2021, we still expect a year of recovery, especially as regards the world of large-format communication, especially starting from spring".
What is the ideal target for this new P5 350 HS?
"The exceptional productivity combined with the extreme flexibility that characterize the P5 350 HS ensure excellent performance for a wide range of applications ranging from communication for the point of sale to industrial applications. Of course, with similar performances, we no longer talk about samples or short runs, so with the P5 350 HS even paper converting companies will find the ideal answer to their printing needs, both in terms of quality and productivity".
The world of cardboard packaging is increasingly at the center of your strategy or not?
"Absolutely yes, and it has been for several years. In fact, in addition to P5 family and before that with P10 and Rho 1000, Durst has been offering various UV solutions for paper converting applications. Furthermore, our new water-based WT ink, with Greenguard and UL Ecologo® certification, has allowed us to catalyze the attention of the world of packaging more oriented towards food and primary packaging for which we provide both technologies for small/medium runs such as P5 WT 250 (formerly Delta WT), both for large runs such as SPC 130".
Can you tell us how the development of the VariJET 106 is progressing? Without drupa, when can the launch be expected?
"Koenig & Bauer/Durst joint venture works tirelessly to develop ever more efficient solutions. New features have recently been announced for the SPC 130, including additional color channels (orange and green/purple) that expand the color gamut and the primer that increases the number of uncoated media that can be printed. News also regarding the optimization of CorruJET 170. Furthermore, even without drupa, 2021 will still see the "baptism" of the new VariJET 106 system for which great innovations are planned on which we cannot provide now more details so as not to ruin the surprise".