GIFASP, the Italian Group of Folding Carton Manufacturers, gathered its associates on 17 and 18 June 2022 in Naples for the usual National Conference of a sector that last year has registered a production increase of 6.9%.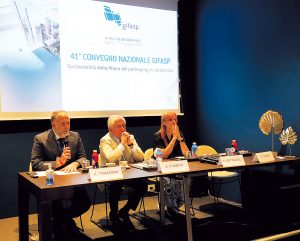 The event, which again registered the usual participation we were used to in pre-covid times, was a stimulating and constructive opportunity for the group, made up of personal relationships and discussions about the issues of greatest interest and relevance to the compartment. This year the theme of the conference was linked to the sustainability of the cardboard packaging supply chain. The public works of the Conference were opened on the afternoon of Friday 17 June by GIFASP President Alessandro Tomassini who, after the greeting addresses and the presentation of the speakers, gave the floor to Cav. Antonio D'Amato, Group President of Seda International Packaging: he  gave a strong and clear message addressed to European environmental policy which, with the Directive on packaging and packaging waste, risks undermining the virtuosity of that circular economy in which the Italian paper supply chain is at the forefront in terms of circularity. Over 87% of paper and cardboard packaging is recycled, 15 years ahead of the European targets. Following Giorgio Mosseri, Sales Director Region South West Europe of MayrMelnhof Board & Paper, presented the MM Group and its sustainability strategy which includes a program based on SDGs – Sustainable Development Goals (the objectives for sustainable development sanctioned by United Nations) in the following areas: planet, people, prosperity. The intervention of Elisabetta Bottazzoli, Project Manager of the Paper and Graphics Federation, provided the latest updates on FpS-TOOL, the tool for reporting sustainability developed by the Paper and Graphics Federation.
Last speaker was Mike Turner, General Manager of ECMA, he reported the vision of the European paper converting system, with a mention also to the problems that are encountered in the supply chain, how this is changing and how it will be able to exploit the opportunities of the moment and the next future. The public works of the conference also continued on the morning of Saturday 18 June, with an interesting round table composed of representatives of paper converting companies, users and GDO distribution, and moderated by the journalist Sebastiano Barisoni in which sustainability was discussed for each actor along the supply chain path of the Italian paper industry.