The managerial culture as an essential element to support the growth of a packaging company and the importance of using a complete, specific and integrated management software such Packway in order to obtain strategic management control and directional analysis in a proactive way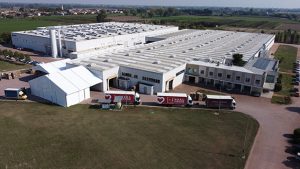 Imbal Carton S.r.l. was founded in 1967 as a box manufacturer in Prevalle, it grew moderately until the end of the 80s, in the 90s started its development, both internally and externally. On the wave of enthusiasm, fueled by the full trust of customers and the desire for innovation, an expansion plan was implemented which in a few years has resulted in a series of acquisitions, bringing volumes, know-how, skills and experiences.
Today Imbal Carton is a big company, that operates in the corrugated cardboard packaging sector with three companies that have over 150 people between employees and collaborators. Each year the company satisfies more than 1,000 customers, with a total of about 22,000 orders and a 2022 turnover estimate of 70 million Euro.
The Group's sites are in Prevalle (Brescia), Drizzona (Cremona) and Spini di Gardolo (Trento), covering a total area of over 90,000 sm.
All the factories use the most modern technologies, with automatic control and supervision systems. Particular attention, along the entire production chain, is paid to quality control, health protection in the workplace and environmental protection. The corporate mission is increasing constantly the satisfaction of its customers, shareholders, employees, collaborators and concretize this commitment by diversifying products and innovating processes, guaranteeing the best customer service and a safe and motivating working environment.
Face to face with Michele Lancellotti, president and CEO of Imbal Carton S.r.l.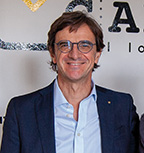 What products are offered on the market?
"Imbal Carton is considered an industrial reality of excellence, characterized by production processes strongly oriented towards innovation thanks to an intense research and development activity. The Group has always considered quality as one of its strengths, it creates products and services that anticipate and satisfy customer needs. The company has a dedicated team which, through an efficient control system, ensures that every single product manufactured complies with the technical specifications required by the customer. Suppliers are also selected and evaluated on the basis of their ability to provide products/services that meet the quality standards defined by the Group.
The sectors served are food, fruit and vegetables, furniture, lighting, plumbing, textiles, cosmetics, pharmaceuticals, mechanics and automotive, while the products offered are American boxes, flat and glued die-cut boxes, mounted trays, die-cut trays, twin boxes, wine boxes, cases and offset printed boxes, counter displays and floor displays printed in flexo, offset and digital.
Quality is ensured at all stages of the production cycle with interventions aimed at continuous improvement. The certifications achieved are ISO 9001: 2015 Quality management system, ISO 14001: 2015 Environmental management system, ISO 45001: 2018 Occupational health and safety management system, FSC Forest Stewartship Council certification required by most customers".
The importance of strategic partnership with Progroup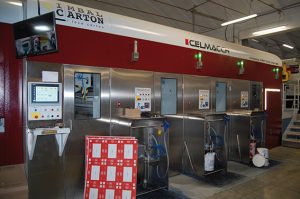 -"Since 2018, Imbal Carton and Progroup Board have started a fruitful collaboration, which guarantees ever greener, ever more performing packaging and produced for 80% with recycled paper and only 20% with paper produced from virgin fibers.
For the first time in Italy, a pure box producer like Imbal Carton has joined forces with a pure manufacturer of corrugated paper and cardboard, leader in Europe for productivity and research & development.
On 5 March 2018 Progroup Board installed a BHS 2.8 corrugator at our production site in Drizzona, giving life to an innovative industrial partnership.
This model, called "Packaging Park Model II" by Progroup, allows you to maximize synergies and create products that meet the needs of the market in an increasingly innovative way.
The advantages deriving from the partnership with Progroup are the increase in the performance of the boxes in terms of BCT, the increase in quality standards in terms of ECT with the same weights, the elimination of logistical costs between the sheet producer and the packaging manufacturing company, the reduction of CO2 emissions by 20%, the improvement of printability of corrugated cardboard, the increase in productivity, the optimization of transport volumes and reduction of delivery times, as well as the reduction of the taxable amount for Comieco tax.
Thanks to this partnership, Imbal Carton produces packaging using paper with new wave profiles and lighter weight. This production approach allows the production of more performing packaging with the same use of paper, greater timeliness and speed in deliveries, production efficiency and a reduction in the volume occupied with the same number of boxes".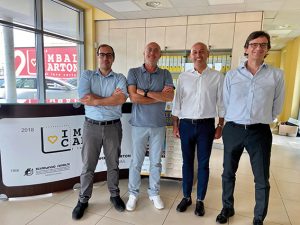 How has the relationship between Imbal Carton and B+B International developed over the years?
"The relationship between Imbal Carton and B+B was born about 20 years ago, we met B+B at a trade fair and some references told us that it was a company that was establishing itself in the market. We at Imbal Carton have the ambition to be in step with the times and we could not fail to know more about B+B offer. With first meetings we established a relationship of mutual esteem and trust. In 2015 we decided to start a new department, an internal technical design and sampling office to support the sales team in order to better serve customers. We had decided to include a cutting-edge cutting plotter for sampling and small productions, after a market survey we bought a Kongsberg XP44 from B+B together with the ArtiosCAD design software because we felt it was the most qualified company both in terms of product and technical competence. We received from B+B the necessary support to get the department started, which proved to be truly strategic, very productive and effective.
I remember one of our commercial events made with our best customers to present the new Prevalle offices and communicate the news of the prototyping department, in which Davide Dal Col helped and supported us in making them understand the importance of our project and our business strategy: this has helped us a lot and has increased our credibility.
ArtiosCAD software, ì-Cut Suite and a Kongsberg C64 plotter were then installed at Trento site, while we will soon carry out a new installation at Drizzona site as well.
At the beginning of 2020 we visited B+B at its Montebelluna headquarters, finding a structured, growing, determined company that believes in values ​​that are also ours, with a lot of ambition but also a certain humility in its approach.
In June 2020 the relationship was further consolidated, we decided to carry out important innovations also in the management field by starting the installation process of the new Packway software, that is a new coordination and control system for all company functions, CRM and technical office management, technical sheets, estimates and orders, purchases, production planning, data collection from the machine, logistics and warehouse, shipping and general accounting. To date, we can affirm that B+B is one of our most important strategic partners". 
How was the company growth managed and what were the reasons that led to the inclusion of Packway management software?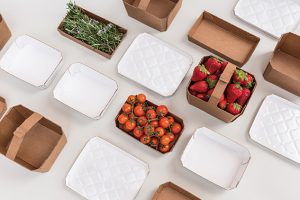 "Growing by about 15 – 20% a year, the challenge for management is difficult and for this reason the company relies on key figures, the members of the family that owns the capital, new highly qualified people and also resources arrived thanks to acquisitions, which bring not only turnover but above all skills. We are aware that we must continue to strengthen our middle management, in fact we think we need to grow by ten resources every year. To support the management, however, it is necessary to have the appropriate tools and a precise methodology.
With the exception of some niches, we must remember that our product is a commodity, which can be easily copied, to win you must focus on efficiency and efficiency passes from cost control, management control with a software that supports the whole company in a strategic key. All this must permeate the corporate mentality, culture and soul of the company.
Among the three alternatives analyzed we chose B+B for the completeness and specificity of Packway software, for the skills of their consultants in the field of packaging and for the methodologies applied during the start-up plan.
It was immediately clear that our objectives of depth of management and control could be achieved primarily thanks to Packway Technical Data Sheet, the graphic representation of the entire production flow of each item, therefore the ability to manage all raw materials and all necessary working centers for the production of one or more products, with all the variables as the production of items made with several materials and different production cycles, mix of different subjects, management of subcontracting jobs, different units of measurement and much more.
Managing the production of American or die-cut boxes is quite simple, the difficulty was exactly in managing all the items produced by our company, in order to obtain a precise management control, net of tolerances determined by an incomplete or imprecise list. All this information is necessary for proper commercial management, estimates and orders, but also for the analysis of needs, purchases, goods arrival and management of the raw material warehouse.
All the information contained in these applications, when transmitted to the Production Planner, allows the coordination and total control of production. Through the detection of data from the machine it is possible to know in real time what is happening in the factory, allowing the planner to always act in real time.
The system integrated with warehouse logistics allows traceability by pallet, as well as a timely verification of semi-finished and finished product warehouses. Using the shipping application it is possible to optimize loading and delivery plans, which integrate directly with eSolver, accounting system by Sistemi S.p.A., supplied and assisted directly by B+B.
Thanks to the meticulous management of all departments, it was possible to achieve an excellent Directional Analysis, in short, the measurement and total governance of the company, thus achieving the main objective. It is possible to improve what can be measured, it is therefore necessary that the system is precise and capable of managing any product or process, otherwise management control and directional analysis would certainly be distorted by data that are not entirely accurate".
How was Packway installation technically carried out?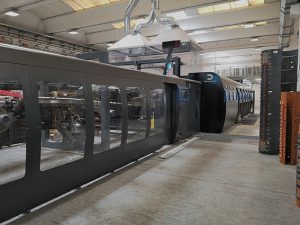 "Packway ERP installation resides on three servers in the Cloud while applications dedicated to production are physically installed on two servers at production plants.
CRM and management of Packway's technical office are web applications, allowing their use by both the operating staff inside and outside the company, using PCs, Macs or mobile devices such as smart phones and tablets.
All production is coordinated by a single Packway Production Planner for two plants, allowing high automation in the exchange of orders/processes between the plants. Data collection takes place in real time with the terminals on the machine and 4.0 interconnections with all the new generation machines.
Very thorough management of subcontracting activities and strong synergy with third-party companies. Through the use of internal applications that allow the exchange of data in electronic format, it was possible the integration with both customers and suppliers by tracing the single pallet.
It is important to highlight the integration developed between the Packway production planner with that of Progroup through which it is possible to schedule the converting of boxes according to the date and time of actual programming of Progroup corrugator.
Warehouse logistics and management are automated for raw materials, semi-finished and finished products. Reporting, management control and directional analysis systems are centralized and based on Microsoft Power BI, as well as the general accounting installed with multiplant profiling". 
What is the value of digital transformation?
"Knowing your data is just as important as the quality of the product to be delivered to the customer. Proper management control, seen from a strategic and proactive perspective, allows you to improve the analysis of the market, sectors served and customers, allowing you to better calibrate the value proposition and tackle complex decisions with qualitative information.
The investments made in recent years have accelerated our improvement process. However, it should be recognized that the investments necessary to concretely implement the digital transformation are in many respects very different.
The installation of a new casemaker requires a lot of space and economically a very expensive investment, but at the level of people commitment is rather limited, in fact we are talking about 10, 15 resources involved.
The inclusion of the new management software has an economic impact that is much lower than that of a machine, while the involvement of the staff is holistic, in our case it has directly and indirectly involved all 150 employees of the company.
It should be emphasized that the path of change has been quite impactful in various respects, in some moments complex because we had to intervene on the organization, on the change of duties of some resources, on the inclusion of new people and on the abatement of procedures consolidated by over twenty years of use of the previous management system.
The integration between offices and factory was very strong because all the plugs must be inserted in the correct position. The amount of data available turned out to be much greater, necessary to obtain what is desired in relation to directional analysis, but which at an operational level requires an effort from all operators. In order to facilitate people's daily work as much as possible, a customization plan was also launched, positive for Imbal Carton organization and Packway software.
For these reasons, a project of this nature can only be tackled with the direct involvement of company management and the main users. With Packway, the process is currently managed at 360° and the results achieved justified the efforts and investments made.
Finally, we can communicate that the expansion of Drizzona plant has begun, where a new casemaker 4500 will be installed next year for large packaging and a Lean Management project has been launched with an important consulting company specialized in the sector of corrugated cardboard. Undoubtedly, also for these new important investments there will be the direct involvement of B+B and Packway".