Three days of open house for Gallus, which on the occasion of the celebration of the 100th anniversary of the Group invited its customers from 21 to 23 June to its headquarters in St. Gallen in Switzerland for the inauguration of the new Gallus Experience Center, to share strategies and visions of the Group on the future of the label and packaging world with a look at the latest technological developments in anticipation of the launches for Labelexpo Europe in September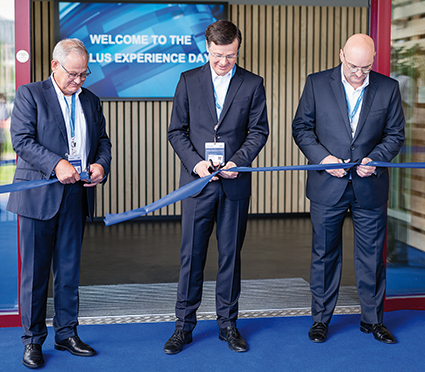 We had interviewed Dario Urbinati, recently CEO of Gallus and published the article in the January/February issue of Converter-Flessibili-Carta-Cartone, fixing an appointment within the middle of the year in the new Experience Center, a structure designed as a point of connection with the whole industrial world and laboratory to develop and promote innovation, sustainability, new technologies together with Gallus technological partners but also with customers and brand-owners, as well as obviously also acting as a training center and reception center, and open to anyone who wants to share with Gallus a project, an idea, an innovation.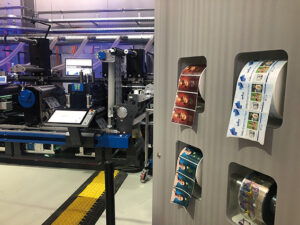 Last 20 June, on a day dedicated to the trade press, Gallus management wanted to share the Group's strategies but also the vision for the label and packaging sector, increasingly with a view to digitizing processes and technologies, with interventions by two leading experts in the sector also regarding Artificial Intelligence and new consumer and retail trends.
Gallus and the digital transformation
"In the future we will have fewer and fewer people available to work in the industrial sector, as young people will be increasingly attracted by digitization and we will have to figure out how to make our business attractive for the new generations," says Dario Urbinati, CEO of Gallus.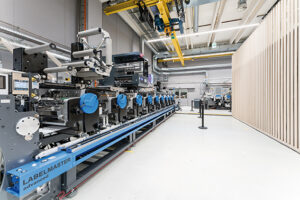 Digital transformation is therefore not to be understood only as referring to printing technology but should be seen as an ecosystem of integrated solutions within which machines, software, cloud solutions, integrated systems are included where obviously traditional technologies will also have space. The model for calculating the TCO (Total Cost of Ownership) will also change as the need for sustainability will grow more and more.
Gallus response to all these needs can easily be summarized in the concept of Digital Ecosystem, where thanks to proprietary solutions, the Group can serve the market starting from prepress, inks, printing machines, inkjet solutions, assistance service and in the future with predictive maintenance, and also thanks to the partners present in the new Experience Center supply always the state of the art also for a whole series of technologies and auxiliary materials for printing and converting process.
Three new products drive the digital strategy by Gallus
To support this digital ecosystem, and just on occasion of 100th anniversary, Gallus presented Heidelberg Customer Portal, the new Gallus One with Converting, and a digital upgrade to the company's successful Gallus ECS 340.
Heidelberg Customer Portal automates almost every customer touchpoint. In an industry first, future iterations of the solution will also provide predictive capabilities utilizing artificial intelligence (AI) to provide recommendations to increase productivity, reduce maintenance, and boost profitability. The new platform is expected to save customers, on average, up to 35% in both time and money.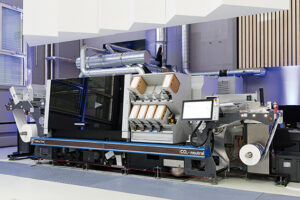 With annual growth of over 2% in global print volumes, packaging printing is one of the strongest growth areas in the printing industry. Together with label printing, it is an important core area for Heidelberg. Great importance will be dedicated to digital printing, a sector where the Group wants to grow. One third of all labels worldwide is already printed digitally today. Digital printing is thus driving change in this promising market segment, with inkjet growth of around 6% a year. Heidelberg intends to expand its position here with the Gallus One.
The new Gallus One with Converting is a solution that brings everything inline and features a digital printer with an inline flexo station, a semi-rotary die cutter that can change a job within one minute and work up to 70m per minute, and vision inspection systems to ensure the highest level of quality and minimize waste. The company is also announcing the option to upgrade an existing Gallus ECS 340 flexo press with a digital printing unit (DPU), transforming it into a Gallus Labelfire 340 hybrid press, but without the additional platform investment.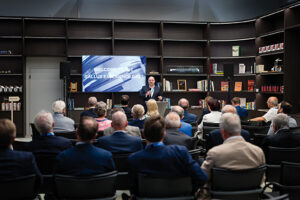 "We need to look beyond the graphic arts and take advantage of all cutting-edge technologies to be ready to incorporate the changes and new social needs of people. The push-to-stop concept pioneered by Heidelberg with 24/7 automated production will be key. The label and packaging sector must be considered exciting and challenging by young people and only with a digital transformation can we achieve this goal. But I'm sure we'll make it, because today we started a path of collaboration, innovation and modernization that will be able to guarantee us future successes in this extraordinary sector", concluded Dario Urbinati.
---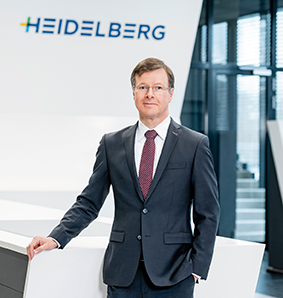 "As we celebrate the 100th anniversary of Gallus, Heidelberg is delighted to stand alongside the Gallus team this week, united, as one Group. Together, we are even stronger, and have a robust growth plan looking ahead. With labels and packaging now representing 50% of the Group's total sales, the new digital and automated solutions introduced by Gallus today play an important role in the future of Heidelberg. As a result, Gallus is an important pillar within the company's growth strategy, and we're more committed than ever to its long-term future", comments Dr. Ludwin Monz, CEO di Heidelberg.
---