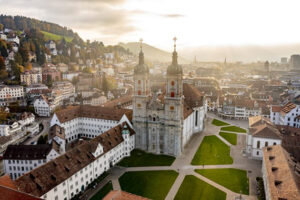 Gallus Group, a subsidiary of Heidelberg, is the leading company in the development, production and sale of conventional and digital narrow web and reel-fed presses for the label industry. On 19th June 2023, it will celebrate its 100 years of business with the official opening of a brand new industry hub: the Gallus Experience Centre. Designed to be a central touchpoint for the entire labels and narrow web landscape, the new center is dedicated to facilitating the future success of the industry, fostering collaboration to drive innovation and sustainability, and accelerating the industry's 'digital transformation'.
Whether you are a manufacturer, supplier, converter, printer or brand, you will be welcomed to use the new facility to explore ideas, and to test and develop new technologies. In addition, Gallus will use the facility to showcase both conventional, hybrid and digital Gallus products, software and cloud-based solutions, next-generation machines being produced and supplier partner technologies.
Customers, prospects and stakeholders from some of the leading printers and converters across the globe are invited to the Gallus Experience Center in St Gallen, Switzerland, for the very first time from 20th-23rd June as part of the company's inaugural 'Gallus Experience Days'. The busy event program comprises inspiring keynote presentations from world-leading experts in artificial intelligence (AI) and retail strategies – such as serial entrepreneur, top global digital transformation advisor and renowned AI strategist, Andy Fitze, and published author, speaker and digital and AI consultant, Katie King. Attendees will also have the opportunity to attend supplier seminars, breakout sessions from key strategic partners, and tours of the landmark facility. Complemented with a variety of live artists, musicians, entertainment and on-site catering, the opening week celebrations will provide the ideal platform not only to mark Gallus' centenary milestone, but to unite minds and voices industry-wide.
Dario Urbinati, CEO, Gallus Group comments, "We are so excited to invite customers, partners, friends, and colleagues to our Gallus Experience Days. In addition to celebrating our birthday, we will use the event to demonstrate our vision for the future of labels and packaging. Largely, this is centered around a 'digital transformation' – using 'smart, connected printing' to unlock revolutionary levels of production automation and manufacturing efficiencies. Key to solving the labor issues of today, we are also excited to unveil new solutions at the event that will enable customers to reduce costs, increase profitability and increase sustainability. Register now to join us, get inspired, share ideas – and together, we will drive our future success."