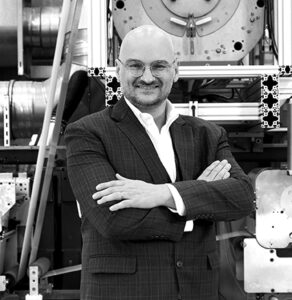 We spoke exclusively with Dario Urbinati to explore his new role, better understand his vision for the industry, and learn more about recent technology announcements such as the Gallus One – as well as discussing the highlights of 2022 and Dario's predictions for 2023. He replaces Frank Schaum, who will now head the print division of Heidelberg, the parent company of the 300-employee group, and who will remain as head of its board of directors.
Dario Urbinati is the new CEO of Gallus, a return to the Swiss company that has been part of Heidelberg since 2014, having spent 9 years with Gallus earlier in his career. Now, he is ready to drive the narrow web market towards a more sustainable and profitable future, providing revolutionary new technologies to achieve this, such as the recently-launched Gallus One: the company's first fully digital label press.
Dario Urbinati has a strong background in the graphic industry sector, and more specifically, in the label industry. It was in 2007 that he joined Gallus for the first time. Until 2016, he held various positions within Gallus including, most recently, Managing Director of the Southeast Asia region. He then joined the Chinese subsidiary of Italian industrial machinery manufacturer, Omet, where he held the role of General Manager for the narrow/medium width segment. He then moved on to metallic embellishments solutions manufacturer, ACTEGA Metal Print, as Director of Sales and Marketing between 2019 and 2021, before deciding to return to the Swiss group, Gallus, as Director of Sales and Service.
"All these experiences are precious to me because they've enabled me to continue learning and developing professionally. I came back to Gallus because it is a very strong company with deep roots and a powerful brand. I am very happy to accept this prestigious but also challenging position, and to return to the company which provided many of my earliest opportunities at managerial level", Dario said to us with a smile.
Conventional and digital side by side
But what does it mean to work with Gallus today? For Dario, it is an honor, not only to have the trust of Gallus and Heidelberg's board of directors but also "to be able to work with such a committed and enthusiastic team. Thanks to the team's hard work, Gallus's reputation is very good and the company has proven to have in its DNA the strength to reinvent itself, to offer innovation alongside our technology experts, and consequently to be a part of leading the digital transformation", he explains. Naturally, one of the truest and most important measures of any manufacturer's performance is by its customers and the proof of Gallus' impressive technologies and customer relationships can be seen in the thousands of Gallus solutions installed all over the world.
In this regard, Dario's goal is very clear: "it's my intention to drive forward this legacy that Gallus had gained over the years. We are aiming to continue providing more state-of-the-art technology in response to solving the challenges of our customers, who are seeking fast, efficient, high-quality processes. This means driving automation across not only digital printing but also in conventional printing. We understand that in the narrow web industry, there will still be a place for conventional printing for years to come; realistically, it will be several years before all labels are digitally printed".
However, to keep up the pace with the ever-advancing digital transformation, offer a comprehensive set of solutions, and enhance the company's conventional and hybrid portfolio of label presses, the company launched the Gallus One last August. The Gallus One is specifically designed to remove the Total Cost of Ownership (TCO) barrier for machines for reel-to-reel digital labels, with the highest level of automation and cloud-based technologies to date. In doing so, it provides brands access to cost effective and sustainable, high quality digital labels for the first time market wide.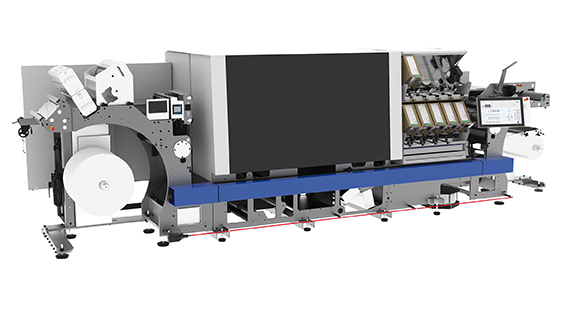 Engineered to spark a transformation across the industry, the Gallus One, a 340-mm wide roll-to-roll UV inkjet digital inline labels press, is built on Gallus Labelmaster press platform. Dario underlines that "we are combining the strengths of conventional and digital printing technologies, merging them to the benefit of our customers and the lowest possible TCO. We have also focused on combining automation with advanced cloud solutions for an easy standardization of jobs across machines, for the decentralization of the value chain".
Pursue sustainability as a standard way of doing business
Gallus recognizes that there is no time to waste in bringing sustainability to the top of the agenda, but the company started its sustainable path many years ago. The company's comprehensive sustainability program is already ISO 14001 certified and consequently, Gallus plans to make its products carbon neutral in 2023, when the market will likely see the first narrow web press to meet this milestone.
In addition to strengthening its focus on economic, social and environmental responsibility, Gallus has partnered with climate solutions specialist, Forliance, to offset the remaining emissions from its production process. "Sustainability needs to be the norm today. Using sustainability as a marketing tool is not the right way to add value to a product. Gallus wants to emphasize all the important aspects of its solutions, transformation, automation, technological features, and of course sustainability benefits, with equal importance. It needs to be normal to be sustainable, and in this way we might inspire other industry partners to follow our example", states Dario.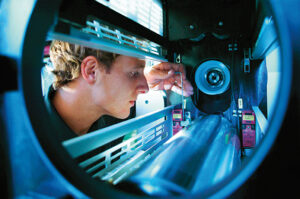 Gallus will celebrate its hundredth anniversary in 2023
According to Gallus, 2022 was a good year, which allowed the company to reach its goals, make significant progress in developing visionary pipeline technologies, and achieve great success for the newly launched Gallus One, which was reportedly well-received by the market and has already seen presses sold. 2023 will be an even more exciting year for the company, which is set to celebrate its 100-year anniversary. "In April 2023 we are planning to open the Gallus Experience Center in St. Gallen: a digital campus, which will act as a touchpoint for global industry. We are going to showcase both conventional and digital products, software and cloud-based solutions, as well as next-generation machines that we are developing right now. The center will be a laboratory to foster innovation, drive sustainability and try new things, collaboratively, together with Gallus partners, as well as providing an education hub and hospitality center".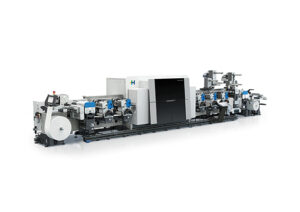 As we concluded our conversation with Dario, we asked him how important the Italian market is for Gallus, and his answer was encouraging and promising. "The Italian market is extremely important for us. We have a fantastic team in Italy, supported by Heidelberg. We have several digital and conventional machines installed in Italy and we will continue to support the Italian market in the best way possible. From our experience, the market here is ready and willing to test and adopt new technologies and innovations, so we are confident and excited for the year ahead".