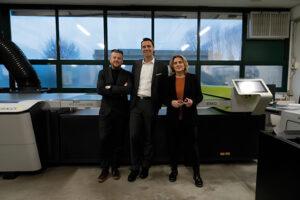 Animated by its own strengths, Diaven pursues every day the search for perfection with a highly personalized offer to the customer, supporting them in their daily challenges and somehow considering these problems as their own ones. In doing so Diaven has acquired considerable know-how, ranging from corrugated cardboard packaging to flexible packaging, passing through paper bags and labels
Diaven has recently celebrated 40 years of activity at the service of flexographic and packaging industry, proposing itself as a partner and supporting brand owners and printers from the graphic design to the production of plates and engraved sleeves for flexography, intended for the production of flexible packaging , labels and corrugated cardboard, and dies for box factories and cardboard converting industries. The company, located in the Treviso area, was founded in 1980 and now is managed by Ira and Filippo Nicoletti with about twenty collaborators.
In the etymology of the name Diaven we find the geographical origins of the reference markets of the Treviso company: "Dia" is the final part of Lombardy (Lombardia) and "Ven" the initial part of Veneto, the two regions where the company began to offer its services, which today are obviously extended to the whole national territory and also abroad.
Work with confidence and get more out of print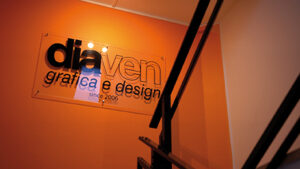 "The will of the company is summed up in two mottos: working confident of the result and getting more from print, which have represented an important lever that has led us to rely on innovations, technology, know-how of our highly qualified staff and on the precious support of a partner like Esko, which has allowed us to combine our artisan and tailoring skills with an industrialized production process, under control and therefore a guarantee of quality and productivity", says Ira Nicoletti, underlining the importance of supporting internal productivity with methods and technologies that manage to be levers for collaborators who consequently are able to express the maximum of their abilities and professionalism.
Since 2000 Diaven has relied on methods, quality systems as winning strategies to support the growth and development of the company in the long term and the company has been talking about automation since 2015. It was precisely in that period that Diaven began to think about the integration of the quality system with the production flow, developing those software, technology and innovations that could support in daily activities to ensure correctness and faithful reproduction through reliable control of the data. Furthermore, thanks to this new path, all those operations surrounding each single workstation were eliminated, exploiting the peculiarities of usability and management offered by control software. "I would like to underline the great availability we have received from our collaborators in tackling this corporate digitization process from a 4.0 perspective, they understood how this new methodology was a great help for them. All this is also part of the company's desire to pay greater attention to the all-round well-being of collaborators, who represent the beating heart of Diaven", adds Ira Nicoletti, who is very attentive to occupational safety and sustainability issues which have resulted in important investments in new production plants in the various company departments.
The implementation of Automation Engine, Editor and Esko production machines at Diaven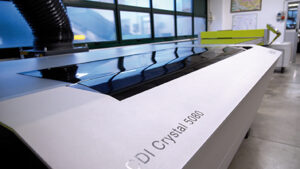 Esko has been a key technological partner for Diaven since the early 2000s, allowing the realization of its vision of an automated business system to controll orders. A relationship that began with the purchase of editors and CDIs but above all of Automation Engine, the link between Esko's plate production technologies, graphic operators and Diaven's ERP management system, entirely designed and developed internally according to the needs of a prepress company. In particular, Diaven production flow is made up of the sales office which deals with the estimates, of a technical office which has to industrialize the customer's request, a graphic prepress department, production of clichés, cutting department with an automatic plotter and finally shipping and delivery department.
With the new investments, productivity increased by 50%
"Over the years the collaboration with Esko has intensified and today we can boast the complete suite, Automation Engine, various Artpro+ editors, Studio 3D and the latest generation CDI and XPS Crystal production technologies", adds Ira Nicoletti, highlighting how thanks to this process digitization and man-software-technologies integration project, Diaven's production capacity increased by 50%, without increasing the number of operators. Important for obtaining this result was certainly a more precise warehouse management, reduction of waste of resources, thanks to a precise control of the entire workflow, from entry of the order to delivery to the customer, with a live and real-time view of all the various steps of production.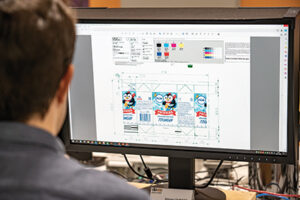 "With Automation Engine, every operator in every single department is updated on the entire production flow, and this, in addition to making him more involved in daily activities, allows perfect planning of workflow management, with order, precise exchange of information and defined times, which are the basis of a modern industrial production organization. Just to give a practical example, one of the advantages we found in Esko's Flexo Suite is the possibility to automatically manage the layout of the plates which are then exposed to the CDI and to do so in connection with the ERP management system which assigns delivery dates and execution priorities to AE, giving us the opportunity to gain production capacity within the department," adds Ira.
Goal achieved with Esko!
On the one hand, the desire to improve its business as any company that wants to grow and establish itself on the market has to do, on the other hand a special focus on corporate well-being and sustainability. "Thanks to the potential offered by Esko software and technologies, to their technical assistance, and to the great ability to innovate, to find new solutions, we have managed to realize our vision. With Esko we have found a partner who supports us in the search for innovation, which is essential for satisfying the demands of the flexographic and packaging sector, both in terms of quality and corporate optimization and sustainability", concludes Ira Nicoletti.