A pre-press service that has made innovation its distinctive feature, after the successes achieved at the Global Flexo Innovation Awards organized by Kodak, Z Due continues to amaze the market by presenting ProjectBlue in Italy, a system that revolutionizes flexo towards a way to print that had never been seen before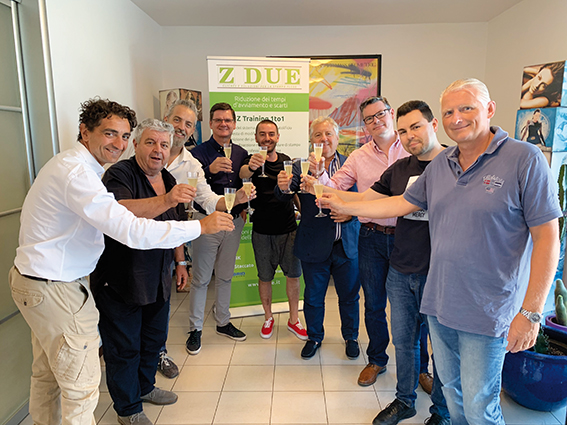 Z Due, a company very present in our previous issues, (…) has brought the ProjectBlue technology to Italy, created by the English Reproflex3 service for printing on labels, paper and flexible films. The printing results are spectacular and have been recognized several times with the 2016, 2017, 2018 EFIA awards, the same Global Flexo Innovation Awards organized by Kodak and the recent Flexotech Awards 2019. The peculiarity of this system is that it uses Kodak NX technology to reach a higher level, defined ULTRA HD by Z Due. Specifically, here are the elements that make the difference: a very high optical density with very low ink transport (2.5 cm3/m2), with a consequent reduction in costs and in favor of sustainability, colors that degrade to 0% without net detachments, a control of ink transport comparable to offset and gravure printing, but above all the possibility of extending the color gamut and reproducing 80% of the Pantone colors with the four-color process printing. This is a solution that the market, and especially the brand owners, have been waiting for a long time and that will allow to press harder the accelerator towards conversion from gravure and offset to flexo printing.
How was born the relationship with Reproflex3? We ask Marco Mingozzi, internal manager of Z Due: "The collaboration with Reproflex3 was born not long ago, although we knew the effectiveness of ProjectBlue on low thickness plates. We met and we immediately found a common point: the idea of ​​innovating. We are strong in the cardboard sector, they are strong in the flexible sector. The idea of ​​joining forces to bring this technology to the whole flexo printing was the trigger for the whole operation. We are very dynamic companies and we immediately found it very good to work together, so that after just a few months of experimentation we have achieved incredible results. But those who will benefit most from our efforts will be the market".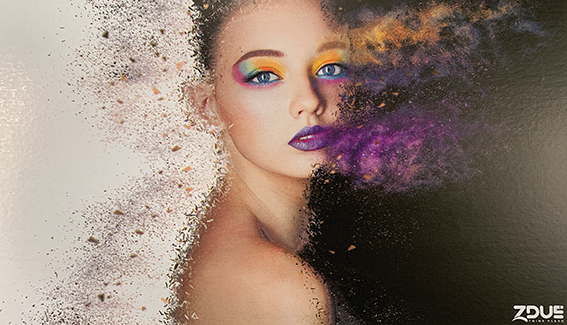 A different idea of print screen
Currently, when a conventional screen is printed, the dots are aligned and arranged according to a precise angle of inclination. At the points where the colors overlap it is possible to distinguish a circular pattern determined by the screen angles, precisely the "rosette". This "rigid" arrangement of dots is also the cause of limits of flexo printing. ProjectBlue was born from the idea of ​​eliminating the conventional screen through a "freer" arrangement of dots. Thanks to Kodak Flexcel NX system, the shape of the dot is much more stable than any other plate and allows the printing of very soft highlights. Moreover, the elimination of the rosette allows, especially on corrugated cardboard, to mask the out of register, for the total benefit of repeatability, productivity and reduction of waste.
Another strength is ink consumption. With just two grams and a half of volume it is possible to obtain a very high optical density, comparable to twice higher ink amounts, a factor highly appreciated by the brand owners who need products on shelves with vivid colors, which catch the eye. Finally, it is not necessary to explain that a low volume of ink means a net saving for the printer and a business choice in direction of environmental sustainability.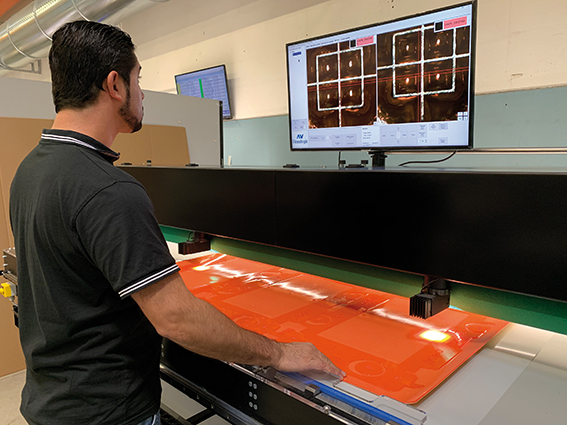 Working always work in CMYK
The possibility to extend the color gamut allows you to reproduce most of the spot colors with the simple four-color process. The printer that adopts a fixed palette achieves greater savings in production costs and greater stability and repeatability in printing, making flexo printing competitive with the short runs produced today with digital printing.
"ProjectBlue has the ability to ensure extremely smooth and continuous photographic reproduction without visible dots in the mid tones, printing cleaner and with greater vivacity in the chromatic range of the mid tones. It is important to underline that ProjectBlue is born with Kodak Flexcel NX technology, a product that is already successful in terms of ink transport control, whose combination has currently surpassed any other Ultra HD technology on the market so far", says Umberto Cantone, commercial manager at Z Due.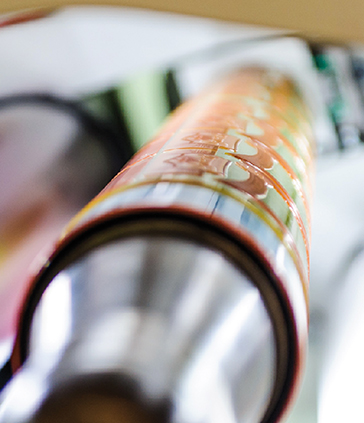 The importance of anilox and pre-assembly for the ProjectBlue system when printing on corrugated cardboard
ProjectBlue is not a product or a simple plate, but a printing SYSTEM. A system that includes: a new way of conceiving the graphic prepress work, a plate produced with Kodak Flexcel NX technology, a precise assembly to the tenth of a millimeter with the new Flatmount by AV Flexologic, the first installation in Italy at Z Due, and finally the Flexi-Lox carpet, (supplied by Z Due – Timbriflex), an effective cleaning system of anilox that allows frequent and rapid washing of printing and counter-printing without being removed from the machine, since the carpet is mounted on the cliché cylinder and exploited during regular printing processes.
"All this is essential to enable ProjectBlue technology to also reach the corrugated board sector effectively, as one of the most important elements to consider if you want to use this system is the anilox cylinder; but the news does not end there … Z Due is in fact experimenting an important novelty on corrugated cardboard that would allow anilox with important ink flow rates (6, 8, 10 grams) to print high screen rulings, up to 42-54 lines per centimeter, all without changing machine setting. The first works with this type of plate have already been carried out and the results are amazing", says Giorgio Cattani, ProjectBlue project manager for corrugated cardboard applications.
Ultimately, according to these premises, we are expecting a 2020 full of innovations starting from prepress, a very important signal that once again indicates that flexo printing is more alive than ever and in continuous evolution. Just to present the project ProjectBlue, Z Due is organizing an important event that will take place in February 2020 at Ferrari Museum.