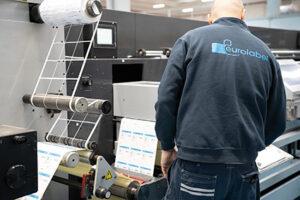 Eurolabel is one of the historic companies in the Italian panorama of self-adhesive label producers and is the leader of a group of three companies. In Eurolabel the label does not only represent the core business but is the tool through which it is possible to express the deep values of a company that has always put the human aspect before everything
Two years after the inauguration of the new headquarters in 2021 in Lainate (Milan), we went to see Elisabetta Brambilla, president of Eurolabel but also of Gipea, to be told about the evolution but also innovations that will make protagonists the company, or rather the group of companies that are part of it, in a constantly evolving market within the graphic/cardboard converting panorama capable of attracting attention for the good results obtained.
Three companies, one goal: to serve the customer at 360°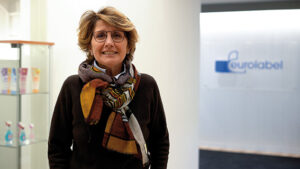 "We can easily define ourselves as a family business which however has decided to embark on a new path, relying on managerial figures in strategic roles, to give our business an industrial turnaround. In 2023 it is no longer possible to think that a productive reality depends solely and exclusively on the presence of the owner", begins Elisabetta Brambilla, president not only of Eurolabel but of a group founded by her mother, Mrs. Cattaneo who in the 70s due to one National strike that blocked entry and production at Eurolabel, founded EDP Label, also specialized in the production of labels as an indispensable resource to be able to work for multinationals in the pharma sector, which require "Disaster Recovery" and "Business Continuity" solutions. EDP Label, in addition to being Eurolabel's younger sister in terms of production, had launched and developed a department for processing RFID tags, a sector that had grown to such a level that about four years ago it required the opening of a third company: TecnoTag. Approximately 80 people are employed in the three companies of the group.
"RFID tags are not only an effective anti-counterfeiting tool, but can contain a whole series of information on product traceability, also creating a customer experience and telling the story of the product, becoming a powerful marketing and contact tool with the consumer", says Elisabetta Brambilla.
Eurolabel: focus on the pharmaceutical sector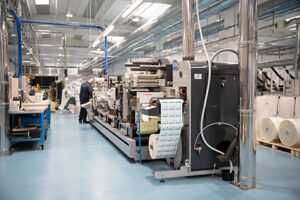 Being a supplier of the pharmaceutical industry for a label manufacturer means above all guaranteeing the certainty of the final result. If from a graphic and design point of view, there is not much room for imagination, the pharmaceutical market on the other hand requires the utmost care and attention to even the smallest details. Hence, in Eurolabel they check very carefully and the controls are carried out in the first instance directly on the printing machines, equipped with the most sophisticated print quality control and defect detection systems and subsequently off-line in a dedicated department where there are 5 inspection tables working with continuous cycle.
"We have many of the required certifications and we have integrated our system with the specific requests foreseen by GMP regulations to work in the pharmaceutical sector, and also the production environments are organized to comply with these strict rules. This approach aimed at ensuring maximum safety and quality of the final print result has helped us to offer the same standards also for the labels of the other product sectors we serve, from cosmetics to wine & spirts, to food and various industrial sectors. All this represents an advantage but also a constraint and has contributed to raising the company's know-how to the highest required standards", adds Elisabetta, underlining how working with this accuracy does not allow the company to be able to accept jobs where the price is decisive in the choice of the customer.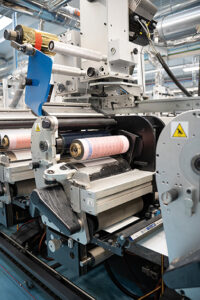 Eurolabel, EDP Label and Tecno Tag are structured with about 30 production lines including flexo machines combined with screen printing, hot foil and cold foil printing, back printing, finishing in the most classic configurations commonly found in a modern label factory. As for digital printing, Eurolabel has both digital offset and drop-on-demand technology, which are mainly used for the cosmetic sector where a certain quality is required and for safety durable goods.
Customer consultancy for high added value labels
Che il mercato delle etichette sia uno dei più interessanti fra tutti quelli nel panorama grafico-cartotecnico-trasformatore è abbastanza evidente. Un prodotto può esistere senza la scatola, ma senza etichetta assolutamente no! Sono state molte quindi le industrie grafiche che hanno provato a inserirsi in questo settore, apparentemente semplice. "Tutti credono che stampare un'etichetta sia un lavoro facile, ma noi ci troviamo quotidianamente ad affrontare delle sfide tecnologiche che in altri settori non immaginano nemmeno. Purtroppo le aziende che entrano nel settore, magari proveniente dalla stampa commerciale, replicano i loro modelli di business dove la politica del basso prezzo è all'ordine del giorno. Ma noi etichettifici storici sappiamo quanto sia importante il know-how, l'aspetto consulenziale di affiancamento al cliente, i nostri consigli per ottimizzare al meglio la resa grafica e di conseguenza anche un'ottimizzazione dei costi per un lavoro che soddisfi le sue esigenze, per ottenere il prodotto migliore per quel tipo di applicazione, evitando inutili sprechi e al giusto prezzo, in un'ottica di trasparenza e lealtà", interviene Elisabetta Brambilla.
It is quite evident that the label market is one of the most interesting of all sectors present in the graphic-converting-converting panorama. A product can exist without the box, but absolutely not without a label! There have therefore been many graphic industries that have tried to enter this apparently simple sector. "Everyone believes that printing a label is an easy job, but we find ourselves facing technological challenges every day that in other sectors they don't even imagine. Unfortunately, companies entering the sector, perhaps coming from commercial printing, replicate their business models where the low price policy is commonplace. But we, historical label converters, know how important know-how is, the consultancy aspect of supporting the customer, our advice to optimize the graphic rendering and consequently also an optimization of costs for a job that satisfies customer needs, to obtain the best product for that type of application, avoiding useless waste and at the right price, with a view to transparency and loyalty", Elisabetta Brambilla intervenes.
In Eurolabel the label is also inclusive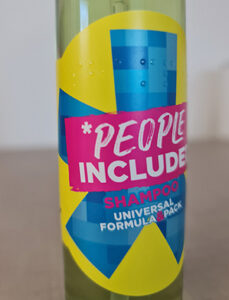 Starting from the assumption that labels must convey information to everyone, Eurolabel has set itself the problem of how to be inclusive as label producers. Because it is true that the request should start from the client, but in any case, always returning to the theme of consultancy and customer support, the idea of an innovative project can also come from the supplier. Hence, Eurolabel has tried to implement an inclusive label project that goes beyond the inclusion of Braille, which in any case allows you to communicate a few words and not all the indications about the correct use of a product or its composition. "From a collaboration with the Foundation of Institute for blind people of Milan we understood how Braille was extremely restrictive for labels. However, we have discovered that blind people use a mobile app which, by framing the label, allows to read all its contents. The difficulty for them is to understand which part of the label to frame, but thanks to braille crosses we were able to provide precise indications for the correct reading of the label with the app, solving a big problem", concludes Elisabetta, underlining the importance of proposing innovative, winning solutions to the market that are able to allow the customer to differentiate themselves, without forgetting that technology is important but only people with their ideas and their way of acting can decree the success of companies.