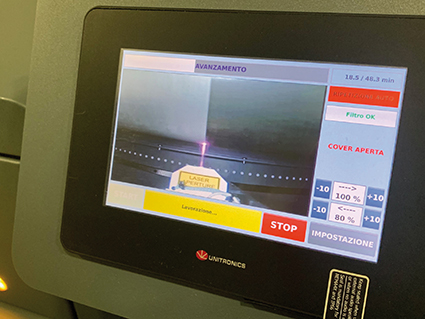 From North to Central Italy, many companies took part in the first Ulmex roadshow, organized to present to customers the latest generation of anilox cleaning laser technology. "Since the launch of the initiative we have immediately registered a positive response, with various bookings by companies active in the world of flexible and paper packaging", comments Angelo Maggi, Ulmex sales director. For the event, Ulmex installed a working Laser Clean machine on a truck that visited companies interested in carrying out customized anilox cleaning tests. "We achieved amazing visual and analytical results, testing our exclusive technology with varying degrees of difficulty", explains Maggi. "During the tests, customers challenged the potential of our system cleaning high screen rulings, particularly resistant to cleaning with conventional technologies, and in many cases used for printing with water-based inks, notoriously more difficult to clean than anilox used with solvent-based inks".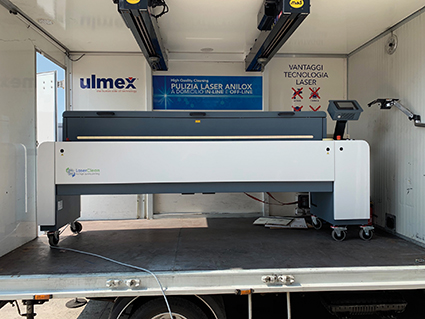 The results of the demonstrations carried out were analyzed in the presence of customers with the DotScope digital microscope, one of the novelties of the Ulmex range, which allowed to measure with maximum precision the post-treatment volumes, detecting an average increase in flow rate of 80%. Customers involved in the initiative were able to appreciate the distinctive features of the technology offered by Laser Clean, including the homogeneity of cleaning, the absence of special waste and the simplicity of use of the system that does not require specific skills. Furthermore, this machine requires no maintenance and protects the anilox body from possible damage during treatment. "Today laser is the most effective, safe and environmentally-friendly cleaning system, because it allows you to remove any type of residue, even dry, nested deeply in the cells without the use of chemicals, but through the physical ablation principle", adds Maggi.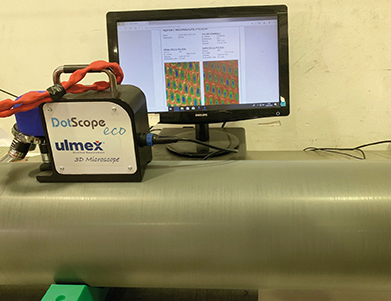 If properly programmed, these interventions allow not only to significantly lengthen anilox life, but to make them more performing by reducing the costs of regeneration and increasing considerably print quality. "Many of the companies with an anilox fleet of more than 40 that we reached during the roadshow have already shown their interest in implementing a Laser Clean machine in their production lines in order to make their processes more and more efficient", says Maggi. For companies with smaller volumes, Ulmex offers a ceramic or chrome-plated cylinder laser cleaning service, carried out at customer's site 24/7 thanks to a recently enforced fleet of proprietary service trucks. In fact, for 20 years, this Italian-German company specialized in the supply of technical components, consumer products, equipment, spare parts and services for publishing, flexo and gravure printing world, associates a constant range improvement with the added value of highly specialized consultancy and just in time technical assistance throughout Italy.
In light of the interest recorded during the traveling event, Ulmex has already scheduled the second step of the roadshow for next autumn.