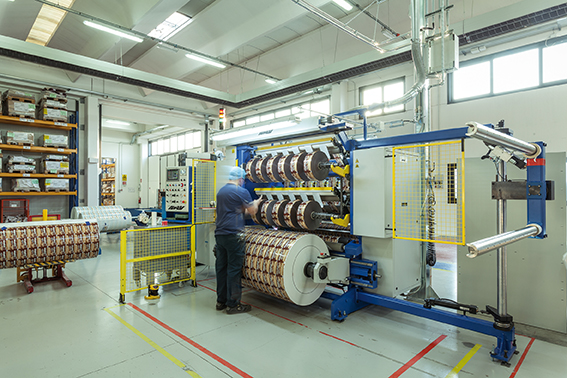 "A lasting and trusting relationship with customers is our main priority at Bimec. Our aim is always to ensure a constant assistance, from the consulting stage onwards, till the end of the product's life cycle", says Mr. Davide Bottoli of Bimec.
Since its first few years of operations, Bimec srl, Italian company manufacturing slitter rewinders, has been very careful to establish long-term business relationships with its customers. Among these, SIT Group is a Bimec's partner since 1998, which has equipped its own factories with efficient and high quality slitter rewinders.
SIT Group S.p.A. is an industrial group from the Republic of San Marino that works in the European flexible packaging market. Born in 1967, the group now counts three plants in Pesaro, Padova and San Marino. Due to its continuous growth and expansion, it has built a widespread distribution network throughout the world.
Working in several sectors of the flexible packaging market, since 1987 the SIT Group has launched an important technological renewal that would allow the implementation of additional customer-oriented services and at, the same time, to expand its product range. One of the main renovations involved the machinery, which today consists of 7 rotogravure machines, 3 flexographic printing machines, 5 laminators and 20 cutting machines for different types of material and runs.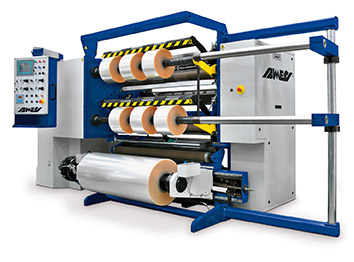 The Group has purchased various models of Bimec's STM50 series, a dual spindle slitter rewinder that, thanks to its "single face" structure and its ease of use, offers the possibility to create different slitting and rewinding solutions.
Between 2016 and 2018, Bimec sold to the SIT Group eight STM/50 models: this dual spindle slitter rewinder features unwinding and winding on the same side. It's a slitter rewinder suitable for the slitting of plastic films, paper and laminates.
It is an efficient and versatile machine that thanks to its compactness reduces a lot the footprint.
Bimec realized these machines to better meet the customer's needs: the various slitter rewinders were installed in a specular position in order to simplify the operator's work during the unloading of the finished rolls; furthermore they have been equipped with many automatism useful to optimize the working cycles.
As with all the machines in its range, Bimec continues to develop and improve its slitter rewinders on a vision of integration of these into ever longer production chains.