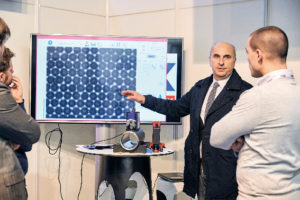 Three days open house for the Paduan company, with German parent company, for 20 years a reference point on the Italian market for publishing, flexo and gravure packaging printers. An event designed to present a European preview of the Laser Clean cleaning system and the complete range of solutions, products and services of the highest range able to support printer and converter in daily operations related to the management and optimization of printing machines.
The new Ulmex headquarters in Padua hosted last January printers as well as machine builders, who ac­cepted the invitation by Angelo Mag­gi, general manager of Ulmex, and his sales team with Alessio Polastro and Corrado Bianchi , to see and really touch the validity of the solutions that the company is able to offer thanks to a network of exclusive partnerships and representatives with leading companies in their respective sectors: Zecher (anilox cylinder), Rotec Flint (sleeves and adapters), TKM Me­yer (doctor blades), Flexo end Seals (seals for doctor blade chambers), Fasnacht (viscometers), Soprin (3D digital mi­cro­s­copes), Harris & Bruno (cameras for doctor blades), and Pavel (com­pactors).
European preview for Laser Clean, green laser technology for anilox cleaning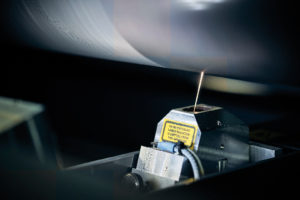 Spotlights on the innovative laser cleaning technology of anilox cylinders by the Dutch company Laser Clean, a pioneer in this sector with an experience of over 25 years at the service of printers.
With its slogan "Before regenerating, just cleaning", Laser Clean is able to carry out a complete cleaning cycle of a 100 cm anilox cylinder in about 25 minutes.
Mr. Martin de Wit, founder of Laser Clean, has toured Europe far and wide with its truck/ workshop equipped to clean the anilox at customers' production facilities. A service that Ulmex has been doing for about a year, enjoying great success all along our peninsula.
For this reason, Ulmex announced the expansion of the Service-Truck fleet with the purchase of a second truck and the implementation with new technologies of the truck al­ready in use. The home truck service is undoubtedly ideal for small and medium-sized companies that have a more limited number of anilox, while for high volumes of anilox the purchase of a laser system to be installed in production de­partment could be the most efficient choice. "We are delighted to present the latest Laser Clean model as an European preview, and we invited some of our customers to come to us bringing their anilox rolls to perform cleaning tests and directly test the validity and effectiveness of this solution. A system that is certainly not among the che­apest on the market in terms of initial investment, but which on balance offers great benefits in optimizing processes ensuring unparalleled results in terms of cleaning. All this with an extremely low environmental impact as no chemical products are used and the only maintenance operation to be carried out at least once a year is the replacement of the filter cartridge where the cleaning waste and the laser fumes are deposited", explains Angelo Maggi, in front of the equipment that is performing the cleaning operations of a broadband anilox for an important Italian printer, leader in the production of paper bags, with a well-equipped machine fleet (7 flexo ma­chines) and therefore interested in evaluating the purchase of a laser system to clean their anilox.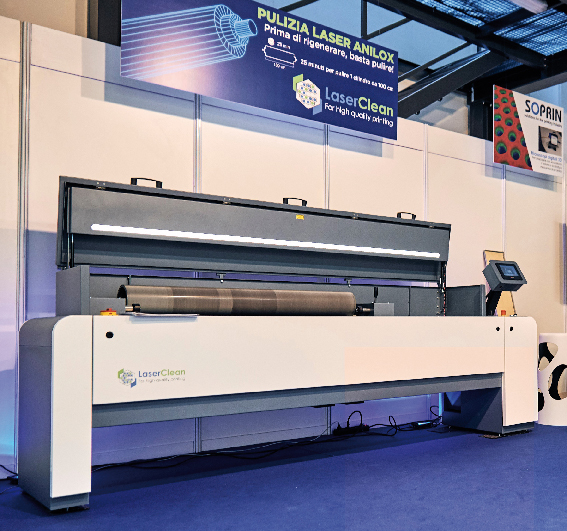 "Together with the laser, we also offer the new DotScope eco microscope from the German company Soprin, for the 3D analytical control of aniloxes, clichés and gravure cylinders.
We have recently represented this brand, but we are already registering a lot of interest among Italian customers as it is a compact system, equipped with three integrated optics and an easy-to-use software with integrated database to store the measurements and create a historical archive", adds Maggi.
This tool allows operators to measure quickly and safely the actual volume of anilox and screen ruling in order to ensure that the cylinder put into the machine is efficient and can ensure maximum productivity and quality. In case of negative results, it is possible to intervene replacing the anilox.
At the moment, this type of measurement takes place off-line but the company is already working, as confirmed by Angelo Maggi, so that in the future the measurements can be integrated into the laser system to have a complete device that can directly provide analytical evaluations.
Another product linked to the anilox cylinder and sold by Ulmex is the best-selling Enpurex, a biodegradable ultrasound cleaner for cleaning of cylinders and sleeves in ceramic and chromed. "This is a water-based cleaning li­quid, whose operating principle is phy­sical; the product applied on the cylinder is able to me­chanically break up the dirt particles sedimented in the cells in depth, lift it to the surface to be finally removed by the operator using a damp cloth. This solution is ideal for the daily cleaning of anilox in flexible packaging, paper and gravure industry", explains Alessio Polastro, Ulmex sales department.
"Our approach to the market is first of all a consultancy; we must make our customers understand that Ulmex is able to support them for all those operations regarding the press with products and solutions technologically ad­vanced compared to our competitors.
This means that our prices are not always competitive if compared with other solutions, but we are sure to offer the best in the market in terms of performance, ensuring higher quality results. All this must be explained to the operators and in this context we also provide a training service on products and technologies we sell", says Maggi.
A complete service for the efficiency of flexo and gravure printing units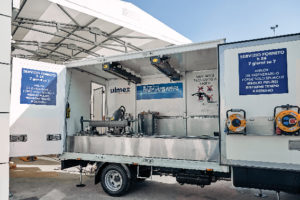 The last representation of Ulmex was announced during FlexoDay 2018: Rotec, a Flint Group company that designs and manufactures cliché holder sleeves, adapters and fiberglass covers for the protection of anilox.
Among the new proposals marketed exclusively for the domestic market, the innovative patented solution Rotec® Eco Bridge, intended for flexographic printing machines and plate mounting devices. Rotec® Eco Bridge is an adapter with a breathable metal ring that creates an air cushion to allow quick and easy fitting of the sleeves. This bridge reduces the volume of air required by up to 90% and up to 30% noise, significantly improving ease and speed of assembly. Another im­portant brand represented by Ulmex in Italy is Zecher, the world's leading producer of ceramic and chromium anilox cylinders for all flexographic, gravure and coating printing needs. Three types of anilox are offered by Zecher: SteppedHex which guarantees excellent definition and high volume flow even with high screen rulings, H.I.T. for excellent coverage for solids, ITS for the molecular treatment of ceramics.
For the viscosity control, the partner is Fasnacht, which has a range of new generation vibrating and falling body products. The doctor blade chambers marketed by Ulmex are si­gned by Bruno & Harris, characterized by a hydraulic system of constant sealing from chamber to anilox cylinder. Also for doctor blade group, Ulmex has in the range the TKM Meyer steel and plastic doctor blades, as well as the side seals of the doctor blade chamber.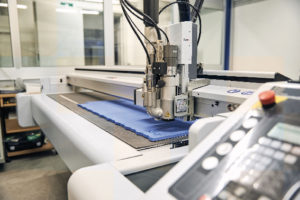 This last product is made internally by Ulmex which has a digital cutting plotter G-3 by Zund with which it realizes in synthetic "memory-foam" this just-in-time product ensuring a delivery from evening to morning.
"We are born in the publishing gravure segment, but over the years, both due to a drop in the publishing sector and the desire to grow even in markets with potential for development such as packaging printing, we have increasingly pushed towards these complementary products but fundamental for the productivity of printing presses", concludes Angelo Maggi. The Laser Clean machine, exhibited during the open house, will soon be installed at an Italian customer who will in fact be the first in Europe to boast this innovative technology.
Other machines of this type have already been installed by US and Asian printers.