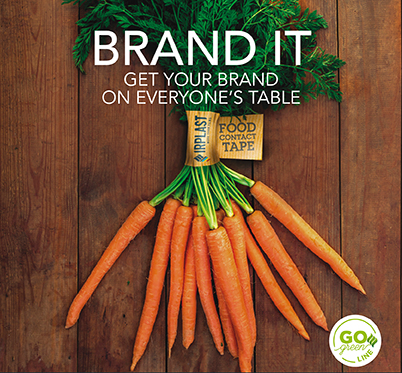 The Irplast Food Contact Tape, designed to convey the brand right up to the moment of consumption and suitable for direct contact with all foods, is now available in two versions, even more eco-friendly, one in BOPP film with a lower thickness (it goes from 55 to 40 microns), the other with a soft-touch "paper-effect" matte look. Irplast has responded for the need of fruit & veg market which, especially for the "bio" product lines, is looking for innovative and sustainable branding solutions. Food Contact Tape complies with FDA, EU and Mercosur regulations and meets the new directives regarding the migration limits of substances from packaging to food, without altering their organoleptic properties.
Food Contact Tape represents a very valid alternative to replace adhesive tapes acting as labels in direct contact with food but which are printed on plastic materials that are no longer compliant with standards such as PVC. It is also a replacement product compared to traditional pre-cut/die-cut labels.
Compared to polystyrene trays with protective film for example for banana packaging, Food Contact Tape allows a saving of 96% (on Conai Eco-tax), reducing the weight of the packaging by 15 times, with positive effects also on logistics and transport costs. Food Contact Tape is also a much cheaper solution than traditional liner labels. Regarding production times, it helps companies to reduce time to market, because it can be applied with automatic machines, as well as manually.
Food Contact Tape has a much lower "carbon footprint" than other polyolefin-based films because it is made from bioriented polypropylene (BOPP), a material universally recognized as "100% designed for recycling". It is also easy to recycle because it is mono-material (without silicone backed paper), with obvious advantages for the environment.
Today Food Contact Tape is used for fruits (melons, watermelons, bananas) and vegetables (celery, leeks, broccoli, fennel, cauliflower, courgettes and carrots) but, being suitable for direct contact with all foods, is suitable for a 360° use.