RCL, Italian manufacturer of narrow-web gravure machines, boasts a very important partnership with Enoplastic, a leading company in the production of aluminum and plastic capsules for wine bottles: the company installed at its production site in Bodio Lomnago (Va) 6 printing machines in 8 years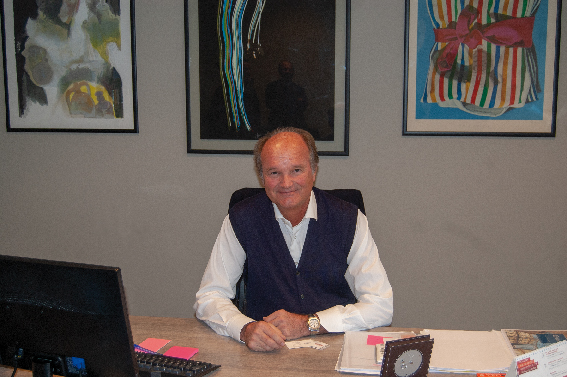 Enoplastic is a historic company in the Italian manufacturing scenario, based in Bodio Lomnago in the province of Varese, where in 1957 Piero Macchi, passionate about mechanics and good wine, started a very special and niche activity also for that time: the production of plastic caps and then aluminum capsules or plastic materials to wrap the necks of the bottles.
Piero Macchi, who died in 2015, hit the headlines because he left in his will a large amount of money to be divided among all the workers of Enoplastic, showing great humanity and gratitude to those who helped him to reach prestigious business goals.
We have just closed Winter holidays and everybody at least once has joyfully uncorked a bottle with family and friends; a gesture that obviously makes Enoplastic's management very happy, as confirmed by its resident Eng. Ine Kalin: "because we produce about 3 billion capsules a year and we are world leaders in this sector, where our main competitor produces half of our amount.
Today our most precious ally is Prosecco, a worldwide phenomenon that has conquered the aperitif moment everywhere, thanks to a pleasant taste that appeals to women, with an excellent price/quality ratio. In addition, 20% of our turnover is consumed in one minute: on New Year's Eve!", says the president laughing.
The company has its headquarters in Italy but has plants in France, Spain, New Zealand, Australia and the United States, employs about 450 people (around 350 in Italy) for an annual turnover of around 85 million euros, with trend in growth.
Where there are quantitatively important productions, Enoplastic is present.
The property is in the hands of Macchi/Kalin family and Moglia family.
State-of-the-art technological know-how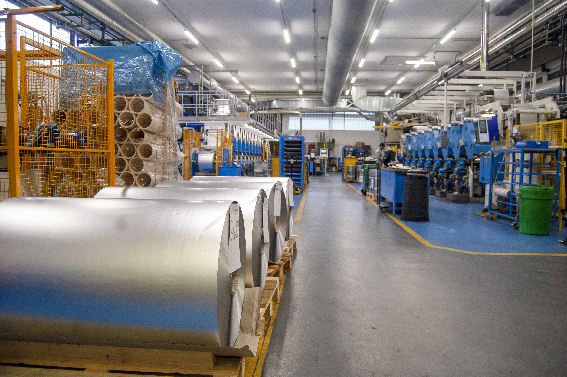 Behind the success of a company like Enoplastic, there is also a lot of knowledge and expertise in the field of production and technological processes.
Let's start from the raw material, a polylaminated material with aluminum which, thanks to its special composition process, guarantees an absolute competitive gap.
High performance and customized production technologies have led Enoplastic to request the collaboration of RCL and its Le­gal Representative Bruno Giorcelli.
RCL has found its reference market in the field of narrow-web gravure printing and over the years a very close partnership has been established with Enoplastic, at such an extent that today it is the only supplier for printing technologies. Such special machines require an almost daily relationship for development.
"In addition to gravure printing presses of various print widths, and in any case no more than 1100 mm, we have also developed with Enoplastic the machine for the production of this special polylaminate, which represents the heart of this extraordinary company", Bruno Giorcelli tells us, while he accompanies us to see his printing presses working in the printing departments".
For my precise wish, also for the respect of a very important customer, we have given him a hand to develop the technology for the production of the raw material as regards the wine sector, but the know-how remains ow­nership of Enoplastic", adds Giorcelli.
The production of this special material ta­kes place without the use of glues, and also without coextrusion, but only with a thermal principle and at much lower costs than the competition.
Another special machine built by RCL is a 6-color gravure with in-line cutting and rewinding on two different axes with synchronized web change up to 300 meters per minute and inserted into an automated logistics flow that provides automatic unloading of webs and subsequent storage of the same in an automated palletizing area.
The latest addition is an 8-color gravure press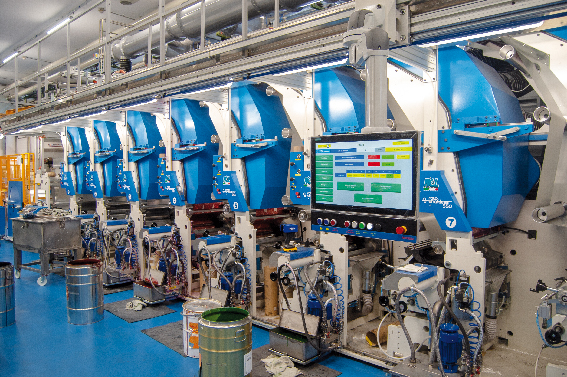 At work for about six months, the last gravure printing press installed by RCL in Enoplastic is an 8-color Rotoshaftless 500/600 line with an extractable electric drawer that can be prepared (cylinder, doctor blade, ink) offline and with max speed of 50 meters, it can be extracted or re-inserted with the machine even in operation in about three minutes.
The machine is equipped with an automatic unwinder with a change in both directions, a diagonal bar that can move on all 8 colors, guaranteeing printing both on one side and on the other simultaneously, according to the requirements of the job.
The machine is also equipped with in-line cutting and can produce up to 8 webs with automatic transmission, fitted with a Ferrarini & Benelli corona treatment, the who­le section of the register control, including the control of perfecting was developed on demand by Ga­ma because, ex­plains Gama's commercial director Sante Conselvan: "RCL needed a specific solution for narrow-web we have developed for them, taking into account the technical characteristics of these machines that do not require great speed and performance and so we were able to develop a good solution at a low cost.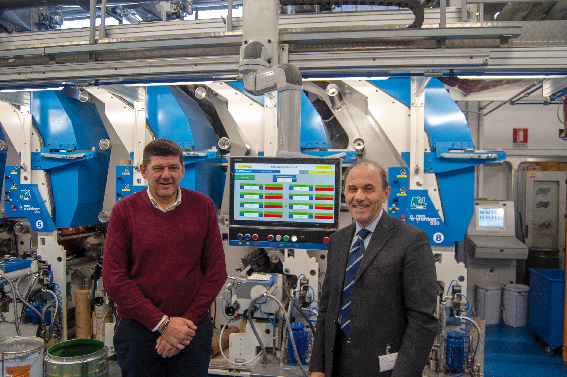 We have also accepted this challenge because these machines have been installed in Italy and therefore, we are able to guarantee the assistance service. It would have been different if the machines were abroad, also because just as RCL does not want to compete with the great gravure world players, we at Gama have absolutely no intention of competing with the leading companies in register controls", concludes Conselvan.
Gama has also installed its well-known G29 units for automatic viscosity control on these machines. "I must also say that for the re­quirements of the narrow-web, register control would also be completely superfluous because the material is very stable, in fact we test the machines without register control. We assemble it at a later stage, more for the operator's tranquility than for a real production requirement", Giorcelli intervenes.
This is also the first machine that is built by RCL with a model of double-flow hoods in and out, with material in support, to ensure perfect drying. RCL is a company that was born by providing technical assistance to publishing printing presses, formed by a super-specialized team of technicians, very prepared and appreciated on the market.
"Over the years we have understood that the newspaper printing market would not have allowed us to look at the future with peace of mind and having always had the passion for packaging printing machines, we have specialized in the sector of machine design and construction of narrow-web gravure printing press", says Bruno Giorcelli.
The real advantage was the fact to have always designed these machines starting from the narrow-web, not as other manufacturers who instead tried to adapt to small format their machines born for broad-web.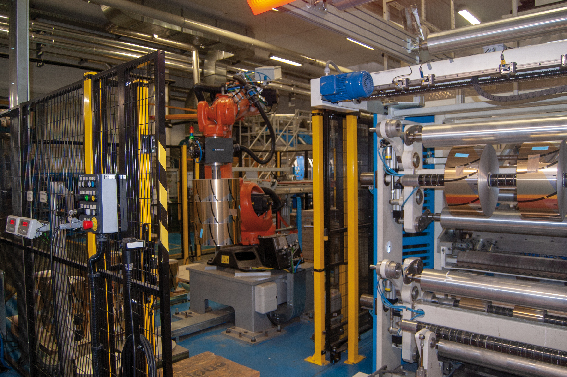 "I take this opportunity to clarify that the ad­vantage of narrow-web machine is not to be found in the economic aspect (as the machine is equipped with the same electrical, electronic and accessory equipment commonly used by broad-web machines) but in the convenience of management of small and medium runs in the small spaces used and in the important reduction of start-up waste due to the reduced path", concludes Giorcelli.
Today RCL has a staff of 20 people and a se­ries of external collaborations that allow the company to build three machines a year, but the will is to structure itself more to expand its market. Objective: consolidate more and more the brand and project solidly in the future.